Manage
Learn to apply best practices and optimize your operations.
The New Language of Business: SOA & Web 2.0, chapter 11: 'Putting it all together'
This book shows how to deconstruct your business into a "componentized" business model, then support that model with linked, repeatable IT services that can adapt quickly, easily, and economically. These techniques will help both IT professionals and business leaders reach new levels of operational excellence to deliver the market-focused innovations that matter most.

Download chapter 11: 'Putting It All Together'




Excerpted from the book titled, "The New Language of Business: SOA & Web 2.0", authored by Sandy Carter, published by IBM Press, February, 2007, ISBN 013195654X, Copyright 2007 by International Business Machines Corporation. All rights reserved.


Chapter Excerpt:

A flexible business—a flex-pon-sive* business—requires flexible IT. Innovation requires change and SOA makes it easier for companies to change. Given this focus on business flexibility, growth, and innovation, the technology that most expedites these business goals is service oriented architecture (SOA). According to most of the analyst firms, SOA will become the de facto standard for business flexibility and collaboration among companies.
As we discussed in this book, SOA is all about an approach that views a business as linked services and considers the outcomes they bring. Because it is built on open standards, it is a way for businesses to tap into their existing technology investments and flexibly link previously fragmented data and business processes, creating a more complete view of operations, potential bottlenecks, and areas for growth.
As we learned, advances in open standards and software-development tools have made SOA applications easier to develop. However, this does not mean that everyone is deploying SOA applications; the market is at the early stages of adoption. Services that join together to support business processes within SOA are designed in such a way that different parts can operate independently of one another. Because of this, any one feature can be changed without breaking other parts of the application. This makes companies that have adopted principles of SOA much more responsive to changing business requirements than those that rely on traditional software development, with one feature change potentially derailing an entire application.
The companies that master SOA technology operate more efficiently than their competitors and adapt more quickly to changing business conditions in their industries. And as we discussed earlier, Web 2.0 facilitates the collaboration aspects, and SOA enables the infrastructure for flexibility.
A great example is a retailer deciding whether to issue a credit card to a customer. It could use the technology to tap different sources and pull together information on a customer's creditworthiness and buying habits. A bank can use the same computing services to handle account transfer requests, whether they are coming from a teller, an ATM, or a Web application, avoiding the need for multiple applications. A manufacturer could measure more closely what is happening in its production process and then make adjustments that feed back instantly through its chain of suppliers.
SOA enables profitability through revenue growth and cost cutting. SOA enables innovation through collaboration and flexibility.
Your checklist for becoming a flex-pon-sive* business should include the following:
Understand SOA and Web 2.0. Chapters 3 and 4, "SOA as the DNA of a Flex-pon-sive* and Innovative Company," start to articulate what you need to consider, but the goal of this book is not to make you technology experts. Rather, the goal is to provide you with enough information to ask the right questions to begin your journey.
Develop the skills needed to embrace these new technologies.
Understand the business implications of the new technologies.

The companies that master SOA technology can operate more efficiently than their competitors and can more quickly adapt to changing business conditions in their industries. Meeting innovation priorities requires the ability to change flexibly, and companies should take a business-centric view of SOA (as opposed to an IT-centric view) to achieve these innovation goals (see Figure 11.1). As discussed in Chapter 4, "SOA as the DNA of a Flex-ponsive* and Innovative Company," a recent study of more than 500 companies conducted by Mercer Management Consultants showed that these companies are approaching SOA from entry points of people, process, and information, or all three. The lessons learned from the SOA entry points are furthered by the IBV study about SOA business value. This study of approximately 30 customers reveals some other lessons about revenue growth and cost cutting. 51% of the clients interviewed for this study expected their SOA deployment to grow their revenue, primarily by unlocking the potential of an existing process. To explore this in a real-world setting, review a bank's processes, such as a residential mortgages system, credit card system, or loan-servicing system. Following the IBM case study, an evaluation of those processes should reveal reusable parts, such as "submit loan application," "perform credit check," "determine credit line," or "calculate interest rate." SOA enables IT to recombine these reusable parts to create new products, such as a tailored home equity line of credit. With SOA, the business strategist is free to innovate.
Companies that started from one of these entry points have stories to illustrate the lessons that can be learned from other companies' experiences. Enterprise transformation powered by an SOA is really the holy grail the customer seeks. This enterprise transformation can begin with a set of entry point projects as a way for customers to start their transformation journey.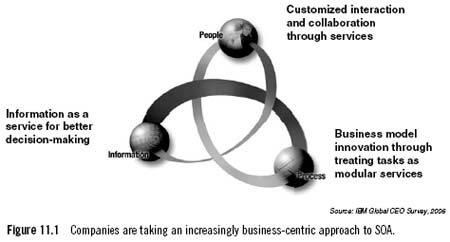 Chapter 11: 'Putting It All Together'
Visit the IBM Press website for a detailed description and to learn how to purchase this title.
Dig Deeper on SAP and enterprise service oriented architecture