Step 8: Playing the VBS script to enter the line items
Hate manual data entry work? How about a typing in a few hundred line items in purchase orders with descriptions like "BOWMA-TORQ HX HD CAP SCR 1/2-13X1-1/2"? If the items do not exist as material numbers, you have no choice but to type their description by hand ... Except, of course, if you automate it with a smart SAPGUI script. Veteran Basis guru Giovanni Davila walks you through the process in this handy step-by-step guide. This is part 8.
To create a new P.O. and have the VBS script enter the line-item data for you, follow these steps:
1. Run transaction ME21N.
2. Enter a Vendor number.
3. Enter the Purchasing Group.
4. Click Customizing of Local Layout and select Script Recording and Playback.
5. Click Play and open the VBS script (e.g. PO-Script.vbs).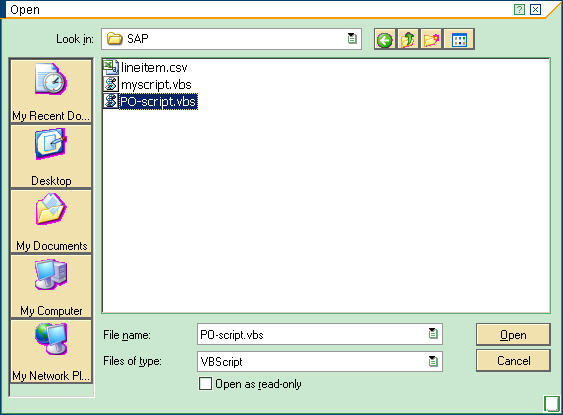 Open script window.
Alternatively, you can drag and drop the VBS script to the SAPGUI screen.
The result: all line-items entered automatically.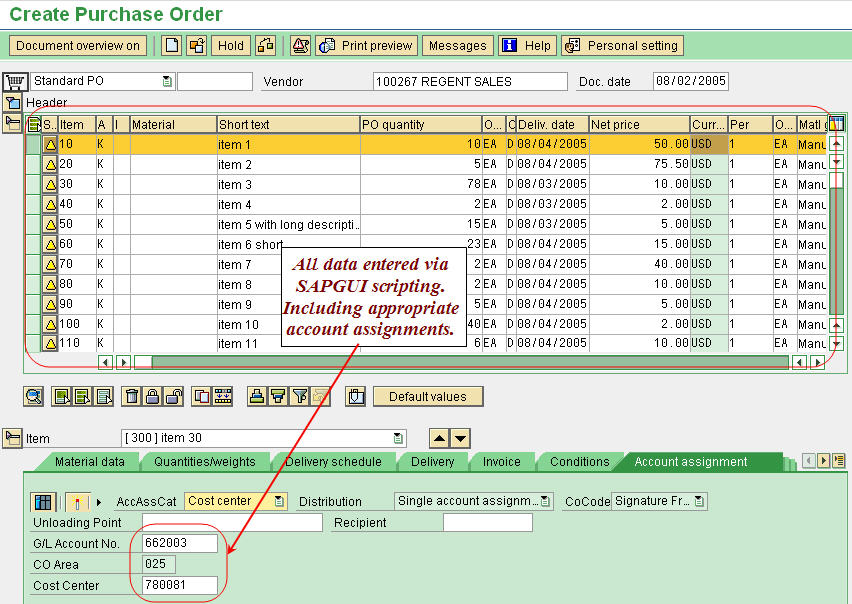 Purchase Order Line Items.

AUTOMATING LINE-ITEM DATA ENTRY VIA SAPGUI

Home: Introduction
Step 1: Setting the stage
Step 2: Activating SAPGUI scripting
Step 3: Preparing the input data file
Step 4: Recording the data entry
Step 5: Analyzing the VBS script
Step 6: Automating the VBS script creation
Step 7: Running the VBS script program generator
Step 8: Playing the VBS script to enter the line items
Step 9: Troubleshooting
Review: Conclusion and more resources

Dig Deeper on SAPscript and Smart Forms