Step 3: Preparing the input data file
Hate manual data entry work? How about a typing in a few hundred line items in purchase orders with descriptions like "BOWMA-TORQ HX HD CAP SCR 1/2-13X1-1/2"? If the items do not exist as material numbers, you have no choice but to type their description by hand ... Except, of course, if you automate it with a smart SAPGUI script. Veteran Basis guru Giovanni Davila walks you through the process in this handy step-by-step guide. This is step 3.
The data file that will be used for input must have some kind of delimiter or separator. In most cases, you will...
Continue Reading This Article
Enjoy this article as well as all of our content, including E-Guides, news, tips and more.
find that comma-separated variable (.CSV) files are the best choice because they can be edited in Microsoft Excel. However, they also can be edited with a text editor such as Notepad. On the other hand, you can use a flat-file and a different field delimiter (e.g. the pipeline symbol "|").
Remember, the important thing is to make sure the correct data is in the correct columns and in the correct order.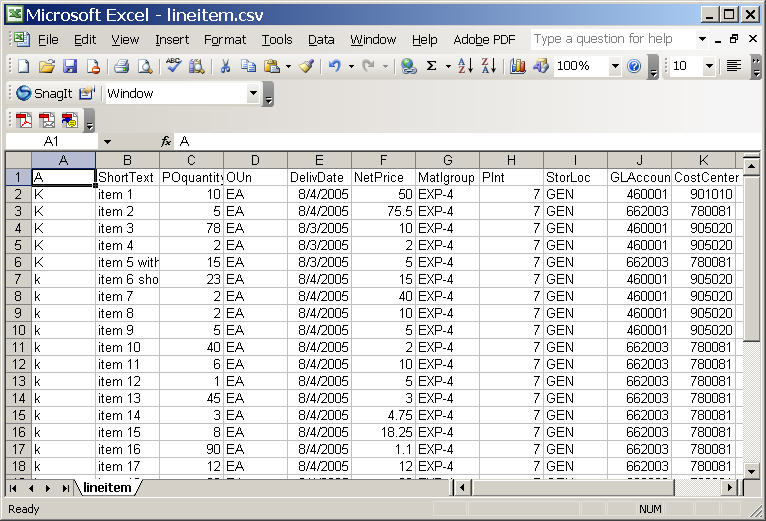 CSV file being edited in Excel.

Flat-file separated by the | symbol.



AUTOMATING LINE-ITEM DATA ENTRY VIA SAPGUI



Home: Introduction
Step 1: Setting the stage
Step 2: Activating SAPGUI scripting
Step 3: Preparing the input data file
Step 4: Recording the data entry
Step 5: Analyzing the VBS script
Step 6: Automating the VBS script creation
Step 7: Running the VBS script program generator
Step 8: Playing the VBS script to enter the line items
Step 9: Troubleshooting
Review: Conclusion and more resources

Dig Deeper on SAP Basis administration and NetWeaver administration