Step 2: Activating SAPGUI scripting
Hate manual data entry work? How about a typing in a few hundred line items in purchase orders with descriptions like "BOWMA-TORQ HX HD CAP SCR 1/2-13X1-1/2"? If the items do not exist as material numbers, you have no choice but to type their description by hand ... Except, of course, if you automate it with a smart SAPGUI script. Veteran Basis guru Giovanni Davila walks you through the process in this handy step-by-step guide. This is step 2.
SAPGUI scripting can be activated by setting the profile parameter sapgui/user_scripting to TRUE. You can activate...
Continue Reading This Article
Enjoy this article as well as all of our content, including E-Guides, news, tips and more.
it dynamically via RZ11 if your system features a 6.20 kernel or above. For systems with 4.6D kernel, you need patch 972.
Here are the steps:
1. Run transaction RZ11.
2. Enter sapgui/user_scripting and click Display.
3. Click Change value.
4. Enter TRUE (uppercase) in New value and click Save.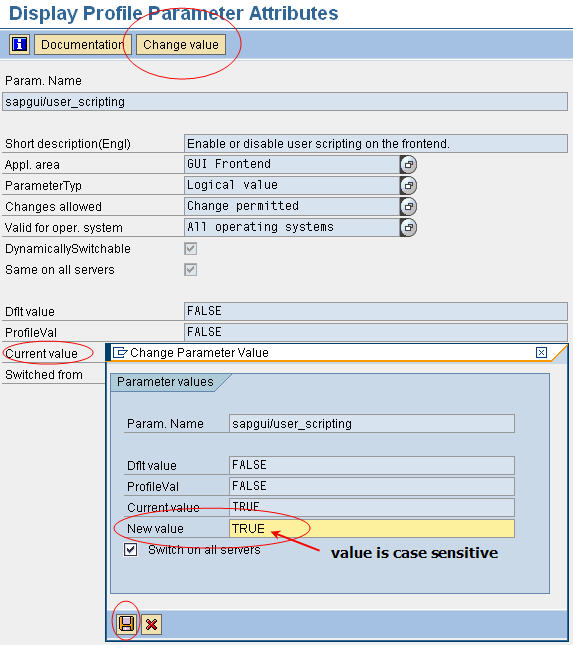 To activate this parameter permanently you need to add it to the instance profile via RZ10 and re-start the SAP instance.

AUTOMATING LINE-ITEM DATA ENTRY VIA SAPGUI

Home: Introduction
Step 1: Setting the stage
Step 2: Activating SAPGUI scripting
Step 3: Preparing the input data file
Step 4: Recording the data entry
Step 5: Analyzing the VBS script
Step 6: Automating the VBS script creation
Step 7: Running the VBS script program generator
Step 8: Playing the VBS script to enter the line items
Step 9: Troubleshooting
Review: Conclusion and more resources

Dig Deeper on SAPscript and Smart Forms