Ivelin Radkov - Fotolia
Evaluate
Weigh the pros and cons of technologies, products and projects you are considering.
SAP vs. Oracle: Which ERP implementation is right for you?
To make choosing a new ERP system easier, an ERP expert pits SAP against Oracle to help you determine which product is best for your company based on five of the most important differentiators.
Many CIOs looking to implement new ERP software will, no doubt, end up considering the industry's two biggest behemoths: SAP and Oracle. While both vendors are clear market share leaders and have very well-established product lines, the strengths, weaknesses, risks and product roadmaps of these two vendors couldn't be more different.
According to Panorama Consulting's most recent "Clash of the Titans" report -- which summarizes quantitative results from hundreds of ERP implementations across the globe -- implementing the SAP ERP system, as compared with implementing the Oracle ERP system, produces very different results for companies. For example, while the average Oracle customer spends less money on their implementation, the average SAP customer is able to deliver an implementation timeline that is closer to what was expected. This is just one of many examples we found when analyzing the results of the study.
Given that there are so many tradeoffs and variables to consider, we thought it would be helpful to narrow the differences between the two products to five key areas: ERP implementation risk, implementation cost and duration, scalability, software functionality and customization, and cloud adoption. These areas underscore some of the biggest differences between the two products and their future directions.
ERP implementation risk
Every executive is concerned about the risk of their ERP implementation, which is why they are constantly craving methods and tools to help mitigate the risk of ERP failure. Data from the "Clash of the Titans" report confirmed that these are, indeed, rational concerns, with more SAP customers claiming their implementations were failures than Oracle's customers. Further, more SAP customers experienced some sort of material operational disruption at the time of go-live, such as not being able to ship products or close the books.
While the research suggests that implementing SAP ERP carries a higher risk implementation profile than implementing Oracle ERP, every ERP customer experiences an elevated degree of risk. This is why these two vendors have done a particularly good job of developing risk management mechanisms to address these concerns. For example, SAP's All-in-One product features best practices and preconfigurations for a number of different industry verticals, with the intent of reducing risk and accelerating implementations. Speaking of acceleration, Oracle has developed similar tools, with its line of implementation accelerators and its User Productivity Kit, both of which were designed to make testing, training and other key implementation processes more efficient and effective.
Implementation cost and duration
When considered as a percentage of a company's annual revenue (or budget, for public sector organizations), SAP is the higher cost option. The average SAP customer spends 4% of its annual revenue on its total cost of ownership, while the average Oracle customer spends 1.7%. This could be attributed to the breadth of functionality -- and, therefore, higher cost -- associated with SAP's software. It could also be an indication of large organizations botching their product implementations (think: Waste Management, The Hershey Company, Marin County and other high-profile failures of recent years).
However, cost is just part of the ERP implementation equation; CIOs and project teams are also concerned with implementation duration, which is where SAP excels. While the average Oracle customer takes 22.5 months to implement the ERP software, the average SAP customer is able to do so in 4 months less. Again, this is where SAP's preconfigurations and Oracle's accelerators come in handy; in addition to mitigating risk, as discussed above, they also help accelerate the implementation time frame.
ERP system scalability
Most midmarket and larger organizations are concerned about the scalability of their ERP systems. After all, they are typically looking to their enterprise software to provide the operational backbone to help grow and scale their companies, often after years of fragmented and inconsistent business processes and systems.
When it comes to ERP system scalability for SAP vs. Oracle, the two are fairly even, albeit for different reasons. In other words, it is safe to say that the world's largest organizations are able to scale their companies with either product, simply because most Fortune 500 organizations are already using products from either or both.
However, the degree of scalability for your particular organization depends on your needs. While Oracle has largely created more of a best-of-breed option with its various products -- such as E-Business Suite, Fusion, JD Edwards, Siebel and Hyperion -- SAP has largely developed its products from the ground up, creating more of a consistent and single system feel.
Organizations looking for scalability through consistency and standardization may find SAP more scalable, while those operating from a more decentralized model based on flexibility may be better suited for Oracle's suite of products.
Software functionality and customization
At the end of the day, the technological backbone of your chosen ERP system -- whether SAP or Oracle -- doesn't really matter. Instead of a specific technology, enterprise buyers are investing in functionality and improvements to their business operations.
When comparing SAP and Oracle software through this lens, it is clear that both vendors are committed to enhancing functionality. According to the "Clash of the Titans" report, SAP customers generally realize more of their expected functionality and business benefits than Oracle's customers. On the flip side, Oracle's customers realize a faster payback than SAP users.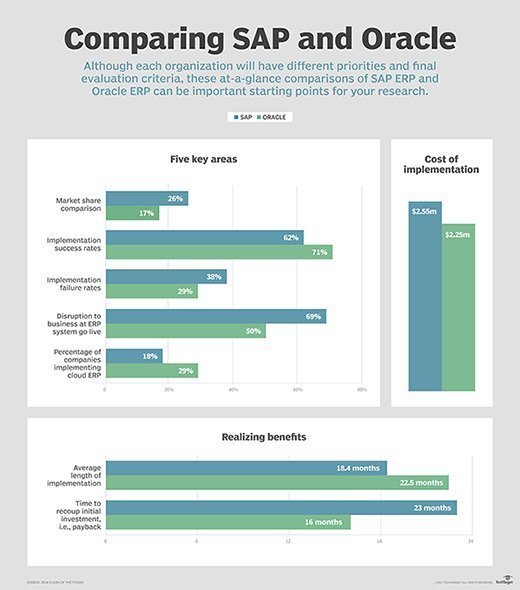 Similarly, the dreaded C word of ERP -- customization -- is on every CIO's mind. As much as they may not want to think about it, ease of customization is a real need for organizations wanting to ensure a good fit between their ERP system and their operational needs. In the case of SAP and Oracle, customers of both vendors customize their software products quite a bit, which isn't, in and of itself, a bad thing. As mentioned above, Oracle's best-of-breed solutions provide options for project teams not wanting to customize their software, while SAP also offers customization and integration tools to make its software more flexible for its enterprise customers.
Cloud adoption
For many, gone are the days of big, robust, internal IT infrastructures hosting ERP software and other enterprise software applications. Instead, a growing number of organizations are migrating their products to the cloud -- whether that be through pure software as a service, or through traditional, single instance landscapes hosted by a third-party provider.
When comparing SAP and Oracle in this area, Oracle has the slight upper hand, with more of its customers leveraging cloud options, and more of its cloud-based customers realizing more measurable business benefits than SAP's. SAP's Business One, once considered its most viable cloud-based offering for smaller businesses, is rumored to be on the chopping block, which may cause the company to lose further ground in this area.
While both vendors have adopted cloud delivery models, data suggests Oracle has been more successful in this area.
In-memory technology: SAP HANA vs. Oracle
Over the past year, we have seen SAP and Oracle boast about how their in-memory technology systems are going to change the future of ERP. SAP is making great headway with their in-memory database, as SAP HANA is differentiating itself as a highly functional, all-in-memory system. While having a single platform can be a great advantage, it also has its drawbacks, such as the cost of deployment and compatibility limitations.
In response to SAP's success with SAP HANA, Oracle has also made great strides with their new database in-memory system by differentiating their system as being functional and easy to integrate with existing compatible databases and applications. While this is a cost advantage -- especially to those already running compatible databases -- this system may not provide the convenience and breadth of a centralized system.
Putting the vast technical differences between these two systems aside, the business end result for the customer is nearly the same. In-memory technology will allow customers to run essential ERP applications and analytics faster, ultimately providing for greater productivity and insight.
Which ERP system should you choose -- SAP vs. Oracle?
While the above points of differentiation may not suggest that either vendor has a clear, across-the-board advantage over the other, it hopefully suggests some factors that potential ERP buyers can use to evaluate their software options. Every organization is different, with different priorities and evaluation criteria, but one or more of the above areas may provide the context for you to compare these two products.
Either product can likely get the job done, so the question becomes: Which will help get the job done best for your organization?
About the author:
Prior to founding Panorama Consulting, an ERP-targeted consulting group, Eric Kimberling banked 15 years of ERP consulting experience at firms such as Price Waterhouse. Eric is an expert on ERP implementation project management, as well as ERP software selection and ERP organizational change.
Dig Deeper on SAP selection and implementation