Share this item with your network:
Technology insights for the data-driven enterprise

James Thew - Fotolia
SAP data as a service helps wine shop seek truth about customers
SAP DCI data as a service helps New York's Veritas Studio Wines understand who their customers are and where they live.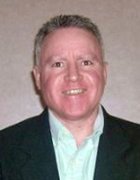 By
The old saying in vino veritas basically means the more wine that's consumed, the more the truth comes out. Many businesses are learning that veritas can be found through big data analytics and proper governance, allowing them to derive truthful insights in new and innovative ways.
But big data usage is generally seen as the domain of large enterprises, because only they have the IT resources to manage and exploit such large amounts of data. That's not the case anymore, as demonstrated by Veritas Studio Wines. The small, independent wine shop in the Hell's Kitchen neighborhood of New York City was able to use big data to discover some veritas about their customers, leading to better customer service and a healthier business.
But Veritas Studio didn't have to create, own, store or govern any of their data. That was all done through a data-as-a-service product called SAP Digital Consumer Insight (DCI).
The concept of Veritas Studio Wines was pretty simple, managing partner Jeremy Kaplan said, explaining how SAP DCI led to some surprising insights. He wanted a shop that carried good-value wines in a welcoming atmosphere. Competing in an area with several other wine shops and liquor stores, Veritas needed to offer a different environment and customer experience.
"Our competitors were carrying the same stuff, and their vibes were very similar, big places with fluorescent lighting," he said. "We wanted a warm and welcoming environment for people who want to explore wines and know that when they come in they're going to walk out with a wine that they like; they can trust us and try something different. Because the worst thing that can happen is you buy your bottle of wine then get home and open it and you don't like it or it's a lot of money and not worth it."
Using cellphone data for insights
SAP DCI data as a service provides small businesses with data that's typically available to much larger enterprises. It uses data captured from cellphones about user location and demographics and puts this information into reports that businesses can use to learn more about their customers or their competitors.
These are available in reports that are purchased from the online SAP Store as a single report or a bundle of five. The user designates a location, which can range from an entire city to a specific location, like a store, and a three-day past-time range, for example, "July 1-3, 2016," and the reports are delivered in a variety of graphic formats. The information in the reports is stripped of any personal identification data and includes things like the cellphone users' ages (anyone under the age of 18 is excluded), gender, the type of device used (i.e., Apple iPhone 6S or Samsung Galaxy S6) and operating system (i.e., iOS 9 or Android). This data gives the user a pretty good idea of a potential customer at a particular time and place and potentially helps with marketing and sales efforts.
Jeremy Kaplan
Practiced sports and entertainment marketing and advertising, including six years as vice president of advertising and design at Madison Square Garden.
Marketing consultant at Gardner Communications since 2004.
His first wine position was guest sommelier at Michelin-rated New York City restaurant Bouley, where he worked pro bono for 18 months to learn about wines. As consulting wine director, he opened two NYC restaurants.
Opened Veritas Studio Wines in 2014.
Graduated Temple University, majoring in radio, television and film.
Native of New York City.
Not just for the big guys
Kaplan was familiar with SAP as a vendor that implemented complex business systems for large enterprises, and he was skeptical when approached about using SAP DCI. "When I first heard about SAP DCI, I thought there's no way that SAP could have anything [that would be remotely relevant for our business]," Kaplan said. "But then when I found out what it really did, I was interested because I wanted to understand more about our community; our neighborhood; and, to a degree, our business because we wanted to plan correctly based on any kind of data that we could collect."
I wanted to understand more about our community, our neighborhood, and, to a degree, our business.

Jeremy Kaplanmanaging partner, Veritas Studio Wines
The wine shop was collecting customer attitude information from reviews on Facebook, Google, Yelp and the like, and sales information from its Bindo POS system. While the social media data was limited, Bindo POS was valuable to daily sales, but Kaplan sensed that the demographic data contained in SAP DCI reports could provide insights about the neighborhood that they couldn't get anywhere else.
Kaplan already knew that a large percentage of Veritas Studio's customers came from an apartment building across the street, so he decided to find out more about his competitors' locations. "Instead of measuring our location, which is on a side street, we looked at our competitors who are on main streets and we looked at a weekend," he explained. "When we got the data back, we learned quite a bit."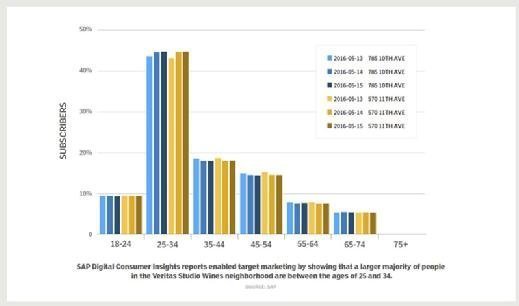 Insights lead to changes
Since SAP DCI takes the data from cellphone usage in a specific location during a specific three-day time period, one particular report Kaplan used provided three insights. First, the neighborhood has a lot of older people who have lived there for generations, but most of the foot traffic in the area is people between the ages of 25 and 34. Second, the vast majority of potential customers are active in late afternoon or early evening, which is later in the day than Kaplan had assumed. Third, most of these shoppers come from within the neighborhood, whereas Kaplan had assumed that many of them live in other parts of the city. However, the report also showed that a significant number come from northern New Jersey across the Hudson River.
As a result, Kaplan changed the store opening hours from noon to 2 p.m. "That helped with two things," he acknowledged. "One, it enhances customer service with two people there and how the store is maintained, because you have two people there at the same time," Kaplan said. "We were about to hire a third shift to cover the core hours of operation, but we didn't have to do that, so we saved about $28,000 by not having to hire somebody and enhanced customer service at the same time. So that right there was great, and we could have stopped there."
Second, Kaplan decided that they didn't have to expend marketing efforts beyond the immediate neighborhood. But there was the one caveat with the people who came from northern New Jersey. "We figured out that there were customers that came into the shop before going to the ferry terminal on the Hudson," he said. "So now we have a guy go over to the ferry terminal and hand out flyers, so that helped us as a marketing tactic."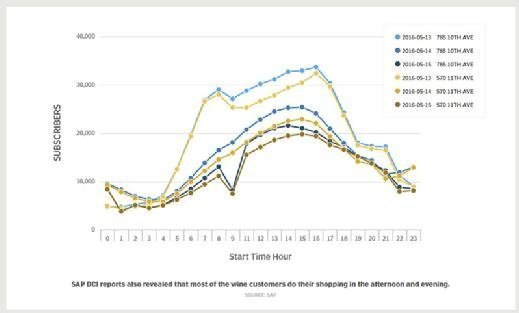 And since the SAP report showed that most of the people are younger, Kaplan figured that they needed to introduce a "cool, hip vibe" into the store while keeping the atmosphere simple and homey. That helps Veritas Studio distinguish itself from the more sterile or intimidating competitors. "We wanted to reflect the younger attitude and reflect the neighborhood with a diversity of employees," he explained. "You walk into the competitors and you feel like you're walking into a business -- sales signs from distributors promoting Jack Daniels, vodkas or stacks of wines -- it's a colder environment. You walk into our place, and it's like you're walking into somebody's living room."
So Kaplan is convinced that big data can benefit a small business, but he cautioned that it may be harder than it looks. SAP has a couple of challenges in getting small businesses on board with DCI. "One," Kaplan noted, "small-business people are tough to get to and they have a lot of stuff to do. I had the advantage of knowing who SAP was and also what they could do, but many may not. But the other thing is how do you digest it, what do you do with it? Even I was incredulous and said, 'What can I learn from that little bit of data?' I think we were lucky that I was able to grasp it, but I think if SAP can give that end-user support, maybe someone who can help interpret the data, it could be a real success."