Ivelin Radkov - Fotolia
SAP Learning Hub gets new UI, live sessions and gamification
Analysts and SAP agree that recent modernizations of SAP Learning Hub were necessary to keep users abreast of rapid changes in the vendor's product offerings and technologies.
In the last six months, SAP has made a flurry of improvements and refinements to its cloud-based education and training center, SAP Learning Hub.
On the surface, SAP completely retooled the user interface, launched nearly three dozen new socialized "learning rooms," brought administrator and supervisor privileges to private versions of SAP Learning Hub and piloted gamification in learning rooms. It also launched a new series of live training sessions and an SAP Education Network for Digital Transformation learning room that's free and available to everyone.
Behind the scenes, even more enhancements have been in play -- for instance, a pilot of a new e-learning framework.
"SAP has changed the whole modality of training and education by bringing it into the 21st century," said Joshua Greenbaum, principal analyst at Enterprise Applications Consulting. "That's the most important thing -- to recognize that the classroom model doesn't work now, especially with a Millennial workforce that's been schooled in the digital, touch-based user experience and has a low tolerance for the boring training methods of the past."
To understand the scope of what SAP has been up to with SAP Learning Hub, rewinding just a few years back reveals that most SAP-focused training was delivered for implementations and new software rollouts -- and in person, in classroom-like environments.
According to Claire Schooley, principal analyst of talent management at Forrester Research, a big challenge for enterprises is making sure that the training is provided as close as possible to the actual use of the application by the employees.
"General information about the application can be provided earlier, but if details of processes are given too early, employees will remember very little when faced with a live application," Schooley said.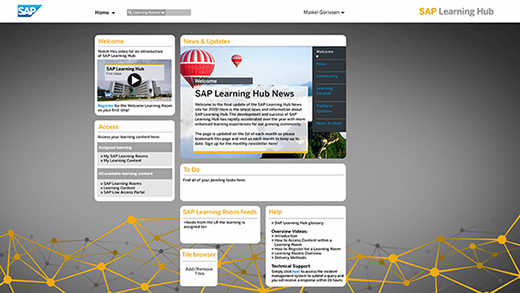 "They need to practice using the application in many situations," she added, noting that having mock sites where employees can try out an application is important, too. More to the point, she said, training should be less of a one-off event and more of an ongoing experience. "By having periodic training sessions, new features can be introduced and the employees will get more benefits," she added.
For its part, SAP is addressing all of these new challenges with wide varieties of on-demand content and modes of learning, all of which have the potential to baffle and confuse learners as they navigate their just-in-time training needs.
Enter SAP learning rooms and expert moderators
As of early 2016, SAP had 81 learning rooms, 12 of which were added in the last six months. Learning rooms are topic-specific online areas that combine peer-based social learning and interaction with instructor-led SAP guidance.
"I call learning rooms the hub of the hub," said Jan Meyer, head of learning strategy, business development and delivery at SAP.
Even with all of the advanced technologies and special curricula -- there are more than 4,500 titles of course materials -- SAP Learning Hub users still face the common challenge of not always being sure about what they need to learn to best meet their needs. Dedicated learning room trainers are there to help by not only explaining curricula, but also by recognizing learner needs and challenges and guiding them toward the best experience.
"Even online, people want that guidance -- you have to have a human element," Meyer said.
These dedicated learning room experts also help determine which course material needs more attention. "In Q1 alone," Meyer said, "we edited, updated and added a total of 225 courses. So in terms of content, it's a very dynamic environment."
For particularly hard-to-learn content -- or particularly hot content, such as training on S/4HANA, the vendor's new ERP platform -- learning room trainers help identify topics that would benefit from human-delivered live sessions. These topics get live, 30-minute presentations, so that learners can ask questions and get answers in real time.
And speaking of real-time learning, in the world of software, it's hard to beat tapping, clicking and typing on a live, interactive system. To meet that need, SAP has a separate offering, SAP Live Access, which lets learners engage with live simulations. While SAP has offered Live Access in traditional lab-style classrooms for years -- and for nearly two years online -- Meyer said that SAP Live Access is starting to take off online now, too, and SAP is seeing a significant uptick in purchases for it.
Who's gaming with SAP?
Much of SAP's efforts revolve around constant refinement, and the company is not above incorporating less-than-serious features if its users want them, and they achieve results. Case in point? Gamification.
In Q1, SAP piloted a series of "missions" where users were awarded points, levels and badges. "Gamification has been a great tool to direct people to do certain things ... and have a little fun along the way. We're rolling more out now," Meyer said.
So, how effective is SAP Learning Hub?
"We touched about 150,000 people with traditional training methods on a yearly basis back in 2012," Meyer said. "We are now touching more than 350,000 people on SAP Learning Hub -- it's been hugely successful, and we're looking forward to significant growth this year."
SAP Learning Hub is available in four editions: Professional, User, Student and Discovery. The Discovery edition is a free trial edition, while the other three are offered as for-charge cloud-based services that organizations can customize with additional services through their own private-cloud versions.
All of the enhancements at SAP Learning Hub have been coming at a time of great change, particularly as SAP moves relentlessly toward all things HANA.
Not surprisingly, Meyer said that S/4HANA is one of the largest drivers of SAP Learning Hub engagement.
"There is so much disruptive innovation [at] the moment that there is a huge need again to learn, to cross-skill and to update your skills in the SAP ecosystem," Meyer said. "With the increased frequency of release cycles -- every quarter -- you need to have a platform like Learning Hub at the fingertips of the learner to support them properly."