Ivelin Radkov - Fotolia
Evaluate
Weigh the pros and cons of technologies, products and projects you are considering.
SAP BI portfolio consolidation: What should users expect?
Many agree that SAP's plans to converge its BI portfolio as a part of its 'Run Simple' strategy is wise. But the way forward for users isn't clear -- yet.
SAP's efforts to simplify and consolidate its sprawling business intelligence (BI) portfolio is being met with positive feedback from users, analysts and consultants -- even if details aren't entirely clear and questions persist on when customers should migrate to the newer technologies.
"It's good that there's a strategy to simplify, and to have leading tools, but it's unclear to me as to how that's actually going to be executed," said Ethan Jewett, owner of Coredatra LLC, a BI consulting and software company.
The problem
As it has grown over the years, SAP has built or acquired a wide range of BI tools -- many of which overlap in some way.
"They have multiple reporting tools, multiple visualization tools, multiple office tools," said Jamie Oswald, a BI and SAP BusinessObjects expert for Mercy, a national healthcare network of 32 hospitals and 300 outpatient facilities based in Chesterfield, Mo.
So SAP has decided some housekeeping is in order, in tandem with its stated intention to make it easier for its customers to deploy and use SAP software -- as echoed in the "Run Simple" mantra it debuted this spring at the annual Sapphire Now conference in Orlando. In general, the plan is to focus on a core group of products, but allow users to keep their existing BI content indefinitely, all the while making it as easy as possible to migrate to those newer applications.
"Instead of investing in that huge portfolio of products, they decided that, 'Look, we can stay further out on the edge if we decide on a subset of those tools to fill each need that our customers have, and really invest in those going forward,'" Oswald said.
That means instead of investing in SAP BusinessObjects Explorer, most of the emphasis will be on SAP Lumira. Or, in the case of dashboards, SAP will move away from Xcelsius dashboards (now known as SAP BusinessObjects Dashboards) in favor of Design Studio.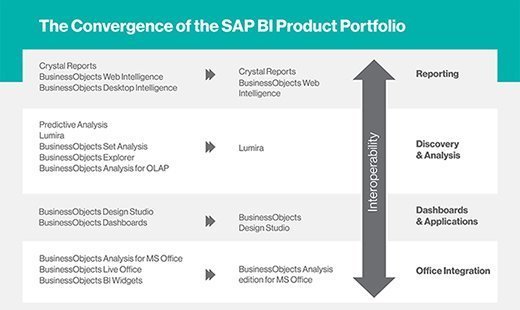 According to SAP, the consolidation affects what it calls its "agile visualization" tools -- which include Lumira -- and the rest of its enterprise BI and BusinessObjects portfolio. Although Lumira includes basic predictive analytics features, SAP's flagship predictive software, InfiniteInsight, is unaffected by the consolidation.
But while a very broad roadmap has been laid out for users, details and dates about carrying forward some features of the old tools to the new ones have not been provided. Furthermore, tools that SAP might provide for migrating from one to the other have not been identified, but they are in the works.
"What will happen to support that migration? We don't have an answer yet. We've got a base approach, and identified the best tools for convergence, and next we'll get into the technical scoping," said Jayne Landry, global vice president and general manager for BI at SAP.
Others stress that the situation is hardly unique to SAP, with one consultant drawing comparisons to IBM's acquisition of Cognos.
"They had to explain how Cognos added to their portfolio, and what benefits it provided," said Coy Yonce, principal technical architect at EV Technologies based in Granite City, Ill. Yonce is a former SAP employee.
"They had to go through the same problem, explaining when you should use this from IBM, versus when you should use this from Cognos, and what their lifecycle is going to be for each of these products, what is their strategy for supporting them, and when are things going to go away," he added.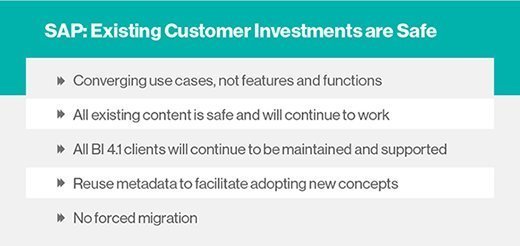 The challenge
The challenge for users, according to analysts, is that products like Lumira and Design Studio are not yet at the level of the products that are replacing them, according to experts.
"There are tons of people that use dashboards and are not ready to move to Design Studio because Design Studio doesn't support the same data sources that the dashboard tool does," Jewett said, citing one example. Likewise, he added, Lumira doesn't offer the same level of integration with the entire SAP BusinessObjects suite that Business Explorer does.
"They're working on closing those gaps," Jewett added. "But if you're going to go to your customers and say, 'Well, this is the new tool, you should move off of this old tool onto this new tool,' you have to be able to say to them that this tool essentially does everything important that the old tool did," Jewett said. "That's asking a lot for some of these newer tools."
It also means many users will see their favorite SAP BI tools wither and die over time, according to Oswald. But that's not entirely a bad thing.
"[The strategy] makes a lot of sense," Oswald said. "If I'm a customer, if I'm already heavily invested in Xcelsius, I would probably prefer that they had chosen Xcelsius. But at least I know that when I switch over to Design Studio, it will improve faster than it would have otherwise."
Oswald said SAP's announcement that it won't retire existing BI content was key.
"If I'm an Xcelsius shop, I know that at some point in the future, if I want to get that, if I want to see improvements and features and things like that, I need to switch over to SAP Design Studio. But I know that I don't have to turn off any of my existing dashboards. "
Stefan Vazeery, a BI solution architect with NuVasive, a maker of medical devices based in San Diego, said the move from Xcelsius to Design Studio would be one of the more problematic moves.
"I think the most impacted one is Xcelsius. Some companies have made some really big investments [in that]," Vazeery said.
What do customers think?
Oswald said his organization is one of those caught between SAP's newer and older BI product portfolios.
Mercy is a heavy user of Web Intelligence and Crystal Reports -- two products SAP is keeping -- but also of some BI tools that are on their way out.
"We're using Xcelsius and Explorer now, which are on the endangered software list," Oswald said. "For the time being, we are planning on continuing to develop in both tools. When Lumira has feature parity with Explorer, we could probably start cutting those over pretty quickly because they should be pretty easy to move, but I think feature parity will probably be a ways out."
Oswald said he's not concerned about migrating from Explorer, because users like it, Explorer content will continue to be usable and supported, and SAP recently enhanced the software.
"If Lumira ends up offering some can't-miss functionality over Explorer though, I'll cut over right away," Oswald said.
The decision to move from Xcelsius to Design Studio is coming sooner, he added, especially when Mercy begins using the SAP HANA in-memory database as its system of record.
"It requires a very different skill set than Xcelsius does, but it lets us go mobile more easily and the applications we build should scale well for our larger data sets. Training will be our biggest issue there," he said.
Oswald advised users to start considering when it makes sense to switch to the newer products. A new business requirement, dashboard or analytics application, for example, might require continuing to use Xcelsius until Design Studio gains the needed functions.
"At that point it makes sense to flip over," Oswald said. "That line will be different for different customers, but at least they know they need to start looking for [it]," he added.
People should also spend time getting to know the new BI tools, whether or not they're ready to migrate.
"I would look very carefully at what SAP does, and hold off on acting based on what they say they're going to do. That's going to mean waiting to a certain extent," Jewett said. "I would definitely encourage customers to try out the tools if they're not already familiar with [them] and get a good understanding of the use cases."
Dig Deeper on SAP business intelligence