SAP Anywhere helps SMBs run their businesses in the cloud
SAP Anywhere is a cloud-based mobile application for SMBs that combines sales, inventory management, order processing, marketing, mobile POS and more.
SearchSAP editors periodically recognize new software for innovativeness and market impact. This quarter, we give the nod to SAP Anywhere, released in the U.S. at the recent Sapphire Now user conference.
Product and company name: SAP Anywhere
Release date: October 2015 (China), March 2016 (U.K.), May 2016 (U.S.)
What it does
SAP Anywhere is a mobile-first, cloud-first, front-office platform aimed squarely at very small businesses, from 10 to 500 users.
It's a unified front office application that combines sales, inventory management, order processing, commerce, marketing programs, mobile point of sale, customer support and engagement capabilities in one application that enables multichannel commerce with a multichannel marketing platform.
For example, a small retailer might use SAP Anywhere's sales and CRM functions to show where leads are coming from or what products are being sold in different channels. Marketing features can give insight into inventory and help develop campaigns for various channels. Point-of-sale functions allow you to process orders from one place.
Why it matters
In contrast to other SAP products intended for the SMB market, SAP Anywhere was purpose-built as a mobile-first, cloud-first SMB application, according to E.J. Jackson, SAP senior vice president and GM of SAP Anywhere. In today's digital world, Jackson said, customers have an expectation of superlative customer service, and this helps very small companies to compete on that front against large enterprises that have tens of millions of dollars to invest.
"It's a totally organic purpose-built application and we didn't take anything existing from [SAP Business ByDesign or SAP BusinessOne] or any of the existing code lines," Jackson said. "We built it in a really contemporary manner with the intent of it being mobile first, low touch and highly extensible."
Many small companies want to expand their B2B and B2C markets, but technology is a barrier. However, Jackson said SAP Anywhere is a mobile application that they can get up and running in less than 48 hours. A key benefit is that small companies can easily train employees on the system.
"It's very easily consumable, first of all, by delivering on a mobile device," Jackson said. "If you're a small business, employee turnover is a big issue for you, and it's a lot easier to hand someone a tablet and tell them this is how we run our business, rather than going to some back room and showing some proprietary software."
Administration is all handled on mobile devices as well. "You can do everything with a mobile device, with the entire configuration and administration," Jackson said. "You have user-defined fields, user-defined objects, and you can add scripting into this and it's all done on a tablet or mobile device. So, soup to nuts, it's quickly consumed and it's sophisticated, too."
What users say
Adrienne Fong, operations manager for M.R.K.T. (Mad Rabbit Kicking Tiger), a company that produces and sells designer bags and accessories, said that SAP Anywhere has greatly improved their operations. M.R.K.T. was founded in 2010 as a hobby by Tom Pen, a Harvard-trained architect, and has grown into a 15-employee company, beginning first with retail and wholesale business in China. They opened operations in the U.S. in 2014, starting with wholesale and e-commerce, then opened international distribution in 2015. Currently, the company operates in more than 20 countries. M.R.K.T. has one warehouse in China and one in the U.S.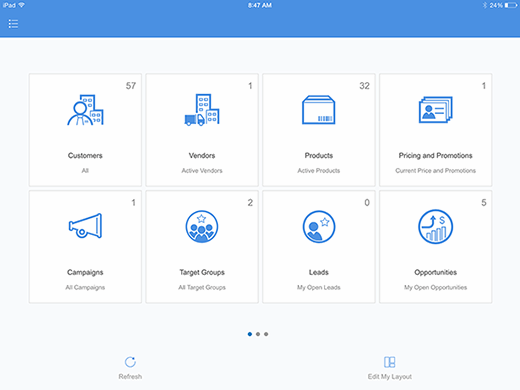 When the business was small, it handled day-to-day operations with four different software applications (QuickBooks, Shopify, Brandboom and Excel); however these became difficult to manage as the business grew, Fong said. The inventory data was disconnected and data had to be entered into each system every time an order was placed.
"When someone logged onto our website to place an order, we would get an email saying the order had been placed and I would have to track our warehouse system to check inventory to make sure that we had everything," Fong said. "I would then place the order into that system so the warehouse knows that they're getting something that they need to ship out, and then once it ships go back into QuickBooks to invoice. So it took up a lot of my time, even though it's not hard and was basically just data entry."
M.R.K.T. began implementing SAP Anywhere in 2015 and is currently using it for order entry and processing, invoicing, and inventory control. Fong said that just cutting out the time that was spent entering orders manually into several different systems has been worth it, allowing her to focus on other aspects of the business. It has also greatly reduced errors in the process as everything goes through one system only now.
They are also beginning to move their B2B website to SAP Anywhere. "This means that we won't have to use the other program, and it makes it easier for our retail customers to log in from anywhere and easily get orders from us," Fong said.
According to Fong, one of the benefits of SAP Anywhere for M.R.K.T. has been the ease-of-use, because everything is available on tablets or other mobile devices and it's easy to deploy and train users. Many small retailers and wholesalers are using old systems and don't have the resources to develop and maintain systems like this on their own.
"A lot of companies in the industry still use paper and pen to take orders, but there are a lot more people with entrepreneurial ideas now trying to create a brand or company. … Having SAP Anywhere available to these small enterprises is really important because if I was starting a business, in the beginning, I would never be able to afford a programmer to program such a system," Fong said.
Price
SAP Anywhere is available in three packages: Starter, Premium and Unlimited.
The Starter package begins at $549 per month for a minimum of five users and two channels, with 1 GB storage. Additional users are $54 and additional channels are $109. There is a one-time "Getting Started" fee of $1,098.
The Premium package begins at $934 per month for a minimum of 10 users and three channels, with 5 GB storage. Additional users are $54 and additional channels are $109. The one time "Getting Started" fee is $1,868.
The Unlimited package begins at $1869 per month for unlimited users and five channels, with 100 GB storage. There are no additional user costs and additional channels are $109. The one time "Getting Started" fee is $3,738.