Sergey Nivens - Fotolia
SAP Analytics Cloud helps paper-maker tell a good business story
SAP Analytics Cloud software is helping paper manufacturer Pratt Industries tell the story of monthly forecasts more accurately, replacing a cumbersome and time-consuming process.
Can you use data to tell a company's story? Stories include how the company is doing in different markets, where the opportunities are, what challenges it faces and how you forecast cash flow for the next month or year.
The right software tools combined with quality data can make this happen, as Pratt Industries Inc. found out after it implemented SAP Analytics Cloud.
With the introduction of SAP Analytics Cloud, Pratt has been able to understand the real story of the company's monthly financial performance, according to Stephen Filreis, director of the SAP program management office for Pratt Industries.
SAP Analytics Cloud (SAC) is a SaaS application built in SAP Cloud Platform that includes functions for business intelligence, predictive analytics, and planning and forecasting. It can integrate data from a variety of sources, using SAP HANA as the analysis engine. SAC employs a method that it calls Stories that enables users to take all the data they need -- like sales, financials and revenue -- and determine insights about a company's performance through graphs, charts, maps and other visual elements.
Telling a better story
For Pratt, the most important story SAP Analytics Cloud tells is one of more accurate and timely accounts receivable cash forecasts, Filreis said.
Pratt Industries, based in Conyers, Ga., is a paper packaging manufacturer that creates corrugated sheets from recycled paper and turns them into boxes and other corrugated materials. Pratt, which uses a number of systems to run the business, according to Filreis, has run SAP ERP for about eight years on all its financials, including accounts receivable, accounts payable, fixed assets and projects.
Pratt has run SAP BW in HANA for a number of years to handle data warehousing and, four years ago, it implemented SAP Business Planning and Consolidation (BPC) for management reporting and for reporting to bondholders and outside interests, but Filreis knew that more was needed for reporting.
"It's a great tool for static reporting, and maybe a little bit of ad hoc reporting, but visualizations just were not part of BPC," he said. "So I'd been looking for many years at visualization tools and had gone through all of the normal ones -- Tableau, Qlik, different SAP tools -- and realized that the most important thing about data is that it's consistent. And the fewer times that you move it, the more consistent it will be."
Getting more flexible and precise estimates
Filreis chose SAP Analytics Cloud primarily because it could handle the data from various sources consistently, and because it was a SaaS application and relatively easy to implement and run.
The first problem Filreis tackled with SAC was providing much more accurate and flexible accounts receivable cash forecasts. With previous tools, determining cash forecasts was cumbersome, and the company couldn't deal with information that changed the estimates made by credit managers in the monthly accounts receivable plans.
Filreis chose SAP Analytics Cloud primarily because it could handle the data from various sources consistently, and because it was a SaaS application and relatively easy to implement and run.
"They got pretty good at estimating the monthly cash flow, but things don't always happen as estimates go, so they wanted to get something a little more precise," he said.
Using SAC, Filreis was able to establish cash targets that could be updated as data came in from BW on HANA, providing a much more accurate picture of the amount of money credit managers would bring in each month.
Prior to implementing SAC, the monthly estimates were prepared in a cumbersome and slow manual method using downloaded data from the SAP system and reams of Microsoft Excel spreadsheets.
"The speed of SAC is a top benefit, as they don't have to go into SAP and download a report and put it into Excel, and then analyze it upside and downside," Filreis said. "They know that the data is reliable, it's visually appealing, it's easy to navigate and it's web based, so it's a little cleaner than their SAP interface. They can also get some quick information on their phone or iPad very easily with graphics showing them progress during the month."
Reducing the need for IT support
The cloud is a major factor in the appeal of SAP Analytics Cloud, Filreis said, because it enabled him to greatly reduce IT dependence and costs.
"I use my IT guy for two things now. One is to get the initial connection going, as we had to have a server here to work the cloud connector, and he put that in," he explained. "The other thing is updating that cloud connector when SAP requires us to. I talk to him every couple weeks and send him an email with a link to the new update for the cloud connector, and an hour and a half later, I'm done. That's it. I don't have to get involved with them at all, and they don't help us in any way with this tool."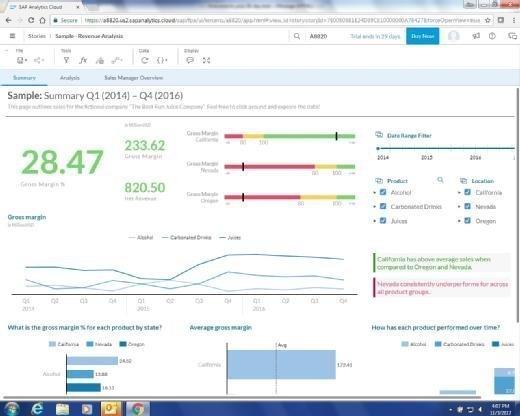 However, Filreis explained that it's important that you understand the application before you implement it because of the complexity under the covers. One way to do this is to use an implementation partner who knows the application inside and out, as Pratt did with its partner VantagePoint, an SAP technology partner that specializes in SAP Analytics Cloud.
"We started with them when we put in BPC, so they know our architecture and our environment very well," Filreis said. "I talked with them about a year and a half ago about SAC and we concluded that we needed to wait a little bit until it got a little more robust. But then we started with it in January with them and they've been our partner ever since, helping us to architect the models, giving us pointers to where we could be more efficient with the back end of it."
Know your data to get the best story
The application itself is very rich in tools and features, so Filreis advises that you understand these tools and features -- and your data -- to take full advantage of SAC and tell a good story.
"It's a lot deeper than it looks at first blush, and there's a lot more going on there than you can take advantage of the first week," he said. "When I first got it, I got SAP to give me a trial access and I sat down over a New Year's weekend with a couple thousand lines of data created out of BPC and literally, within a couple hours, I had a pretty good story without having anything other than just a demonstration of how the thing worked. So it's very intuitive.
"But you've got to know your data -- that's the most important thing, know your data and know your metadata because that's what's going to make your story sing, it's what's going to make them useful and it's what's going to help you distill all that data into information and, ultimately, into insights."