James Thew - Fotolia
Process mining software provides an inside view of SAP systems
Telecom vendor Vodafone used Celonis process mining software to 'X-ray' its SAP business processes, and then used the data to improve supply chain efficiency and to prepare for S/4HANA.
Staying healthy and recovering from injury or illness would be extremely difficult if we didn't have X-ray or MRI machines that give us the inside story on our bodies. Process mining software provides the same kind of inside look at business processes, and it can be a valuable tool in diagnosing and fixing business process problems.
Vodafone, a global telecom services company, implemented process mining technology from Celonis, a Munich-based software vendor, on its SAP ERP system two years ago and has seen improvements in supply chain business processes. The visibility that the process mining software provides is also helping Vodafone prepare for an upcoming upgrade to SAP S/4HANA by identifying and cleaning out bad processes, according to Israel Exposito, global process lead for the big data process mining initiative at Vodafone.
"We implemented Celonis mainly to get full data transparency," Exposito said. "We were a little tired of getting more than one unique version of the truth. We were also a little tired about spending time getting the answers on [the] why and where of the issues."
An MRI machine for business systems
Process mining on SAP or other ERP systems allows you to see and understand what's happening with processes that run on the system. This allows businesses to identify weak processes, find where there are compliance deviations and fix broken processes.
Celonis process mining software analyzes raw data from the SAP transaction or event logs and uses data visualization tools to display the data in graphical formats. This allows the users to see when tasks are performed, how long they run, how well they perform and where they take manual effort to complete. It's also possible to drill down to view individual documents associated with the process.
"Process mining is all about automatically discovering the as-is business process from the data that an organization generates -- it's like an X-ray or MRI machine for your business," said Alexander Rinke, CEO of Celonis. "What's cool about this is now you know where your most important weak spots are as you execute -- what's costing you time and what's keeping you busy."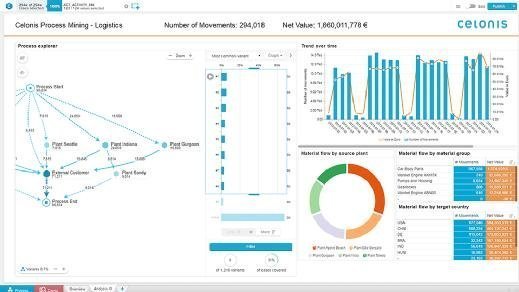 Fixing issues that have already changed
Vodafone is a complex business that now sells internet of things, internet, TV and other services, along with its mobile phone network businesses, and it began a big data analytics processing project for its supply chain management area.
The key performance indicators for the system were often not performing well, and Exposito said there was too much time and too many resources being consumed in finding out why and resolving the issues.
"Then, by the time you get an answer, the processes are changing and you get new issues," he said. "So, you need to reinvent the wheel one more time and get analytics again and again."
Vodafone implemented the Celonis software and assembled a data analytics team that would focus on improving process efficiency and compliance. The ultimate goal was to analyze supply chain processes and be able to create a "perfect purchase order," Exposito explained.
"My analytics team is not only responsible for driving analytics, but is also responsible for driving transformation," he said. "This is what I call the 'doctor approach' -- we get the data, get insight from the data, propose solutions for fixing the issues to the different global process owners, and once all the recommendations are approved, we drive the transformation."
Creating the perfect sales order
One of the most important features of the Celonis process mining software is it works in real time, allowing the data analytics team to examine processes as they are happening. So, they no longer have to reinvent the wheel every time a process issue was resolved. Root-cause analysis that used to take up to two days is now performed in seconds.
"We have been able to get full transparency. And getting the data now is about clicking a couple buttons, and it's real-time information," Exposito said.
They may not have created the perfect sales order yet, but Exposito said 85% of purchase orders are created correctly now, and the cost to produce a purchase order has been reduced by 11%. Improved efficiency and compliance have also speeded the time to market for products by 20%.
Helping prepare the landscape for S/4HANA
Getting visibility into Vodafone's SAP ERP resulted in one other major benefit: helping prepare the data landscape for a move to the new ERP platform, SAP S/4HANA. Exposito explained that a move to S/4HANA is inevitable, and work needs to be done on their business processes to make them more aligned with S/4HANA requirements. In one example of this, the company simplified the procurement process by "robotizing" the 15 steps of the process.
"Our SAP ERP system is not on cloud, and we believe we need to clean the house before we move into S/4HANA. Because, in the end, you don't want to implement something which doesn't make sense on S/4HANA, because sooner or later, you'll need to reinvent the wheel again," he said. "We thought at the time that S/4HANA is coming and we will eventually need to implement it, and if we just drive efficiency and compliance, we'll clean the house before we move in there."
Dig Deeper on SAP selection and implementation