Manage
Learn to apply best practices and optimize your operations.
On-Demand Supply Management, chapter 7: 'P2P -- Where e-Procurement Meets Accounts Payable'
This book offers new tools and advice to facilitate the internal technology debate between procurement, IT and finance executives to enable faster adoption of the correct strategies and tools to lower procurement costs and improve bottom-line results. It also provides a practitioner's view of decision-making processes and adoption challenges that come with constantly evolving technologies.

Download chapter 7: 'P2P--Where e-Procurement Meets Accounts Payable'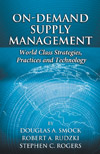 Excerpted from the book "On-Demand Supply Management: World-Class Strategies, Practices and Technology," ISBN 978-1-932159-62-2, Copyright February 2007. Written permission from J. Ross Publishing is required for all other uses.
Chapter Excerpt:
---

In purchasing and supply management, P2P is an acronym for "procure to pay" or "purchase to payment." Another acronym with the same meaning is R2C—requisition (req) to check. P2P is the transactional flow that surrounds an order that is sent to a supplier, the fulfillment of the order, and then payment for the product.
As the preface to this book has described, e-procurement began in the hype of the dot.com boom in the late 1990s. Many companies started with e-procurement of indirect spend and found doing so was much tougher than the magazine articles and software ads had depicted. Even worse, some procurement leaders were "stained" by the damaging perception of senior management—an indelible picture of a struggling, million-dollar IT investment to save a few pennies on the pens and pencils stored in office supply cabinets. Not a good mental image for the people with the purse strings who were looking for a strategic intervention.
Through it all, the P2P pathway automation of e-procurement kept quietly plugging away, ultimately undergoing perhaps the most improvement in terms of capability and foundational importance. The nomenclature, however, is still fuzzy, with some SRM suites looking more like e-procurement suites and most e-procurement suites having SRM modules (see Chapter 6). The original transactional P2P Internet interfaces—requisitions, purchase orders, delivery receipts, payment approvals, ledger postings, and funds transfers—are still the backbone for a host of evolving powerful purchasing tools. Not much imagination was required for software suppliers to add sourcing, contract, and compliance components to the horizontal process of the early tools.
e-Procurement suites, regardless of their specific product names, are e-tool lineups that mirror corporate supply management processes. Throughout this book discrete elements of the broad e-procurement tool set (spend analytics, goto- market reverse auction/RFx, contract management, SRM, etc.) will be examined, but this chapter will return to the genesis of these e-tools and discuss how e-procurement has survived, even thrived, for companies that "get it."
P2P is the ultimate multifunctional process, cutting across users (requisitions and desktop buying), sourcing (deal making to reduce cost or increase value), departments/functions (Finance and Accounting, money tracking and funds transfer; Accounts Payable, paying bills; Human Resources and Internal Controls, setting/enforcing policies), and ultimately the suppliers themselves (to "make it all happen" in the real world). A December 2004 benchmark report highlights continuing e-procurement improvements well:
Basic requisition-to-order functionality—Matured requisitioning, approval routing, and reporting are comparable across most software solutions.
Broader suites that more effectively tie the process together
Improved catalog approaches requiring much less maintenance and providing more standard, intuitive user screens.
Dramatically reduced product cost (e.g., a 75% license fee reduction since 1998)
Availability of believable, realistic sourcing and internal efficiency savings for use in investment justification

This capability is now something that is within reach for many companies, not just the well-funded elite. Plus, the return is clear. For many companies the journey to e-procurement is by no means over, but progress is obvious, with improvement areas becoming more visible and attainable. Hard work is still required, but it will be with far fewer unexpected missteps caused by immature software or overconfident implementations.

Chapter 7: 'P2P--Where e-Procurement Meets Accounts Payable'
Visit the J. Ross Publishing website for a detailed description and to learn how to purchase this title.