James Thew - Fotolia
New SAP leadership faces big challenges in 2020
Industry analysts discuss SAP's biggest issues in 2020, including how the two new CEOs will guide the company deeper into the cloud age and jump-start S/4HANA migration momentum.
In 2019, SAP had one of the most consequential years in its 48-year history. The year began with a layoff of about 4,500 employees and an executive restructuring that resulted in the departures of several experienced executives, including Rob Enslin, Björn Goerke and Bernd Leukert. The company was subsequently rocked in October with the abrupt resignation of CEO Bill McDermott and the installation of co-CEOs Christian Klein and Jennifer Morgan.
Questions about the restructuring were inevitable in April when activist investment group Elliott Management Corp. revealed a $1.3 billion stake in SAP. Elliott has a track record of making investments in tech firms that it feels are underperforming and then making management changes if results fail to measure up. How the Elliott investment will affect SAP going forward is one of the key questions the company faces in 2020, along with how the new SAP leadership team will guide the company forward.
SAP has several big items on its agenda, from dealing with the ongoing issue of S/4HANA migrations and the interrelated problem of becoming a more fully integrated cloud company. Questions also remain about SAP's headlong charge into the customer experience (CX) market that began with the 2018 acquisition of Qualtrics. SAP often describes the integration of Qualtrics' experience data ("X-data") with SAP's ERP-based operations data ("O-data") as a driving force of the modern economy. But it remains to be seen if SAP customers are on board with its vision.
Here are what some longtime analysts and industry observers believe will be the biggest issues for SAP in 2020.
New SAP leadership has to prove itself
Joshua Greenbaum, principal, Enterprise Applications Consulting
Without a doubt the headline for SAP is the management changes, because they went on for the entire year. It's a momentous change that's also been very disruptive, which is both good and bad.
There's a lot on the plates of [Klein and Morgan] and strategy is clearly going to be the big problem. SAP's going to have to figure out how to do product strategy in a more coherent way. Unlike its big competitors, SAP divides product strategy responsibilities among different board areas, and there isn't inherently a unifying management structure that that can say, 'this is how it's going to go.' Competitors like Microsoft, Salesforce, Workday or Infor are all led by strong CEOs, who eventually can make those calls on direction and strategy -- for better or worse. At SAP, it's split all over the place.
This is the year where SAP is going to have to start digging out of the hangover from its acquisition strategy and its old guard way of doing things. The young blood that's now running the show has to start showing why they deserve these roles they have. They're in the spotlight now; it's all up to them. The deck has been shuffled, Hasso Plattner [co-founder and chairman of the SAP executive board] made the appointments and there are half a dozen folks who weren't running the show last year now in charge in 2020. So now it's time to make good on all of that promise.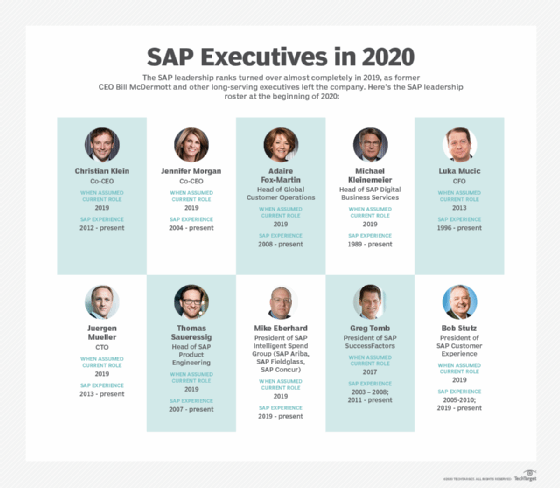 Justifying S/4HANA migration
Cindy Jutras, president, Mint Jutras R&A, Inc.
Many SAP customers are still struggling to justify the move to S/4HANA, but it has less to do with S/4HANA and more to do with the cost and effort it took them to get where they are now. Yes, some competitors are eyeing the installed base because of the 2025 deadline. But the question then is: If the reason customers don't want to move is because they don't want to invest in the expense and effort of moving, will they be any more likely to move to a competitor? Only if they are very dissatisfied or angry with SAP. Even if there is some lack of love, some will simply view SAP as the devil they know.
The bigger challenge for SAP is with this 'X-O' messaging. I don't really see it resonating with customers and many just don't know or care about Qualtrics.
Focus more on products, less on sales and marketing
Predrag Jakovljevic, principal industry analyst, Technology Evaluation Centers
The main story for SAP will be the impact of the Elliot Management activist investors on the business and a focus on restructuring versus making the right decisions for the business.
Because of [former CEO] Bill McDemott's personality and background, the sales and marketing side of SAP over the last five or so years has pulled way in front of the product side. Marketing has created excitement and demand, and sales twisted arms to get customers to make commitments toward S/4HANA. But over the last two years, the smoke has wafted away and the mirrors have crumbled. Perhaps with McDemott gone, SAP will close that massive gap between sales/marketing and product. All of SAP's competitors are salivating because more of the truth has come out about S/4HANA. The new co-CEOs Klein and Morgan seem down to earth to deal with these issues, but there is no longer the charisma à la McDermott.
Profitability and value investor returns will be strong, but on the other hand, cloud growth will be soft and they will make little progress on the key challenges they face given the internal focus. If it's a forced march to HANA and S/4HANA, they may start to lose their base, so they will need to tread carefully there.
SAP leadership must regain customer trust
Holger Mueller, vice president and industry analyst, Constellation Research
The previous year of 2019 was the most turbulent year in SAP history ever with the executive turmoil and change. So 2020 will be the year for Klein and Morgan to establish themselves as co-CEOs, and regain the customer trust in SAP's ability to execute on product and address or solve the S/4HANA questions and the future of SAP's cloud applications products, including SAP Ariba, SAP Fieldglass, SAP Concur, SAP SuccessFactors [now the SAP Intelligent Spend Management group].
Klein and Morgan did a great job at acknowledging the issues, but now they have to show they are the right team to address them and that they can lean SAP to its trusted ERP provider status, which has gotten some dents recently.
Focus on the big picture -- functional reach and customer base
Vinnie Mirchandani, owner, Deal Architect Inc. and author of SAP Nation 3.0
Of course, the executive power transfer was the big media story. Not just Morgan and Klein, the exciting thing to me is how young SAP management is now, but also how technologically and globally sophisticated. The much bigger story is that SAP has the broadest portfolio of enterprise applications --the competition is extremely narrow in functional reach -- and SAP has the widest global customer base. We focus so much on individuals and events that we sometimes neglect the big picture.
Here are three big opportunities and challenges for SAP in 2020:
Rationalize and better integrate its product lines -- spend management (SAP Ariba, SAP Fieldglass, SAP Concur), C/4HANA, SAP Cloud Platform components, Qualtrics and so on.
Further automate and get its partners to further automate the move from ECC to S/4HANA.
Start getting serious about verticals. They have a dominant position in utilities, manufacturing, retail and so many other sectors and need to show the path forward.
Listen to the customers
Jon Reed, co-founder, Diginomica
The biggest test is proving the new SAP leadership has a bold vision it can also execute on effectively while listening hard to what customers need. No more big acquisitions -- time to get it done.
S/4HANA adoption is the biggest issue, and SAP badly needs momentum there. The CX side with Bob Stutz -- formerly of Salesforce -- is another big story to watch. I also expect SAP to focus on Qualtrics and experience management in its messaging. If SAP can get that right, it could be a bit of a differentiator, or it could end up sounding like more experience clichés. We'll see.