Photo-K - Fotolia
Enexis' citizen developers empowered by the Mendix RAD platform
When a Dutch energy grid provider needed to develop new business apps on top of SAP ERP, it turned to the Mendix RAD platform to foster collaboration between IT and business users.
The concept of citizen developers is not new. For a while now, many in the computing industry have touted the virtues of ordinary business folks and users having a hand creating business applications.
This makes a certain amount of sense, and there are many rapid application development (RAD) tools available, but there are questions about how much citizen developers are really involved in application development. Enexis, one of the three major energy distribution grid operators in The Netherlands, discovered that collaboration between citizen developers, business users and IT was essential to making RAD successful. To enable this, it implemented Mendix, a cloud-based RAD platform to develop applications for an SAP environment.
Getting applications up and running as quickly as possible was a critical need for the company, according to Ben Bruggeman, Enexis program manager.
"We saw that we did not have the speed of implementing and delivering to the business the solutions that we really wanted to deliver," Bruggeman said. "So we did the selection for a rapid development platform -- how can you deliver functionalities fast, within weeks -- and we selected Mendix in 2014 and delivered it in 2015."
Business users join forces with IT
Enexis was using SAP ERP and the IT department was generally only involved in maintaining the ERP and performing upgrades. However, Bruggeman said that the company saw opportunities to develop useful business applications on top of SAP ERP, and the best way to do this was to involve both IT and the citizen developers from the business side.
Enexis had tried involving business users before implementing Mendix, but the results were not productive.
Enexis had tried involving business users before implementing Mendix, but the results were not productive.
"We tried to bring in business users before, but they were writing big books of requirements of engineering stuff, with functional requirements, non-functional requirements," Bruggeman explained. "There was a lot of stuff being put into documents which had to be reviewed and reviewed, and at the end of the day we'd spend 60,000 euros and only had a document."
Mendix helped to provide an Agile framework and process to make the application development work. The business users made the requirements, but this is done with working models and direct implementation into the applications themselves.
"Every day we can look at the progress we make, and if some screens are better they can directly move through those screens and get feedback via the feedback mechanism in Mendix," Bruggeman said. "Based on that, they create their own stories again on the sprint to make sure that we improve all the time. We are all sitting together in a room looking at a document and reviewing and trying to understand what the future will look like and now we see the future every day."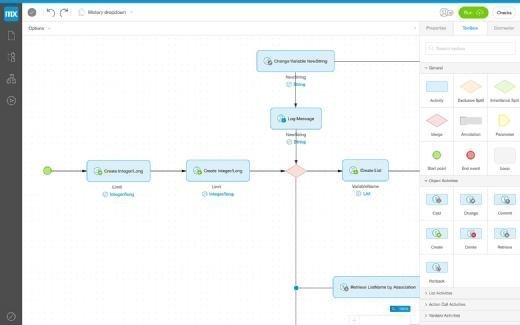 Speeding up development leads to more apps
In the two years that Enexis has used Mendix, the company has implemented 85 applications and is currently on pace to implement 20 to 30 new applications every year, according to Bruggeman. These have been new applications or extensions for Enexis' SAP ERP system, but the company is also now piloting S/4HANA that will run on a cloud native infrastructure.
The applications run across the business for Enexis, from HR applications for time-logging or time-off requests to applications for field engineers who inspect power stations.
"There have a lot of questions that the field engineers have to answer -- 'Is that OK? Is that not OK?' -- and on the other end we have an outage management system to make sure that based on their responses that we are able to calculate how we can rebuild that if there is an outage as soon as possible and how we can make sure that we can communicate to the people who are being helped by the outage problem," Bruggeman said. "Those are more technical applications which are integrating to our environment because then you have to know exactly how switches are standing and what the impact is if you are switching the electricity another way."
Change management a challenge
Although the implementation of the Mendix RAD platform has been largely successful so far, it took a lot of education and change management on the parts of both the business citizen developers and the IT people to make it work. Bruggeman noted that change management, not technology, was the main challenge in adopting the new system.
To meet this challenge, Enexis developed a three-day course to onboard the project leads from the business side, and used Mendix development and engineering courses for the IT side.
SAP brings Mendix RAD platform into the fold
The Mendix platform had been integrated with SAP for years, but in September 2017 SAP and Mendix formally joined forces in a technology partnership. SAP now sells and supports the Mendix platform as SAP Cloud Platform Rapid Application Development by Mendix. The intent is to get applications up and running on SAP Cloud Platform much faster that can be done using traditional development methods.
"This is aimed at helping SAP customers rapidly build apps, mobile and web applications on top of SAP systems, so it's really focused on two things," said Derek Roos, founder and CEO of Mendix. "Building new applications is one, but more often than not, it's also building applications that extend existing systems. They run in the SAP Cloud, and have one-click deployment to the SAP Cloud."
The idea is to foster collaboration between business users and IT, according to Dan Lahl, SAP vice president of product marketing.
"You get people from the business side to act as a product owner and work very closely with the IT folks, and in this case the IT folks are the less technical developers," Lahl said. "But the lion's share of the work is being done by business analyst type of people that have affinity with IT."
"There was a lot of change management because we had some problems that if you are successful in a specific environment, some people think that you can do everything with that solution, but that's not the case," he said. "We only use it on top of standard solutions and we make sure that we have target architecture for all those standard packages -- we only implement applications that add value that's not available in the standard applications."
The two biggest benefits of the Mendix RAD platform have been sharply reduced development costs and a time to market measured in weeks rather than months, but Bruggeman admits that such speed needs to be well-managed.
"We have developed about 85 to 90 new applications at this point and you're sometimes implementing new applications on top of new applications," he said. "Sometimes it's happening too fast so we have to put a little pressure on the brakes and we'll have to delay some functionality. We have some functionality now available that we haven't released yet because our business cannot absorb it at this time."
Dig Deeper on SAP development and programming languages