Pei Ling Hoo - Fotolia
Despite little notoriety, SAP Gateway making a big impact
SAP Gateway isn't exactly an unknown secret, but it doesn't always get the recognition it deserves despite helping fuel SAP's newest technologies, including the SAP mobile platform and SAP Fiori, writes Paul Aschmann.
Pity SAP Gateway. It only gets a smattering of attention when compared with some of the newer SAP initiatives and products unleashed in recent years. It deserves a higher profile given that it powers innovative products like Duet Enterprise and the SAP Mobile Platform, and that its core role is to enable the SAP Fiori apps that are now at the forefront of SAP's commitment to helping users "run simple."
SAP Gateway is an innovation driver because -- just as intended by the core principles -- it opens up your SAP ecosystem and provides developers with a secure, simple and manageable way to interact with data and processes. If you have not implemented or considered Gateway as a foundation for your SAP IT solutions -- whether it's to enable your mobile workforce or implement a customer-facing portal, I would highly recommend considering it.
Let me explain why.
Why did SAP develop Gateway?
SAP Gateway is an open standards-based framework that developers can use to more easily connect non-SAP applications to SAP applications. It also makes it easier to access SAP applications from mobile devices. In short, it gives your company the ability to turn your monolithic, big and heavy back-end systems into lightweight, simple, REST-based Web services from a myriad of devices.
In the past, SAP has always provided a variety of more traditional methods for integrating its technologies, including SAP Process Integration and the Enterprise Services Workplace. This also included development technologies, like SAP .NET Connector, which uses Remote Function Calls; Java Connector; or the extremely robust Application Link Enabling-based Intermediate Documents. However, while these technologies provided a solid foundation for developers to connect, consume and integrate enterprise SAP systems, the technology learning curve was steep. That's because it was very specific to the SAP ecosystem and knowledge of the back-end system was required.
SAP Gateway addresses those other products' shortfalls because it is:
Open: SAP Gateway enables connectivity to the SAP back end from any type of mobile device or platform, or from a desktop computer.
People-centric: Gateway was designed to provide a simple and intuitive interface to an otherwise complex back end.
Timeless: The goal was to position Gateway as a middleware layer to any SAP business suite product, ERP, CRM, SRM, PLM and so on.
Standards-based: Gateway uses the data access protocol called OData (Open Data Protocol). This standards-based protocol provides the ability for users to perform Create, Read, Update and Delete operations to a transactional system like SAP ERP, via a website. This means just about any device that can make basic HTTP calls can utilize Gateway for pushing and pulling data into, or out of, SAP systems.
Developer-friendly: Simple APIs means no specific knowledge of back end SAP system is required, and this is largely thanks to the ability of OData to provide a metadata document that describes each Web service.
Aside from the reasons listed above, SAP developed this product because it needed to simplify access to various back end systems through a single point of contact. In addition, mobile access to back end systems was needed to provide an alternative over the cumbersome, heavy payload XML-based products of the past.
SAP and its executives also spend a lot of time talking about reaching the next one billion users. If you consider that companies like Facebook, Apple, MySpace and Twitter were able to grow exponentially by providing an extensible open platform, SAP realized they were missing out on an opportunity.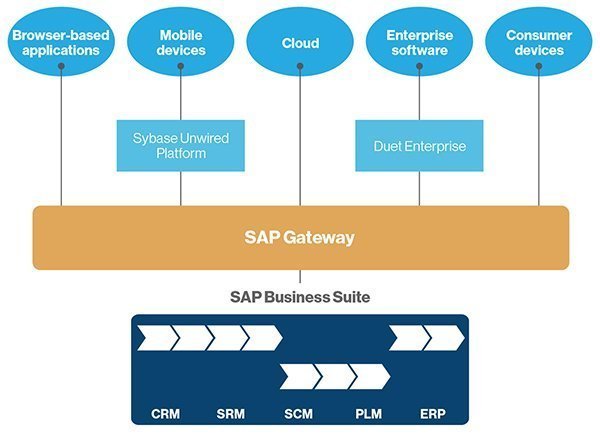 Getting Gateway up and running
Gateway is an ABAP-based add-on and can be installed in three configurations, making it very flexible to adopt and implement. Since SAP understands the importance that Gateway has played, and will continue to play, within the SAP ecosystem, it has been bundled with the Netweaver Application Server as of version 7.4, thus taking adoption from a small project to more of an enablement task.
The skills required to develop new, or modify existing Web services is primarily ABAP-centric, although thanks to some useful tools like the SAP Netweaver Gateway workbench, developers with some basic ABAP skills can expose data and transactions to a variety of devices very quickly and easily.
Consuming these exposed Web services is equally as easy as developing them, while Web and mobile developers will find this trivial due to their experience frequently making AJAX and network calls to Web Services. SAPUI5, which is SAP's framework for developing Web applications, also includes support for OData, making it very easy to integrate your Web-based applications with your Netweaver Gateway Web services. To make matters simpler, SAP has also provided developer tools for most of the common integrated development environments, like XCode, Eclipse and Visual Studio, making getting started with Gateway's OData-based Web services extremely simple.
Because Gateway can deliver corporate data to users outside the firewall, security is of utmost importance. With SAP Gateway, these tasks are handled using existing system user authorizations, and provisions have been built into the product for SSO (single sign-on), CSRF (Cross-Script Request Forgery) and HTTPS, to name a few.
An enabler of innovation
If you look into some of the more innovative products that SAP, and its partners, have developed over the last few years, you don't have to look far to uncover that Gateway has likely been involved. SAP Fiori, the new UX experience for the enterprise has a technology requirement of Gateway. The majority of the mobile apps that SAP, and partners, have developed over the last 3 years also require Gateway. At Sapphire 2014 in Orlando, Quantilus, a New York-based consulting firm that specializes in mobile and cloud technologies, had a very popular session on how they were using Gateway in collaboration with Google Glass to provide users with augmented reality and machine-vision solutions.
The need for generic Web services
In my opinion, one of the caveats to the Gateway product is that there are essentially no "pre-built" Web services included out of the box. This implies that once gateway has been implemented, you still need to pick and choose which pieces of data and processes you would like to expose as Web services. I believe there would be an opportunity for SAP to provide a set of "generic" Gateway Web services for each of the core modules with the product. This would further reduce the barrier to entry for developers and companies, making adoption just that much quicker.
As the article highlights, SAP Gateway is a product providing a solid foundation for the SAP Ecosystem to thrive on the opportunities of openness and accessibility. I firmly believe it's one of the more important products SAP has produced in the last 5 years, and a great platform as we continue to move into an open API world.
About the author:
Paul is currently the Technical Manager and Founder of Lithium Labs, a enterprise app development startup focused on developing engaging and creative enterprise applications for a seamless, integrated approach to "enterprise everywhere". You can find Paul on twitter at @paups, on the SAP Community Network, or you can email him at [email protected].
Next Steps
What will "free" Fiori cost you?
SAP's decision to peg its UI strategy on Fiori a smart move, says one consultant
Analyst, SearchSAP editors analyze SAP's "run simple" mantra
Getting started on SAP Fiori development
Read a chapter Fiori analytical app implementation