Share this item with your network:
Technology insights for the data-driven enterprise

James Thew - Fotolia
Charlotte Hornets use Phizzle built on HANA to analyze fan behavior
Chris Zeppenfeld of the Charlotte Hornets explains how Phizzle FanTracker, a data warehouse built on the SAP HANA database, helps the team get to know its fan behavior better.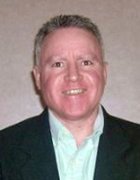 By
The Charlotte Hornets of the NBA have millions of fans who know a lot about the team, but the team didn't know much about its fans. To be more precise, the Hornets had a lot of data about its fans, but it was all disjointed and lacked cohesion.
To remedy that, Chris Zeppenfeld, the Hornets' self-proclaimed "customer relationship management (CRM) and analytics czar," implemented Phizzle FanTracker, a platform built on the SAP HANA database that combined millions of fan records to make one profile for each fan. The benefit of having an accurate and up-to-date profile of every fan is that the team can build a better relationship with its fans, which can lead to a better fan experience and more revenue for the team as improved marketing efforts lead to more sales.
Swamped by data
The problem was not that the Hornets lacked data. In fact, they were drowning in it, thanks to the many ways modern fans can interact with a team -- buying tickets over the internet, purchasing team gear in-store and online, eating and drinking at games, and talking about the team on social media. Every time a fan interacts with the team via one of these touchpoints, it creates a new bit of data about the fan. About four years ago, the Hornets CRM system began to strain at the seams to contain all this data. And even more troublesome for the Hornets, the data all lived in isolation.
Zeppenfeld, whose actual title is director of business intelligence, understood that the team needed a data warehouse to handle the fan data even though this technology was relatively rare for sports organizations at the time. "We had basically maxed out our CRM, [Microsoft Dynamics], because we were trying to shove so many sources of data into it. People can touch our Hornets brand in many ways and a lot of those have different data sources," Zeppenfeld said. "So we knew we'd have to get a data warehouse, and I saw it as two different challenges. One is we have about 12 to 14 different data sources from about 12 different vendors that would need to go in this data warehouse. The second one is, once you've done all that, now you have 12 fan profiles in the data warehouse, how do you get this down to one?"
Chris Zeppenfeld
Eighth year with Charlotte Hornets/Hornets Sports & Entertainment as senior director of business intelligence, where he's responsible for analytics, CRM, data warehouse, surveys, ticket pricing, email marketing and revenue strategy.
Prior to Hornets Sports & Entertainment, worked four years at TeamWork Online as well as online sports executive recruiting firm as senior manager of client services.
Born and raised in Pittsburgh, now lives in Charlotte, N.C.
Graduated from John Carroll University.
Usually spends weekend mornings yelling irrational things at the TV during his beloved Arsenal games.
Getting 12 down to 1
Zeppenfeld found the answer to both these questions with Phizzle FanTracker, an application built on the in-memory SAP HANA database that provides a data warehouse and the ability to go through all the millions of fan profiles and eliminate duplicate data to end up with one fan profile. Phizzle also has tools for things like social media listening and website tracking that further help analyze fan behavior.
"We went with the Phizzle FanTracker platform because we felt that [it was] going to do the best job of helping to get those 12 profiles down to one," Zeppenfeld explained. "If I go to our store, I might be 'Chris Zeppenfeld' in the retailing data, but I might be 'Christopher Zeppenfeld' in the ticketing data, and I might be '[email protected]' in the social media listening database. So you've got five or six versions of 'Chris Zeppenfeld' in all of our data sources, and when we bring them all together in the data warehouse, we really need to get it down to one so we can understand in totality what 'Chris Zeppenfeld' is doing, not six versions of him."
[T]he concept of having a business intelligence department was just barely starting to get off the ground.

Chris Zeppenfelddirector of business intelligence, Charlotte Hornets
Once the decision was made to go with Phizzle, Zeppenfeld had to convince team ownership the project was worthwhile and that there would be enough ROI to justify the costs. Upfront costs in particular were significant due to setup requirements.
"It was a little bit of a sticker shock for a sports team to do this, and at the time, the concept of having a business intelligence department was just barely starting to get off the ground," Zeppenfeld said. "CRM or analytics people might live in ticket sales, marketing or sponsorship, so they didn't have their own budget or their own department. Now it's much more commonplace, but four years ago we were one of the very first teams to do it."
To get buy-in, Zeppenfeld had to convince the owners they had outgrown the existing CRM system and that the Phizzle data warehouse platform could help tell them how much each fan was spending and on what. It took the better part of a year, but Zeppenfeld won over ownership and the Hornets IT team implemented Phizzle FanTracker.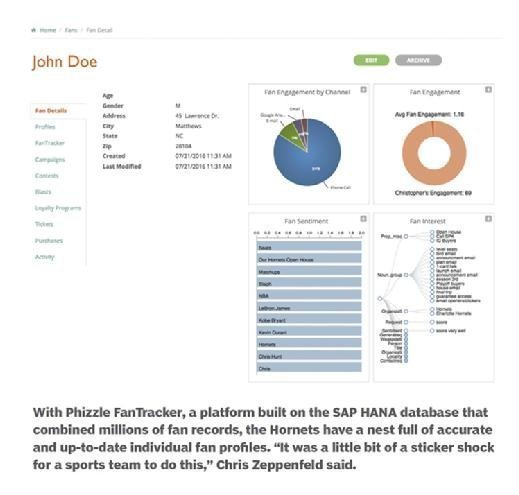 The results have been very successful so far. By feeding all the records from about 20 data sources into the SAP HANA database and using the Phizzle FanTracker API to scrub them, the Hornets found that around 50% of the 19 million records were duplicates. Zeppenfeld estimates that this process saved around $1.5 million and 10,000 consulting hours to do data quality checks, scrubbing and removing the duplicates.
The process is ongoing, Zeppenfeld explained, because even after you've consolidated multiple profiles into one, further activities may create new profiles that need to be reconciled. "Let's say we had eight profiles and we got it down to one, but in the ninth database source, the fan does something new like showing up in the social listening database where they've never been there before," he said. "Now we've got two and we have to get that down to one again."
Understanding fans better
The next step is to tie all the data together to create a full fan profile that can help improve the fan experience and generate more revenue for the organization. Previously, the Hornets could analyze the individual data sets for each channel, but now they can compile a complete profile that includes real-time behavior across all the data sources. So if a fan buys tickets online or tweets about the game, then it can all go into the fan profile.
"We're making some sizable investments in sources like retail and food and beverage to better help our fans identify themselves at the point-of-sale so that this has more power," Zeppenfeld said. "We know which actions are happening, we just don't know which particular person it is, and combining those two together will enable us to give our fans a better experience when they come in the arena because we know what you're doing." For example, a season ticket holder who spends $3,000 on the tickets was accounted for as a $3,000 account, but that didn't include money spent at the games or in the team store because this data was not associated with the season-ticket data.
"In reality," Zeppenfeld said, "they probably spend $5,000 with us, so we should be dealing with you in two ways: One, we should see you more as a $5,000 account, and two, based on your full picture of what you're doing in our building, we can do a better job servicing you. If we know you always buy nachos in the second quarter of every game or you bought a Kemba Walker jersey, we have a better way of servicing you. Maybe that's our service rep giving you free nachos one game or you get included in a meet and greet with Kemba Walker. So that's a powerful way that a data warehouse can get a return on investment."
Dig Deeper on SAP case studies