James Thew - Fotolia
Charlotte Hornets build data warehouse with SAP HANA-based Phizzle
The Charlotte Hornets implemented Phizzle FanTracker, an SAP HANA-based platform, to consolidate fan records from many data sources into one identity, giving them a full profile of fans.
How does a sports organization get to know its fan base? The Charlotte Hornets of the NBA asked this question and found the answer in Phizzle FanTracker, an SAP HANA-based data warehousing platform that has allowed it to consolidate records on all of its 9.5 million fans. This has enabled the team to develop detailed profiles of each fan, from how many games they attend to what they buy at the arena.
Bolstered by its underlying, in-memory SAP HAHA database technology, Phizzle FanTracker enabled the Hornets to eliminate millions of duplicate records from a variety of data sources, cutting costs and improving business process efficiencies. Further, by creating detailed fan profiles, sometimes involving near real-time data, the team can now derive better insights about its fan base in general and vastly improve marketing efforts.
Like many organizations, the Hornets deal with a lot of information about their fans, but the ways in which a sports team engages with its fans usually come in many different forms and involve many technology touchpoints. A fan may purchase tickets to a game, for example, and then buy food and a drink at the arena on game day. They may also purchase team gear either online or from a brick-and-mortar team store. Beyond purchasing behavior, fans now follow their teams on social media and engage with the teams and others on those platforms.
Many data records, one fan
Of course, all of this data presents the unprecedented opportunity to know a lot about the fans, from their favorite player to the types of food they consume at games. Knowing this can lead teams to better serve their fans through special deals or promotions.
However, with this opportunity comes a challenge: dealing with all of this data. The number of data sources from which fans engaged with the team were swamping the team's IT systems.
"About four years ago, we had basically maxed out our [Microsoft] Dynamics CRM. We were trying to shove so many sources of data [into it] in so many different ways," said Chris Zeppenfeld, Charlotte Hornets director of business intelligence. "People can touch our Hornets brand, and a lot of those [brand locations] have different data sources."
This led the organization to consider implementing a data warehouse to handle all of the data, something which was not all that common for sports teams at the time. The Hornets had different databases to store all of the records from different transactions, including Ticketmaster Archtics for tickets and Retail Pro for retail, and none of the systems were able to talk to one another.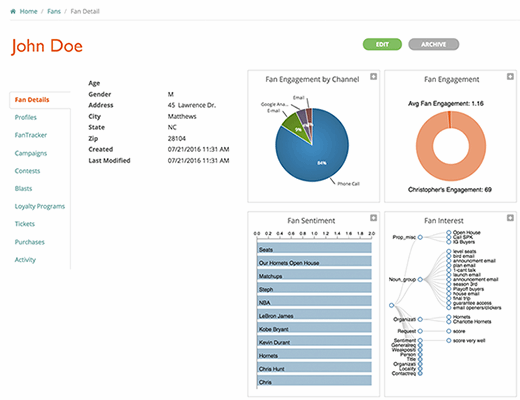 "We were trying to shove retail, food and beverage, all the ticketing data, and now social media into it, but that's not really what CRM is designed to do," Zeppenfeld said. "So we knew we'd have to get a data warehouse, and I saw it as two different challenges. One is we have about 12 to 14 different data sources from about 12 different vendors that would need to go in this data warehouse. The second one is, once you've done all that, now you potentially have 12 'Chris Zeppenfelds' in the data warehouse, so how do you get this down to one?"
When Zeppenfeld began to assess data warehouse options, he found Phizzle FanTracker, a platform that promised to handle all of the data coming in and to go through all of the multiple accounts and get them down to one identity. Phizzle, based in San Francisco, built Phizzle FanTracker on the SAP HANA Cloud Platform. HANA Cloud Platform offers HANA's in-memory database capabilities, which serves as the data warehouse, and proprietary APIs, which crawl through and compare the data. Phizzle's phz.io middleware allows the Hornets to stream millions of records from various data sources into HANA in near real time.
The combination of Phizzle technology built on HANA allowed the Hornets to solve both of the problems it was facing.
"It was kind of like a 'two birds with one stone' concept here: Phizzle's FanTracker platform is built on SAP HANA, so we got data warehouse and a way to get those twelve 'Chris Zeppenfelds' down to one," Zeppenfeld said. "There are also some additional tools in Phizzle that they are able to do, like, social listening and website tracking."
Phizzle tries out and makes the cut
Although he felt they'd found the right technology for the job, implementing Phizzle was not a slam dunk, Zeppenfeld explained. The main challenge was convincing the Hornet's ownership that the project was worth the investment, which was significant, especially upfront. It was also a project that not many sports organizations had even attempted yet.
"The upfront cost was significant because a lot of it is that, in the beginning, you have a lot of setup costs in the front, so it was a little bit of a sticker shock for a sports team to do this, and I think also, at the time, the concept of having a business intelligence department was just barely starting to get off the ground," Zeppenfeld said.
Because Phizzle runs on HANA Cloud Platform in Phizzle's own multi-tenant environment, the Hornets had no hardware issues to deal with, so the system was up and running very quickly. However, this was only the start of the data warehousing project, as Zeppenfeld found that the IT team had to make sense of the data once it was in the system. To help with this, they implemented Tableau, the cloud-based business intelligence application. Tableau's data visualization capabilities allowed the IT team to demonstrate what the data warehouse could do, but Zeppenfeld noted that they had to get programmers comfortable with unfamiliar data.
"The challenge with this is that we were dealing with programmers who had never seen Ticketmaster Archtics data before or they may not have seen Retail Pro data, so we had to teach them how to interpret this data," Zeppenfeld said. "Because, when you go through any kind of data manipulation, you have to decide if you should do it at the data warehouse level or at the visualization Tableau level, and that's one of the hardest challenges of any data warehouse project."
Going for most valuable data warehouse
The project is ongoing, but in the first two years, it has shown some impressive results. Phizzle FanTracker has identified more than 50% of the Hornets 19 million fan records as duplicates, and has aggregated more than 25 million interactions from ticket purchases, emails, web activity, social media and more. So far, the Hornets estimate that it has saved $1.5 million in costs and 10,000 consulting hours.
However, the process is just getting underway, and will be ongoing, according to Zeppenfeld.
"It's not like you do it once and it's over with. Say we had eight 'Chris Zeppenfelds' and we got it down to one, but in the ninth database source, I do something new, like I show up in the social listening database and I've never been there before," he said. "Now we've got two, and we have to get that down to one again, so it's kind of a constant thing."
Consolidating all of the fan data into one identity helped the Hornets to serve them better and increase sales in all areas. Now, when a fan buys tickets, buys merchandise from the team store and then buys food at the game, all of those transactions are treated individually.
"We know which actions are happening, we just don't know which particular person it is, and combining those two together will enable us to give our fans a better experience when they come in the arena because we know what they're doing," Zeppenfeld said.
"We're making a pretty sizable investment in our retail POS [point-of-sale] systems, and once new systems are installed, we can start using the power of the data warehouse," he continued. "For example, if we know that a fan is a regular, but hasn't been in the arena for five games, but we also know he likes nachos, we can send him an offer when he arrives in the building saying 'Welcome back, here's 20 cents off nachos.' So that's a powerful way that a data warehouse can get a return on investment."
Next Steps
See how a professional soccer club uses SAP HANA to manage global operations
SAP HANA application delivers real-time alerts to business travelers
SAP HANA Cloud Platform provides the technology backbone for the Super Bowl