Manage
Learn to apply best practices and optimize your operations.
Chapter 4: 'Information Integration'
This book discusses basic technologies like BAPI, .NET Connector and web services, as well as end user integration topics like Desktop Office Integration, Duet and PDK for .NET. In addition, BI interfaces between SAP BW, MS Analysis Services and SQL-Server are also discussed in detail - no relevant aspect of integration is left out - including those at the process level. Learn from comprehensive configuration scenarios exactly how best to develop robust and slender web services with XI and BizTalk.

Download chapter 4: 'Information Integration'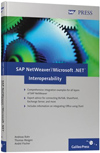 Excerpted from the book 'SAP NetWeaver/.NET Interoperability', ISBN 1-59229-088-4, Copyright 2007. Written permission from SAP PRESS is required for all other uses. Copyright © 2007 SAP PRESS America. All rights reserved. Email: customer@sap-press.com. SAP PRESS America, 11300 Rockville Pike, Suite 1100, Rockville, MD 20852-3030, USA.
Chapter Excerpt:
---
Microsoft and SAP offer products that can manage or process data and information in both unstructured and structured forms. For SAP, this involves SAP NetWeaver Business Intelligence and the SAP NetWeaver Portal (formerly SAP Enterprise Portal), including knowledge management (KM); for Microsoft, this means the SQL Server, Microsoft Exchange Server 2003, and the SharePoint products.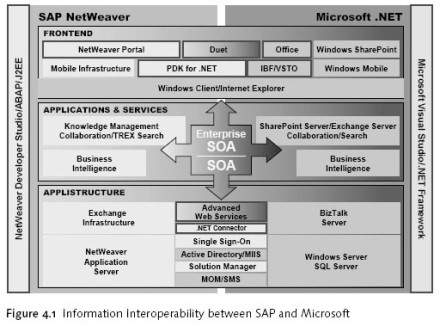 Figure 4.1 shows the many different combinations of interoperability scenarios between Microsoft and SAP products and systems; some will be reviewed in this chapter.
4.1 SAP Business Information Warehouse
The SAP Business Information Warehouse (BW) is the central component of SAP NetWeaver Business Intelligence (BI). This is SAP's data warehouse solution and its job is to provide company data, the socalled business content, in a processed and structured way. These solutions can include structured data from SAP ERP systems and data from third-party systems.

Figure 4.2 shows the components of SAP BW. It consists of:
SAP BW Server
Open Hub Services
Business Explorer (BEx) Suite
Administrator Workbench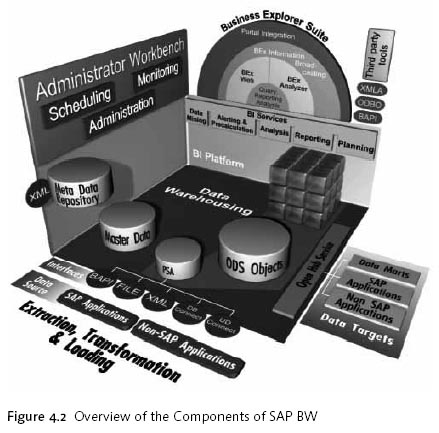 Within the SAP BW Server, the following components play a role in the movement of of structured data:
Persistent Staging Area (PSA) with the Staging Engine
Operational Data Store (ODS) with the ODS objects
InfoCubes, that is, the OLAP Cubes of SAP BW
Two routes must be considered for integration scenarios, in addition to the display of data via the SAP BW frontend, for the Business Explorer (BEx) Suite: the route of the data into SAP BW, and the route of the data out of SAP BW; in other words, accessing SAP BW data from outside. This will be discussed in Sections 4.1.2 and 4.1.3 respectively.
But first, we will a look at an integrated Microsoft/SAP solution that has existed since the introduction of SAP BW: The SAP BW Business Explorer Suite (BEx Suite).
4.1.1 Business Explorer Suite (BEx Suite)
The Business Explorer Suite is the first point of contact for SAP BW users. It offers a range of tools for SAP BW data consumers to define and compile queries, reports, and analyses (see Figure 4.3).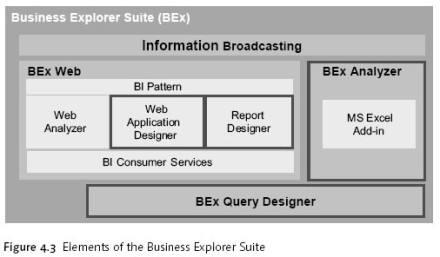 The following BEx components will be discussed in further detail:
BEx Analyzer
BEx Query Designer
BEx Report Designer
BEx Web Application Designer
While the BEx Analyzer is an add-in for Microsoft Excel, the last three components mentioned are particularly interesting because they are applications that were recently developed for the current version of Visual Basic .NET and are based on the Microsoft .NET Framework.
The BEx Query Designer (see Figure 4.4) is a stand-alone desktop application for defining multidimensional data queries from SAP BW. Here it provides functions for selecting the data basis (InfoCubes), defining the key figures and dimensions of the query and storing the defined query both in an Excel workbook and on the SAP BW system.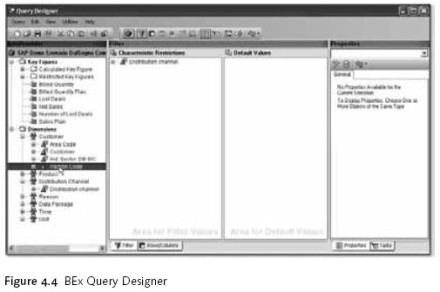 The BEx Report Designer is the BEx Suite tool for creating reports. It draws on the queries that were previously created with the BEx Query Designer (see Figure 4.5).
The reports created with the BEx Report Designer control the drill-down and drill-up functions, which navigate within multidimensional data structures, as well as the slice and dice function. These functions support the possibility of individual views. Here, slice describes the possibility of cutting individual slices from the OLAP Cube, while dice describes a view shift or a "tipping" of this view.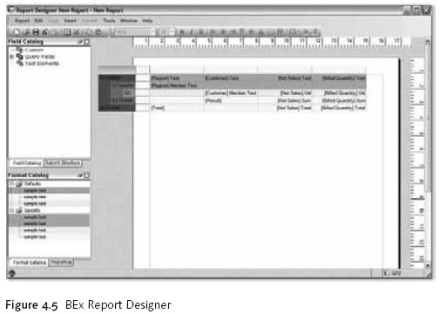 The BEx Web Application Designer is a desktop application for creating Web applications that contain or show SAP BW-specific content. SAP describes the elements of such a Web application as Web Items, which may be tables, queries, diagrams, reports or cards, which create a HTML page with BW-specific content. Furthermore, the BEx Web Application Designer can also create these Web Items as iViews directly in the portal (Figure 4.6).
The BEx Analyzer is different from the tools previously described BEx Analyzer because it is an add-in for Microsoft Excel. It both enhances Microsoft Excel with SAP BW functions and uses the full range of Excel functions. It offers a possible frontend next to Web applications created by the BEx Web Application Designer and the SAP NetWeaver Portal (see Figure 4.7). Like the other BEx components, the BEx Analyzer has been considerably reworked and is available in a new version for Microsoft Excel 2003 and SAP NetWeaver BI.
The current version of Bex Analyzer differs from its predecessors in a number of ways.

Chapter 4: 'Information Integration'
Visit the SAP Press website for a detailed description and to learn how to purchase this title.
Dig Deeper on SAP NetWeaver