Get started
Bring yourself up to speed with our introductory content.
Chapter 4: 'Features of Project System'
Plan, execute, and track projects across the entire lifecycle using SAP Project System and the in-depth information contained in this comprehensive volume.

Download chapter 4: 'Features of Project System'



This chapter is excerpted from the book titled, SAP Project System Handbook, authored by Kieron Dowling, McGraw-Hill, ISBN 007154450X, Copyright 2008 McGraw-Hill.


Chapter Excerpt:
Continue Reading This Article
Enjoy this article as well as all of our content, including E-Guides, news, tips and more.
---
PS has many features you can use to develop a Blueprint for a client. They are the building blocks that form the basis of your design. The following pages explain the elements PS offers for managing a project. To assist you in finding where to configure and operate these features, transaction references are provided after each feature description later in this chapter.
PS can be divided into several progressive "working elements." In summary: You need a Structure in order to Plan Costs and Resource, which can be the basis for a Budget. In order to Schedule and Time the work to be done, you need Dates and Resources, which may or may not have a Capacity to perform the work. If you want to get paid for what you manufacture or sell, you need a Revenue Plan. When you're ready with your Planning, you go ahead and Execute the project by changing its Status. Periodically, you monitor your Progress and Settle your Actuals to the correct Financial receiver so the project "sheds" its values.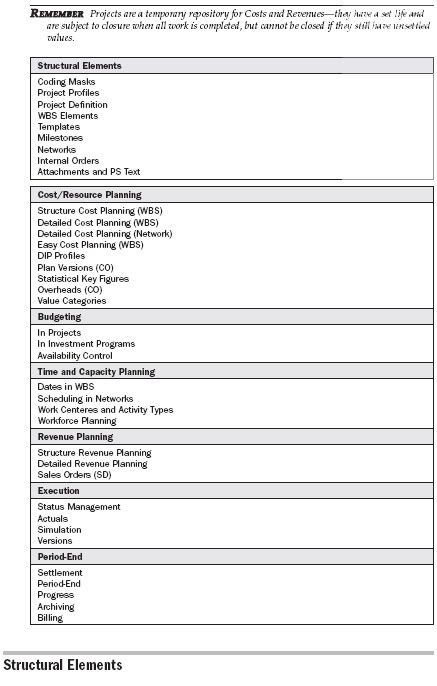 A project cannot exist without a structure. At a minimum, you need a Project Definition plus at least one WBS. These two elements are what make up the basis of a project. Extending your project to include Networks makes it more complex and usually means you need scheduling and complex material handling. However, some implementations only use WBSs to plan and capture costs. In all cases, it is wise (though not mandatory) to have a method by which your WBS structure is recognized by its various levels—hence Coding Masks. Depending on the implementation, a mask that carries intelligence (that is, it contains numbers and letters that mean something to the business) may not be the best approach, as often the coding becomes redundant over time.
Coding Masks: How Project Numbers Are Coded
Coding Masks are important as follows if you need to have some intelligence in the way your Project Definition and WBS Elements appear to the user:
There can be many.
They can reflect the structure of a project.
They can control project identification.
They only relate to Project Definitions and WBS Elements.
They determine what special characters are permitted to separate the structure view.
They are not connected to Profiles—the "Project ID" used in Operative or Template projects determines the mask.
Different Masks can be used with one or many Project Profiles.

Chapter 4: 'Features of Project System'
Visit the McGraw Hill website for a detailed description and to learn how to purchase this title.