Manage
Learn to apply best practices and optimize your operations.
Chapter 3: 'SAP CRM Marketing'
Whether you're considering implementing SAP CRM, you're a project leader looking for details on how it works, or you're new to SAP, this reader-friendly guide is the resource you need.

Excerpted from the book 'Discover SAP CRM', by Srini Katta, ISBN 978-1-59229-173-1 Copyright 2008. Written permission from SAP PRESS is required for all other uses. Copyright © 2008 SAP PRESS America. All rights reserved. Email: customer@sap-press.com. SAP PRESS America, 11300 Rockville Pike, Suite 1100, Rockville, MD 20852-3030, USA.

Download chapter 3: 'SAP CRM Marketing'

Chapter Excerpt:
---
SAP CRM Marketing
If you want to sell your products (including service products), you need to let customers know what you have to offer. In today's competitive marketplace, getting your products known is essential to your growth. To put it simply, marketing is everything you do to make sure your customers and prospects know about your products.
One of the key goals of marketing, therefore, is to generate customer awareness and demand for your products. Like all successful activities, marketing begins with a strategy and a plan. A marketing strategy defines conceptually at a high level how you want to use your limited marketing resources to best optimize brand awareness and sales revenue to create a competitive advantage. For example, perhaps you're a consumer packaged goods company and decide that you want to rely on in-store trade promotions — essentially paying grocery store retailers to prominently display and advertise your products in the store. Or, perhaps you're an enterprise software company that decides to launch a television and print media campaign to make a push into the lucrative small-and-medium business (SMB) market.
Whereas a marketing strategy defines the goals you want to accomplish, a marketing plan describes the details of how you plan to achieve those goals. With your marketing plans, you decide what your customers should know about your products or services, allowing them to distinguish your products from the many other choices available. A marketing plan is composed of marketing plan elements, namely campaigns and trade promotions:
A campaign contains information such as the campaign objectives, tactics, priority, channel (email, telephone, mail, print media, etc.), and target market.
A trade promotion contains information such as the trade funds (or budget), trade activities, maximum price discount, maximum duration, whether there is allowed overlap with other promotions, and so on.
But whether you're targeting customers directly through campaigns or indirectly through retail trade promotions, the goal is the same: to acquire new customers, to increase your market share of existing customers, and to protect and retain your most valuable customers from competitors.
When people think of marketing, they often focus on outward activities such as advertising and telemarketing designed primarily to capture new customers. However, an important but sometimes overlooked role of marketing is to identify and retain a company's most valuable and profitable customers. Much has been written in the past few years about how it's 5 to 10 times more expensive to acquire new customers than to sell to existing customers.
However, a disproportionate amount of marketing budgets are still focused on efforts to acquire new customers rather than efforts to retain profitable existing customers. But this can be a real mistake! Many experts recommended that companies focus most of their marketing efforts on activities designed to increase customer loyalty and to prevent customer churn and defections.
For example, SAP Real-Time Offer Management (which will be discussed later in this chapter) can identify and propose the optimal marketing retention offer for at-risk customers during a real-time customer interaction. On one hand, it's important to prevent customer defections by offering an appealing retention offer. On the other hand, with shrinking profit margins and increased competition, companies can't afford to give away more discounts and incentives than is absolutely necessary to retain a customer. It's important to pick just the right retention offer that provides enough of an incentive to keep the customer but doesn't needlessly waste money and resources by providing far more than is necessary.
It's important for companies to be able to justify marketing budgets by accurately estimating returns on the marketing dollars spent. Companies also need to be able to align and coordinate the marketing activities to ensure effective timing with product releases and such. And to make campaigns really effective, you need to be able to break down your activities by customer segment. This is where SAP CRM Marketing shines. SAP CRM Marketing helps you identify which customers you should target with which of your products. It also maintains information about those customers so you can close your deals more efficiently. So let's take a look at everything you'll find in the Marketing component.
SAP CRM Marketing Component
SAP CRM Marketing assists your company in planning, budgeting, executing, analyzing, and optimizing all aspects of marketing and campaign execution. In the next sections, we'll take a detailed look at each of the eight major components as shown in Figure 3.1.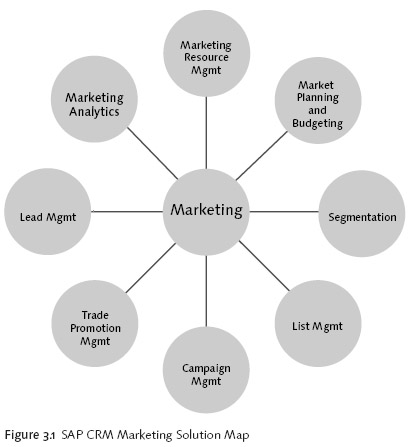 Visit the SAP Press website for a detailed description and to learn how to purchase this title.
Dig Deeper on SAP CRM and customer experience