Manage
Learn to apply best practices and optimize your operations.
Chapter 3: 'Key Techniques in Sales and Distribution'
This chapter examines the most popular techniques used in Sales and Distribution. You will become familiar with condition techniques as they are used in pricing, and you'll learn the basics of some of the powerful determination techniques with partner function and text. Last but not least, you will learn about data transfer to the subsequent document from the preceding document.

Excerpted from the book 'Effective SAP SD', ISBN 1-59229-101-4, Copyright 2007. Written permission from SAP PRESS is required for all other uses. Copyright © 2007 SAP PRESS America. All rights reserved. Email: customer@sap-press.com. SAP PRESS America, 11300 Rockville Pike, Suite 1100, Rockville, MD 20852-3030, USA.
Download chapter 3: 'Key Techniques in Sales and Distribution'
Chapter Excerpt:
---
3.1.3 New Pricing
You can configure pricing behaviour in Pricing Type. With Release 4.5, you have the following two ways of controlling the new pricing function in the sales document:
Update prices on the condition screens at the header and item levels. You can choose the pricing type in the dialog box that appears.
To use the new pricing-document function for the sales document (menu path: Edit - New Pricing document), assign a pricing type to pricing procedure in Customizing. If you do not maintain an entry, the system uses pricing type B (Carry out new pricing). These functions are supported in the sales and billing documents.
Copy control makes it possible to handle re-pricing of billing documents based on several different scenarios. While all customers will not use every possible pricing type, the ability to specify what will happen to pricing calculation during billing is a decision each customer has to make.
3.1.4 Pricing Configurations
Condition tables contain the keys that can be used to create dependent condition records. You can add your own condition tables using tables from 501 through 999. Condition records are always created using specific keys. Condition tables are used to define the structure of the keys of a condition record. The SAP standard system provides most of the important fields used in pricing at the header and item levels. The key fields of a condition table must appear at the start of the table.
With release SAP R/3 4.5, you can also add non-key fields to the condition tables. This is explained in condition table 144, which is used in the price book (condition type PBUD).
3.1.5 Access Sequence
You can define prices, discounts, and surcharges at various levels. Each level is defined by a condition table. An access sequence consists of one or more condition tables. The order of the entries in an access sequence defines the hierarchy of the various levels. The system determines the condition records in the sequence specified.
Within each access of an access sequence, you can specify the document field or source field with which an access is performed. You can make access dependent on requirement to avoid unnecessary access, thus reducing the system load.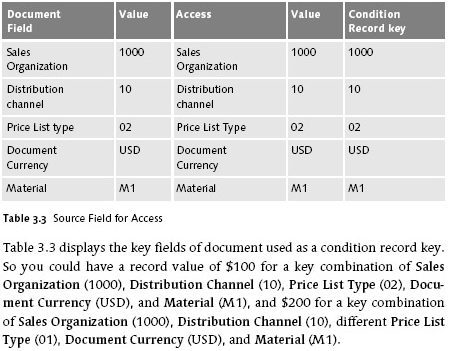 3.1.6 Condition Type
After the access sequence is created, it is then assigned to a condition type. You can also create your own condition type. You can determine the characteristics of each condition type; e.g., whether the condition type represents surcharges or discounts and whether the condition type should be dependent on values or quantities. The condition types are combined in the required sequence in the price procedure.
Visit www.sap-press.com for a detailed description and to learn how to purchase this title.
Dig Deeper on SAP ERP software and modules