Manage
Learn to apply best practices and optimize your operations.
Chapter 2: 'SAP NetWeaver Enterprise Portal Building Blocks'
This book details implementing and managing an SAP Portal for integrating websites, applications, legacy systems, databases and document directories into one accessible interface.

Download chapter 2: 'SAP NetWeaver Enterprise Portal Building Blocks'




This chapter is excerpted from the book titled, 'SAP NetWeaver Portal Technology: The Complete Reference', authored by Rabi Jay, McGraw-Hill, ISBN 007154853X, Copyright 2008 McGraw-Hill.


Chapter Excerpt:
---
Portal Platform The portal platform consists of the following components (as shown in Figure 2-1):
Portal runtime
Portal applications

Portal components
Portal services
A portal platform is basically a portal runtime that is composed of Java libraries. The two primary functions of the portal platform framework are to provide the necessary runtime environment so as to run iViews and to administer iViews.
Portal Runtime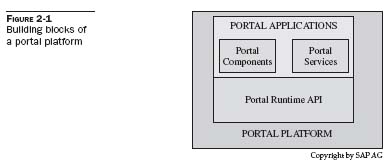 up of a Java API known as the portal runtime API, which is a collection of portal components and services. The portal components and services provide the basic core functionality to help the portal run efficiently. Portal components and services can be either provided by SAP or custom-built.

The portal runtime is a virtual environment that provides the runtime and development environment in which the portal applications run. We can compare it with the Java runtime, which provides the runtime environment for Java applications. The portal runtime is made
Portal Components
Portal components

A portal component can do the following:
Call other portal components, if needed
Respond to other events
Detect another component's profile and properties
A good example of a portal component is a portal builder component, which is responsible for the following:
Receives HTTP requests from the client
Forwards the incoming HTTP request to the relevant portal components and services
Receives the response back from the portal server
Builds the portal page
Sends the page response back to the client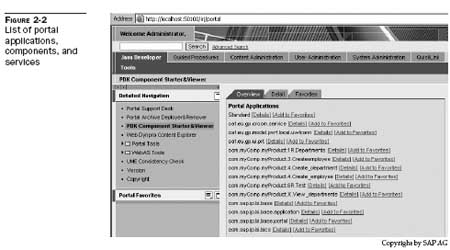 Figure 2-2 displays the list of portal applications, components, and services deployed on the portal. This iView is available only if you have the Java Developer role.



Chapter 2: 'SAP NetWeaver Enterprise Portal Building Blocks'

Visit the McGraw Hill website for a detailed description and to learn how to purchase this title.

are Java Server Pages (JSPs) or Java classes that produce HTML output, which is displayed on the client browser when a page is rendered. These core portal components include the page builder and administration tools. The portal components are responsible for creating the necessary content for display in the iViews.