Chapter 2: 'SAP Architecture Concepts'
This reference book serves as an essential collection of insights, procedures, processes and tools that help you unlock the full potential of your SAP systems. First, hit the ground running with a detailed introduction to SAP NetWeaver and the mySAP Business Suite. Then, elevate your mastery of key concepts such as system architecture, security, Change and Transport Management, to name just a few. All of the practical advice and detailed information provided is with a clear focus on helping you guide your team to achieve a faster return on investment.
Chapter 2: 'SAP Architecture Concepts'
Continue Reading This Article
Enjoy this article as well as all of our content, including E-Guides, news, tips and more.
For SAP shops that are running multiple modules across the business, a common infrastructure is necessary for tying various systems together.

In this SAP Press book chapter excerpt, you'll find an introduction to SAP architecture and the layers that make up the SAP infrastructure, including the presentation layer, the application layer, and the database layer. You'll also learn how the SAP architecture has changed from SAP Basis to SAP Web AS.
Chapter Excerpt:
---
2.1 SAP System Architecture
Many enterprises currently use SAP products to control production planning, purchasing and logistics, warehouse management and inventory management, production, vendor management, customer service, finance, personnel management and other basic business activities. As mentioned in Chapter 1, the mySAP Business Suite includes various business modules and numerous sector and cross-sector solutions.
A distributed system of this nature requires a common infrastructure, which is provided by SAP NetWeaver and, in particular, by the SAP Web Application Server (Web AS)—the successor to SAP Basis. This type of system architecture is subdivided into three layers, which make up the basic services of a business application system: the presentation layer, the application layer, and the database layer. Each of these layers performs certain functions and constitutes a part of the overall system landscape.
The presentation layer enables the user to interact with the relevant application. This interface is typically called the GUI (Graphical User Interface) and it is used to execute the application logic, utilizing the other layers in the combined infrastructure. Applications are executed in the application layer while the data to be processed is managed by the database layer. The distribution of system functions over several layers means that an SAP system is extremely scalable. The separation into layers means that the overall load can be distributed over several servers. The functions of a single layer can also be distributed over multiple servers. This is made possible by, among other things, the network communication of the participating servers.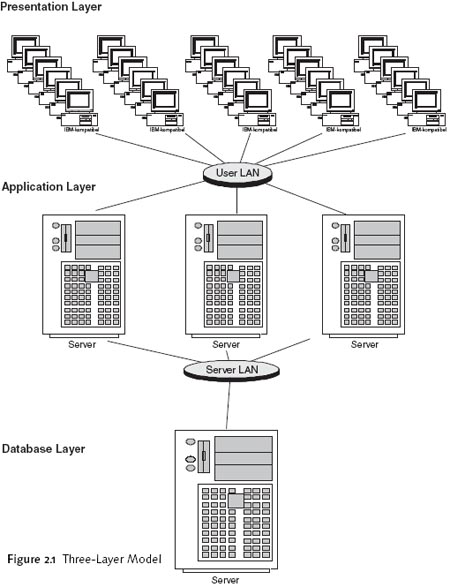 In the days of SAP R/3, we spoke of one-, two-, or three-level architecture, depending on whether the services of the SAP R/3 system ran on one, two, or more servers. With one-level system architecture, all processing tasks occur on a single server. Two-level configurations are usually implemented with special presentation servers, which are responsible for preparing only the graphical interfaces. This is usually performed in such a way that the end users use their workstation (usually a Windows PC) as a presentation server via which they can access data that is stored and processed on a separate server. With a three-level configuration, a separate server is used for each service, that is, the presentation layer, the application layer, and the database layer run on different machines. The application layer, in particular, can be distributed over several application servers to counteract a possible high load caused by end users, dataexchange processes, or background processing.
Another prerequisite for the layers is that they should offer a high degree of flexibility with regard to hardware and operating-system environments. mySAP Business Suite is a standard software, so you must be able to use it on different platforms. Because the SAP system architecture supports a wide range of operating systems and hardware platforms, SAP tries to remain as platform-independent as possible. A Java version has been written for the SAP GUI, for example, which means that it can be run on almost all operating systems.
The application logic of mySAP components can run on numerous operating systems and hardware platforms. It should be noted, however, that the application programs cannot be run on different platforms without some amount of customization. An environment must be created that will allow for programs to be independent of the operating system. This is achieved using the SAP Web AS, or its predecessor, SAP Basis.
SAP Web AS is a later development of the SAP Application Server technology. New technologies were added to process or forward HTTP requests, for example. This is the task of a new process -- the Internet Communication Manager (ICM). It can communicate via the Internet as a server and as a client.
Figure 2.2 shows the architecture of the earlier SAP Basis compared with the new SAP Web AS architecture. You can see the Internet communication enhancement in the form of the ICM.
Like SAP Web AS, SAP Basis provides the runtime environment for all SAP applications and ensures that the application is optimally embedded in the system environment. It defines a stable architecture framework for system enhancements and includes tools for the administration of the entire system. Additional tasks include the distribution of resources and providing system interfaces.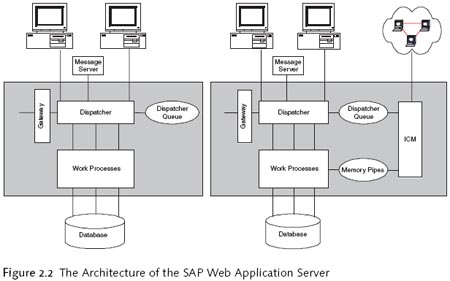 In contrast to the operating system, this runtime environment is a mass of parallel cooperating processes. On each application server, these processes include the dispatcher and a number of work processes, depending on existing resources. Special work processes can be defined according to the services for which the application is to be used, for example, an application server can be used exclusively for dialog processing. Therefore, we will define only dialog work processes on this server. You should use a different application server for background processing. Batch work processes are defined there for background processing. Communication between the dispatchers of an SAP system is done via the message server. There is always only one message server per SAP system. Communication between systems (R/3, R/2, external systems, and so on) is made possible thanks to the SAP Gateway.

Chapter 2: 'SAP Architecture Concepts'
Visit the SAP Press website for a detailed description and to learn how to purchase this title.