Get started
Bring yourself up to speed with our introductory content.
Chapter 14: 'Working with SAP BI Standard Business Content'
Give your company the competitive edge by delivering up-to-date, pertinent business reports to users inside and outside your enterprise. SAP Business Information Warehouse Reporting shows you how to construct Enterprise Data Warehouses, create workbooks and queries, analyze and format results, and supply meaningful reports. Learn how to use the BEx and Web Analyzers, Web Application Designer, Visual Composer, and Information Broadcaster. You will also find out how to forecast future business trends, build enterprise portals and websites, and tune performance.

Download chapter 14: 'Working with SAP BI Standard Business Content'




This chapter is excerpted from the book titled, SAP Business Information Warehouse Reporting, authored by Peter Jones, McGraw-Hill, ISBN 0071496165, Copyright 2008 McGraw-Hill.


Chapter Excerpt:
---
In this chapter we will review the options for using Standard Business Content (SBC) while developing queries and reporting strategies. Standard Business Content consists of much more than the standard delivered queries, web templates and workbooks and can help you with the overall timelines and processes in your implementation because you can turn on the SBC you need -- for queries as well as InfoProviders, datasources, and many other objects within the BI system to increase the ROI on the implementation. You can also turn on the SBC for help with the performance analysis and tuning of your system. There's much more in the area of technical help within the 7.0 BI system versus the 3.x version. You also have available the Administration Cockpit, which is, among other things, a central focal point for all the reports and queries for tracking query and system performance.


If you have gone through numerous implementations, you'll know that you have to answer some initial questions about what to configure and how—and getting the answers to these questions sooner is better than later. This is one area where SBC queries, workbooks, and WAD queries can help. If we are going to get business users involved with the project, we need to get their attention and suggestions—and to do that we need to be able to show them something ASAP. That something could be SBC queries. The easiest and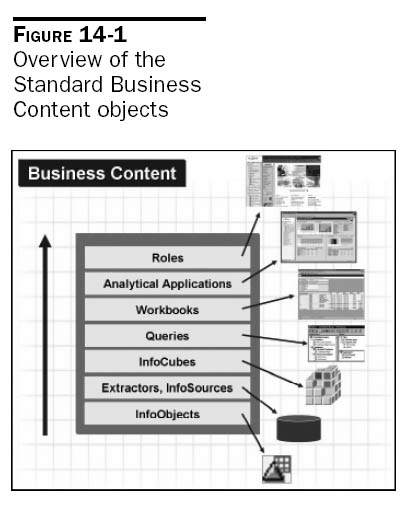 fastest approach to getting information and samples out to your business users is to activate SBC and demo this information for them. This will get them to understand what the possible outcomes could be for the information and how this toolset will work for them.
Another reason for the use of SBC is to increase the speed of an implementation. We are all comfortable with the fact that SBC will not exactly fit our project, but it may fit about 50% to 75% or more of our needs. That's not a bad start, and getting any help to decrease the project timeline and increase the speed in which we can implement this toolset is all good. Therefore, activating SBC to see what it can offer, determine whether it can reduce the amount of customization we need to do, perform gap analysis, and produce a prototype to show the business users is always good and would be a great start.
There are other reasons to get SBC up and running, but these can be specific to a particular project. Needless to say, you should review your requirements and investigate what SBC can do for you before spending time on customized anything in BI. We will cover the activation as well as the deactivation of SBC, but only in terms of queries, even though the other objects' activation processes are very similar. In Figure 14-2 you can see a partial list of SBC objects by object type, and at the bottom of the list (not shown) is an additional item called More Types, which offers additional objects not on the primary list. Once you start reviewing the SBC—either by looking to activate a portion of it to review the standard objects in that specific area, activating the SAP Demo SBC for use in demonstrating functionality, or just using the Metadata Repository to view what SBC you have available—you will see that there are literally thousands of SBC objects for you to use.
I think of SBC not only as what the SAP BI system can offer you in terms of the activation of objects, but also what the system can offer you in terms of standard parameters for your queries. Therefore, I have added to this section the parameters you can set in the IMG for the BEx Analyzer and WAD queries. These components have sometimes been overlooked, and they may offer you some help with your business requirements. We will complete this chapter with a discussion of the Metadata Repository.

Chapter 14: 'Working with SAP BI Standard Business Content'
Visit the McGraw Hill website for a detailed description and to learn how to purchase this title.