Background Information
SAP R/3 and SAP CRM customer master data are based on two different data models. That makes for some tricky mapping issues, but veteran CRM guru Srinivasa Katta has broken down the process into this easy step-by-step guide.
SAP R/3 and SAP CRM customer master data is based on two different data models.
SAP R/3 or ECC uses account groups to classify the customer master data.
Example: Sold-to party account group 0001 and Ship-to party account group 0002
SAP CRM uses customer classifications:
a) i) Customer ii) Prospect iii) Competitor iv) Consumer –Person v) Consumer- Organization
b) Sold-to Party, Bill-to Party, Ship-to Party and Payer BP Roles are all mapped to the classification Customer.
c) SAP CRM uses Roles to distinguish data sets needed to maintain a BP record.
Example of BP Roles: Sold-to (CRM001), Ship-to (CRM002), Bill-to (CRM003) and Payer (CRM004)
CRM000 (Customer) is the higher level BP role of CRM001, CRM002, CRM003 and CRM004
Please find below the standard configuration of Sold-To Party CRM001 role as delivered.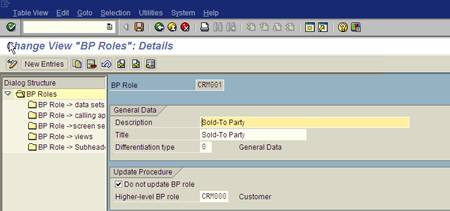 You would make the following settings in the R/3 system to map the account groups and BP groupings in CRM in R/3 transaction PIDE if you follow the standard configuration.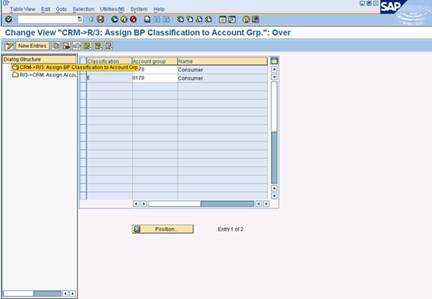 MAPPING R/3 ACCOUNT GROUPS AND CRM ROLES

Home: Introduction
Part 1: Background information
Part 2: Technical information
Part 3: Scenario: CRM being the lead system
Part 4: Scenario results
Part 5: Configuration prerequisites in ECC or R/3 and CRM systems
Part 6: Scenario: ECC or R/3 being the lead system
Part 7: Maintain excluded functions
Review: Conclusion and more resources

Dig Deeper on SAP training and certification strategy