Evaluate
Weigh the pros and cons of technologies, products and projects you are considering.
A complete guide to SAP Cloud Platform integration
Introduction
SAP Cloud Platform lies at the heart of SAP's digital transformation strategy.
Viewed in its most basic terms, SAP Cloud Platform is a PaaS that enables organizations to build, test and run SAP HANA-based applications in the cloud. However, this only scratches the surface of SAP's larger aims for the platform. The vendor positions SAP Cloud Platform integration as the entire foundation for the "intelligent enterprise," a way to extend existing applications or develop new ones that can transform existing business processes or develop new business models.
SAP Cloud Platform integration can knit together data from an organization's venerable ERP applications -- the systems of record -- with next-generation technologies from the SAP Leonardo portfolio, including IoT, AI, machine learning, blockchain and advanced analytics.
SAP Cloud Platform is designed to be open and flexible, with different methods for consuming cloud services, open APIs and tools like the software developer's kit (SDK) for Apple iOS systems. These SAP Cloud platform integration options are intended to give developers the ability to extend SAP Cloud Platform-based applications beyond the confines of the traditional SAP ERP Central Component on-premises environment.
SAP Cloud Platform has grown rapidly, according to SAP, but it's an open question how widespread adoption will eventually be. Nevertheless, it's not hard to find examples of companies that are using the platform for innovative digital transformation projects, including German manufacturer Kuka AG, which uses SAP Cloud Platform integration to connect robotics in manufacturing processes, and global healthcare company Aesculap, which developed an Apple iOS app on SAP Cloud Platform.
This Essential Guide provides a handy overview of the issues and technologies in the SAP Cloud Platform environment, including news, analysis and real-world examples of how organizations are using the platform to transform their businesses.
1

News and analysis

-
Inside information and evaluation
Find out more about the questions and issues around SAP Cloud Platform.
News
SAP developers can move on-premises ABAP extensions to SAP Cloud Platform, giving new life to older applications. Continue Reading
News
SAP users have the option to buy credits for SAP Cloud Platform Services and to use only what they need. Continue Reading
News
SAP back-office system data can now be included in applications that are built for Apple iOS mobile devices. Continue Reading
2

Problem solve

-
Advice, tips and tricks
Get expert advice on SAP Cloud Platform integration and development.
Feature
Here's a look at some of the options for SAP Cloud Platform integration tools, including their strengths, weaknesses and suitability to the job at hand. Continue Reading
Feature
SAP Cloud Platform can link together SAP enterprise applications with next-generation technologies like machine learning, AI, IoT and blockchain. Continue Reading

Download this free guide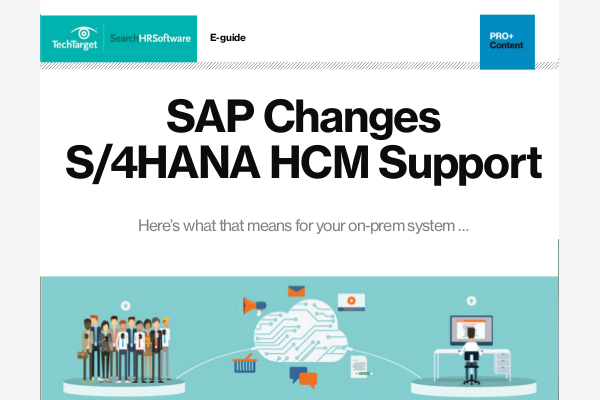 SAP Changes S/4HANA HCM Support
Explore how SAP is providing a cloud adoption program to bring together services and updated tools, and help with data integration. Learn how IT pros can make a safe cloud HR migration and minimize compliance risks and data loss.
3

Case studies

-
Real-world examples
Find out how organizations are using SAP Cloud Platform as the means to integrate applications, enable new technologies and drive innovation for digital transformation.
News
Find out how two manufacturers are using SAP Cloud Platform to improve their production processes. Continue Reading