Definition
requirements stability index (RSI)
A requirement stability index (RSI) is a metric used to organize, control, and track changes to the originally specified requirements for a new system project or product. Typically, a project begins, after consultation with customers or clients and research into their needs, with the creation of a requirements document. The document expresses what the customer or client needs and expects and, at least implicitly, what the developer will provide. The client or customer representative group reviews the document and, if in agreement with its specifications, signs it. This process (called signing off) is intended to ensure that customer representatives or clients have agreed - in writing - on the specifics involved. Almost inevitably, however, once the design and development process is underway, customers or clients think of changes or embellishments they would like, a phenomenon known as requirements creep (or feature creep) that, if not managed with a firm hand, can result in lost time and money and either a project far beyond the scope of what was originally foreseen, or a failed project.

Download this free guide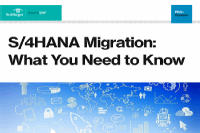 Popular Among Your Peers: S/4HANA Migration: What You Need to Know
SAP hopes to transition everyone off the legacy ERP platforms, with end support likely slated for 2025. So as you ponder this move and start planning that SAP S/4HANA migration, let this expert guide help you identify which deployment option would be best for you, how to get your infrastructure ready now for the migration, and much more.
An important part of project management, requirements management has become more challenging with the faster pace of technology advances and as these and the marketplace influence requirements. According to the Standish Group's 1995 Chaos Report, 73% of projects were either canceled or failed to meet expectations due to insufficient requirements definition and analysis. A 1997 study by Sequent Computer Systems reported that 76% of the 500 IT managers surveyed had been involved with failed projects at some point in their careers, and most failures were attributed to changing user requirements. What happened, frequently, was that projects grew beyond the point where they were either financially or technologically feasible, because of uncontrolled client requests. The RSI gives developers a means of continuing to document requirements as they change throughout the development process, and to monitor deviations from those originally specified.
Continue Reading About requirements stability index (RSI)
Dig Deeper on SAP development and programming languages