Definition
SAP Smart Data Access (SDA)
Smart Data Access is a data virtualization feature in SAP HANA that allows customers to access data virtually from remote sources such as Hadoop, Oracle, Teradata, SQL Server and SAP databases and combine it with data that resides in an SAP HANA database.

Download this free guide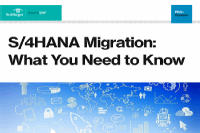 Popular Among Your Peers: S/4HANA Migration: What You Need to Know
SAP hopes to transition everyone off the legacy ERP platforms, with end support likely slated for 2025. So as you ponder this move and start planning that SAP S/4HANA migration, let this expert guide help you identify which deployment option would be best for you, how to get your infrastructure ready now for the migration, and much more.
Smart Data Access (SDA) enables remote data access to any other source or system without having to move or replicate the data itself into SAP HANA. SAP calls this ability to weave in a network of data sources the "in-memory data fabric." Virtual views can then be accessed in SAP Business Information Warehouse (SAP BW) with virtual cubes or through virtual master data functionality. According to SAP, one of the use cases for Smart Data Access includes storing active hot data in SAP HANA while storing archived cold data in an alternate source such as SAP Sybase IQ. Another scenario would be to build SAP HANA applications that pull data from different sources.
SAP first began offering the feature with SAP HANA Support Pack 6, which means that companies that use SAP HANA as a standalone appliance can also use SDA's data-virtualization features. However, SAP began offering SDA in BW 7.4 for organizations that are using SAP BW as a data warehouse in conjunction with SAP HANA as the database.
Continue Reading About SAP Smart Data Access (SDA)