SAP Leonardo is an umbrella brand for SAP's collection of software and services that organizations can use to develop digital transformation projects.

Download this free guide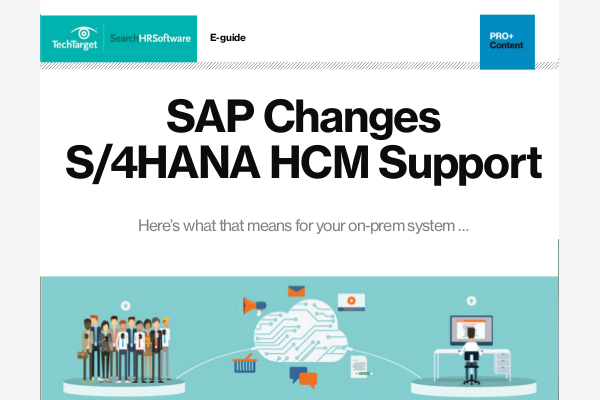 SAP Changes S/4HANA HCM Support
Explore how SAP is providing a cloud adoption program to bring together services and updated tools, and help with data integration. Learn how IT pros can make a safe cloud HR migration and minimize compliance risks and data loss.
SAP Leonardo encompasses next-generation technologies that include Internet of Things (IoT), machine learning (ML), artificial intelligence (AI), big data, advanced analytics, 3D printing, and blockchain under the SAP Cloud Platform. According to SAP this provides organizations with the ability to develop new business models and capabilities, and to also add new technologies as they emerge.
SAP Leonardo as a digital innovation system
Hasso Plattner, SAP's co-founder and chairman of the supervisory board, referred to Leonardo as a "bounding box," a mathematical term for a metaphorical box that defines the physical shape of a group of objects.
SAP also calls Leonardo a "digital innovation system" or "system of innovation" that compliments the vendor's traditional system of record for transactional data. The key to the digital innovation system is not just the technologies, but the design thinking methodologies that help users uncover all of the requirements for the digital transformation project and allow them to build applications that deliver business insights from better and more advanced analytics.
SAP claims that Leonardo is more than a bundle of technologies and instead is an integrated system of software and services, with SAP Cloud Platform forming the PaaS infrastructure foundation for Leonardo technologies. According to SAP, this blending of technologies with design thinking methodologies differentiates SAP Leonardo from competing offerings like IBM Watson.
SAP Leonardo industry accelerators
When organizations engage SAP Leonardo services, they first complete a workshop where the business use case is defined, a prototype application is developed and tested and a functional application is completed and released. For customers in certain industries, there are prepackaged and tested processes called "industry accelerators." SAP Leonardo has industry accelerators for retail, consumer goods, sports and entertainment, discrete manufacturing, chemicals, and utilities, with more in development from SAP.
The time it takes to develop an application varies depending on the complexity of the application, and SAP Leonardo has three editions to help meet different requirements:
SAP Leonardo Innovation Services, express edition is designed to define a business use case in a day, develop a prototype in two to three weeks and deliver a final application with six weeks. The express edition relies on the industry accelerators, which according to SAP cover at least 80% of the business processes need for an application.
SAP Leonardo Innovation Services, open innovation edition is for companies to develop applications for their industries if they are not suited for the industry accelerators. This approach generally consists of a longer-term design thinking engagement followed by an implementation project in which the SAP Leonardo team works closely with the customer to define a unique package and implementation plan for a specific use case.
SAP Leonardo Innovation Services, enterprise edition follows the open innovation edition model, but allows the customer to scope out and deliver on multiple use cases instead of just one.
To facilitate SAP Leonardo design and development projects, SAP runs SAP Leonardo Centers, a global network of connected physical locations where customers can get hands-on experience with the technologies, and engage with SAP Leonardo Innovation Services. The first SAP Leonardo Centers were opened in New York and Paris, with others planned for Sao Leopoldo, Brazil and Bangalore, India.
Continue Reading About SAP Leonardo
Dig Deeper on SAP Leonardo