Definition
SAP FICO (SAP Finance and SAP Controlling)
SAP FICO is a core functional component in SAP ERP Central Component that allows an organization to manage all of its financial data. The purpose of SAP FICO is to help companies generate and manage financial statements for analysis and reporting and help with effective business planning and decision-making. SAP FICO consists of two modules, SAP Finance (FI) and SAP Controlling (CO), each of which is used for specific financial processes. SAP FI deals with overall financial reporting and accounting while SAP CO focuses more narrowly on planning and monitoring costs. SAP FI and SAP CO were originally released as separate modules but are now so tightly integrated that many people refer to them as simply one module.
SAP FI modules
SAP FI enables companies to generate financial statements -- such as balance sheets or profit and loss statements -- for reporting and analysis. SAP FI consists of several sub-modules that handle specific accounting processes:
Content Continues Below

Download this free guide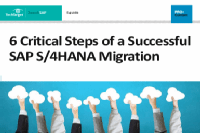 Download Now: 6 Critical Steps of a Successful S/4HANA Migration
To avoid ERP implementation failure, taking the right approach to an S/4HANA migration is a must. In this guide that we designed for you, you'll get your hands on 6 critical -- and too easily overlooked -- steps your organization can take to successfully move forward.
General Ledger contains all of the company's transaction data in a chart of accounts that lists all of the accounts in the system. Transactions are recorded in sub-modules that can be reconciled with the general ledger data in real time.
Accounts Receivable captures customer transactions and manages customer accounts. Transactions include invoice posting, credit memo posting, down payments, invoice payments, dunning, and executing customer reports.
Accounts Payable involves all of the transactions with vendors and manages vendor accounts. Transactions include invoice posting, credit memo posting, down payments, invoice payments, automatic payments program, and executing vendor reports.
Asset Accounting manages all of the transactions related to the company's fixed assets, such as land, buildings and heavy equipment. Transactions include asset acquisitions, retirement, sales, transfers, revaluations and depreciation.
Bank Ledger deals with all of the company's bank account transactions and data. It can reconcile all transactions recorded on bank statements and compare them with the transactions in the system.
Consolidation enables the company to combine financial statements for multiple entities, which provides an overview of the company's financial position as a whole.
Funds Management manages the budgets for the company's revenues and expenses.
Special Purpose Ledger defines the ledgers in SAP FI for reporting purposes.
Travel Management manages all of the transactions for travel processes, including booking trips and handling travel-related expenses.
SAP CO modules
While SAP FI deals with a company's accounting and internal and external reporting, SAP CO supports processes to plan, report on, and monitor costs from business operations. SAP CO can be instrumental in improving the company's profitability. Like SAP FI, SAP CO is comprised of sub-modules that handle specific processes:
Cost Elements provides an overview of all the company's costs and revenues based on profit and loss statements, which are also known as income statements. Cost element accounting describes the origin of the costs, and the cost elements represent specific costs that the company incurs.
Cost Centers deals with the costs associated with the company's internal divisions or departments, such as sales, production, marketing or human resources. Cost Centers involves only expenses, not revenues.
Profit Centers handles all of the cost data related to the company's business lines. It deals with both expenses and revenues, unlike Cost Centers, which deals only with expenses. For example, a global consumer products company may use Profit Centers for health products, soaps and detergents, cosmetics, food and beverages, and so on.
Internal Orders is used to manage the costs for smaller internal projects or non-fixed assets -- for example, a limited-time marketing campaign.
Profitability Analysis enables the company to analyze the profitability of its products. For example, Profitability Analysis can be useful for making decisions on matters like product pricing, distribution channels, or target market segments. It also allows levels of detail in analyzing profitability, such as for each region or country, product types and distribution channels, down to individual customer profitability.
Product Costing manages the data about costs required to produce the company's goods and services. Product costing analysis can help manage manufacturing costs and optimize efficiencies.
SAP FICO is part of the SAP ECC Accounting function. It integrates with other SAP Logistics modules, including Sales and Distribution (SD), Production Planning (PP), Plant Maintenance (PM), Quality Management (QM), and Materials Management (MM).
This was last updated in
March 2018
Continue Reading About SAP FICO (SAP Finance and SAP Controlling)
Dig Deeper on SAP finance and accounting software