Definition
SAP Cloud for Analytics
SAP Cloud for Analytics (CforA) is a software as a service (SaaS) business intelligence (BI) platform designed by SAP specifically for the cloud with the intent of providing all analytics capabilities to all users in one product.

Download this free guide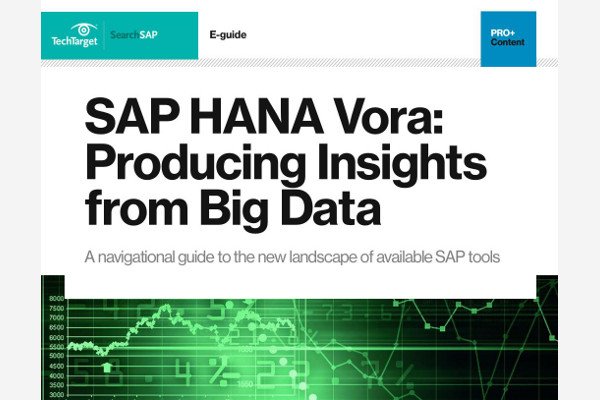 SAP User: Stay-Up-to-Speed
Explore how SAP's acquisition of Altisale will ease SAP big data integration, what SAP reps and industry analysts are saying about the latest versions of Vora, Replicate and SAP Cloud Platform Big Data Services, and much more.
Built natively on SAP HANA Cloud Platform (HCP), SAP CforA allows data analysts and business decision makers to visualize, plan and make predictions all from one secure, cloud-based environment. SAP claims this differs from other BI platforms, which often require data to be integrated from various sources and users to jump between different applications when performing tasks, such as creating reports. With all the data sources and analytics functions in one product, Cloud for Analytics users are able to work more efficiently, according to SAP. The key functions are accessed from the same user interface that is designed for ease-of-use for business users.
SAP CforA evolved out of a product called SAP Cloud for Planning, which was released in February 2015. In addition to business planning, the other key components are BI (for reporting, dashboarding, data-discovery and visualization), predictive analytics and governance, risk, and compliance (GRC). The BI functions were released in November 2015 and the predictive capabilities are expected to be generally available in 2016. There is no currently scheduled release for the GRC functions.
SAP has other cloud-based BI products, including SAP Lumira Cloud, BI OnDemand and CrystalReports.com, as well as a cloud-hosted version of its SAP BusinessObjects BI platform, but these have more limited functionality than Cloud for Analytics and are based on moving existing content to the cloud.
Continue Reading About SAP Cloud for Analytics
Dig Deeper on Business Objects and SAP business intelligence
PRO+
Content
Find more PRO+ content and other member only offers, here.