SAP ERP is an enterprise resource planning software developed by the company SAP SE. ERP, or enterprise resource planning, software is modular software made to integrate the main functions of an organization's core business processes into a unified system. ERP software will cover all business areas core to an organization by centralizing data management.
ERP systems in general will normally consist of software components, called modules, that each focus on an essential business function, such as finance and accounting, HR, production, materials management and customer relationship management (CRM). Organizations only use the modules they need to run their particular business. Some example business processes include Operations, Corporate Services, Finance and Human Capital Management. ERP software will also allow users to manage customer relationships by department, including in sales, customer service and marketing.
Businesses and IT teams use SAP ERP. SAP clients that use SAP ERP include Samsung Electronics, The Home Depot and PepsiCo. Business unit analysts may control enterprise areas in an organization, which may include an SAP system. SAP ERP will help enable an organization to accelerate manufacturing processes by streamlining and automating processes, such as with financial operations.
What does SAP stand for?
The original name for SAP when translated was System Analysis and Program Development and is initialized as SAP. Because SAP is an initial, it is pronounced as individual letters, not an acronym; so it is not said aloud as the word "sap." The "SE" in SAP SE stands for Societas Europaea, which is similar to the U.S. version of Inc.
SAP SE is a multinational software corporation and is a market leader in the ERP field. The company currently serves more than 180 countries, and a majority of the customers are small and medium-sized businesses (SMB). The company offers on-premises, cloud and hybrid deployment models, with cloud computing options being a focus for the company's future -- supported by SAP data centers.
What is SAP enterprise resource planning (ERP)?
SAP SEis one of the largest vendors of ERP software and related enterprise applications.The company's ERP system enables its customers to run theirbusiness processes, including accounting, sales, production, human resources and finance, in an integrated environment. It is also considered a backbone of the SAP software offerings. The integration ensures that information flowsfrom one SAP component to another without the need for redundant data entry and helps enforce financial, process and legal controls. It also facilitates the effective use of resources, including manpower,machines and production capacities.
SAP ERP software has different main modules, which are separated into functional modules and technical modules. SAP's functional modules include:
The SAP ERP software system, called SAP ERP Central Component (SAP ECC), is the collective term for SAP's functional and technical modules that enable enterprises to manage business processes through a unified system. ECC is the on-premises version of SAP, and it is usually implemented in medium- and large-sized companies. For smaller companies, SAP offers its Business One ERP platform.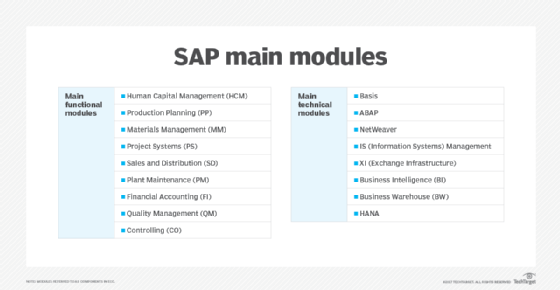 SAP also has cross-application components, such as enterprise document management systems and product lifecycle management (PLM), which can be implemented with any of the main modules.
How does the SAP ERP system work?
The SAP ERP system is often arranged in a three-tier, client-server architecture. This set up is recommended because it enables flexibility and increased scalability. The three tiers used by the SAP ERP software include: the presentation tier, the application tier and the database tier.
The presentation tier provides the user with the SAP graphical user interface (SAP GUI). The SAP GUI can be installed on any computer that use Microsoft Windows OS or Mac OS. The SAP GUI is the point of communication between the user and the SAP ERP system.
The application tier is the core of the SAP ERP system. This tier is responsible for processing client transactions, executing business logic, running reports, monitoring access to the database, printing jobs and communicating with other applications.
The database tier is where both the business generated data and SAP application programs are stored.
When working together, the application tier will receive the input and then send the information to the presentation tier. The presentation will display the output in the SAP GUI. This data is then stored in the database tier.
All processes that are started or stopped within the SAP ERP system are called SAP instances. Each instance possesses a dispatcher and various work processes. The dispatcher allocates tasks to one of the work processes. The SAP ERP system has different work processes to match with different tasks. These work processes include:
dialogue work processes for managing online transaction requests from users;
update work processes that perform updates in the database;
spool work processes, which enable printing in the SAP system;
batch work processes that process any background jobs scheduled in the system; and
gateway work processes, which enable communication between applications, such as between SAP R/3 and SAP R/2.
While the SAP ERP system can contain several application instances, there must always be one special, central instance (CI). The CI has two components: the message process and the enqueue server. The message process establishes communication between the application instances in the SAP system. The enqueue server manages locks on the database tables.
Beyond this breakdown, there are several application modules that make up the SAP ERP system. Each module is designed to accommodate the SAP application programs and specific business data related to a particular area of business.
Advantages and disadvantages of the SAP ERP system
Advantages of SAP ERP include:
the standardization of an organization's business processes;
the ability to integrate with other third-party systems and perform enterprisewide services;
the flexibility to create custom rules with the SAP structure that set the parameters for transactions; and
various analytical features -- such as reporting and decision-making -- that enable SAP to meet the needs of various complex businesses and government organizations.
Disadvantages of SAP ERP include:
the high cost of purchasing and implementing the program, including buying the software and hardware, labor costs of internal IT employees and external consultants, the costs of training employees and the residual costs for software maintenance and periodic upgrades; and
the complexity of the system means most companies will only implement one feature of the SAP ERP software at a time, causing the complete implementation of the software to take up to several years.
SAP software uses
SAP software is used to assist companies with the management of business areas, such as finances, logistics and human resources. The SAP ERP can be used with other application software that supports specific, complex business functionality; this is called the SAP Business Suite.
The SAP Business Suite is a bundle of business applications that provides integration of business and processes, as well as industry-focused functionality. This bundle is based on SAP ERP, but also includes modules for CRM, PLM, supply chain management (SCM) and supplier relationship management (SRM). SAP customers can choose to run Business Suite on SAP HANA.
S/4HANA is the vendor's in-memory version of the Business Suite ERP platform that was released in 2015. It is an ambitious rewrite of the Business Suite optimized for the HANA platform. S/4HANA is meant to reduce complexity, according to SAP, and to replace SAP ECC, eventually.
SAP S/4HANA Cloud is a SaaS version of S/4HANA, presenting the advantages of HANA's in-memory processing and real-time data accessibility within a SaaS model, meaning users can access all of the software's functionality.
SAP also has industry-specific applications that support business processes unique to particular industries. Some of these applications are:
SAP for Utilities
SAP for Insurance
SAP for Oil and Gas
SAP Healthcare
SAP user groups
An important part of SAP's information dissemination and engagement has been itsuser groups. These are independent, not-for-profit groups designed to help educate members, create customer involvement, give voices to users in influencing SAP strategy and provide networking opportunities. Here, SAP employees and users can meet and share information, experiences and lessons learned.
Arguably more important, SAP hears user feedback in both the technical areas and the functional areas. User groups are organized by region across the globe, with Americas' SAP Users' Group (ASUG), being the largest.
History of SAP
SAP was started in 1972 by five former IBM employees in Mannheim, Germany. The original idea for SAP was to provide customers with the ability to interact with a common corporate database for a comprehensive range of applications in real time.
In 1973, SAP released R/1, a financial accounting system. R/1 ran on IBM servers and disk operating systems (DOS), and it had a single-tier architecture in which presentation, applications and data were on one platform.
In 1979, SAP released R/2, a mainframe system that provided real-time data processing across accounting, manufacturing, supply chain and human resources. R/2 used a two-tier architecture, where presentation was on one platform and applications and data were on another. R/2 helped power SAP's growth, and the vendor expanded its customer base to about 200 companies.
In 1988, it changed from a private, limited-liability company to the publicly traded SAP AG (with AG changing to SE in 2014). Also in 1988, the company established SAP America in Pennsylvania.
In 1992, SAP released R/3, which represented a switch from mainframe computing to the client-server model, and from a two-tier to a three-tier architecture, in which presentation, applications and data were housed separately. R/3 was a critical product for SAP that launched the company onto the world stage.
In 1999, SAP launched mySAP, which marked a new strategy for the company of focusing on combining e-commerce software with the applications in R/3. One year after R/3's release, SAP partnered with Microsoft to port the new version to Windows NT. By 1997, SAP employed 13,000 people.
In 2004, the company launched SAP NetWeaver, which received a lot of industry attention as the first fully interoperable, web-based, cross-application platform that could be used to develop not only SAP applications, but others as well. SAP SE reported that more than 1,000 customers acquired the application development platform that year. Also, in 2004, the successor to R/3, the SAP ERP system (or SAP ECC, for SAP ERP Central Component) was released. Customers already using R/2 or R/3 were still supported, but new customers were required to implement SAP ERP.
In 2006, the company claimed hefty revenue from SAP Business All-in-One and SAP Business One.
In 2009, SAP Business Suite 7 became available to customers worldwide. This version used a service-oriented architecture.
In 2011, the company launched SAP HANA, an in-memory database platform that is at the forefront of the company's future strategy. HANA was a major development project for SAP, which has said it intends HANA to take the place of the traditional databases SAP has used for its business applications.
SAP said its primary focus on growth rests on internal innovation by developing and improving its own products. As a step in that direction, the company created SAP Labs, which are research and development locations that develop and improve core products. These are located in high-tech clusters around the world, such as in Bangalore, India, and Palo Alto, Calif.
Since 1996, the company has also made more than 60 acquisitions. A major focus for the company in recent years has been building its cloud computing capabilities and enabling greater mobility. Acquiring companies with such technologies has helped to build those capabilities. A few acquisitions that serve as examples are:
Qualtrics, 2018, experience management, second largest acquisition to date;
CallidusCloud, 2018, sales team performance management;
Concur Technologies, 2014, online travel and expense management software as a service, largest acquisition to date;
Fieldglass, 2014, cloud-based contingent labor and services;
Hybris, 2013, e-commerce, part of the SAP Customer Engagement and Commerce suite;
Ariba, 2012, cloud-based B2B marketplace;
SuccessFactors, 2011, cloud-based human capital management; and
BusinessObjects, 2007, business intelligence.
The future of SAP
There are many directions SAP could go in depending on what or how much they decide to focus on. For example, with more than 60 acquisitions already, SAP could change their direction and focus, or expand upon an area of focus by making more.
SAP has been focusing on cloud services as well, from acquiring SuccessFactors in 2011 to stating that cloud computing will be a focus for the company's future. Focusing on cloud computing will alleviate challenges found with running ERP and CRM software on premises.
SAP could also begin to lean back into IoT strategies again with SAP Leonardo, although that angle has slowed.
SAP recently has also made a COVID-19 tracking software in Germany, which was developed in 50 days and, over a short period of time, and reportedly reached up to 8 million citizens.
Either way, SAP tends to have committed customers with an ecosystem of partners and a developer community.
This was last updated in
October 2020
Continue Reading About SAP ERP