News
Stay informed about the latest enterprise technology news and product updates.
SAP Sapphire Now 2016: Special conference coverage

Introduction
It's that time of year again, when the SAP world gathers at Sapphire Now to see and hear the latest developments in SAP technology. The conference will be held in Orlando, Fla., from May 17 to 19, and SearchSAP editors will be on hand to bring you all the news and analysis from this year's show.
S/4HANA has been out for more than a year, and at SAP Sapphire Now, the vendor will be eager to show how the new ERP platform is playing a leading role and serving as the digital core in the digital business transformation. But there is still much skepticism about how far along SAP is in leading the transformation, and many observers and customers want to see if SAP will focus less on vision and more on concrete customer success stories. SAP promises to have plenty of those in all parts of the product landscape, with customers like Cirque du Soleil and baseball legend Reggie Jackson on hand to show how they are using SAP technology.
Although S/4HANA is likely to be the main story, it will by no means be the only one. HANA Cloud Platform and other cloud offerings, HANA Vora, Hybris CRM, Digital Boardroom and more will be featured prominently at SAP Sapphire Now, and the vendor will highlight further integrations with the SAP Business Network, which is made up of technology from three companies acquired by SAP: Ariba, Fieldglass and Concur.
Organizers say SAP Sapphire Now could attract around 20,000 users, partners and vendors. SAP executives, including CEO Bill McDermott, Bernd Leukert and Steve Singh will deliver keynotes, and technical advice and business process strategies will be digested in more than 12,000 lectures and panels. About 250 vendors and partners are expected to showcase SAP-related products and services.
1

Top News Stories

-
Keynotes, technologies and new products
SearchSAP.com editors cover the biggest stories coming out of this year's SAP Sapphire Now conference.
News
A finance leader at New York Life explains how S/4HANA Finance helps manage and analyze data on $528 billion in assets, and the key role of change management in a successful project. Continue Reading
News
Microsoft's Nadella says companies have 'an existential need to bring our best together' Continue Reading
2

Feature stories

-
Case studies, columns and expert tips
SAP users, analysts and consultants share their expertise, and editors offer their take on the week's events.

Download this free guide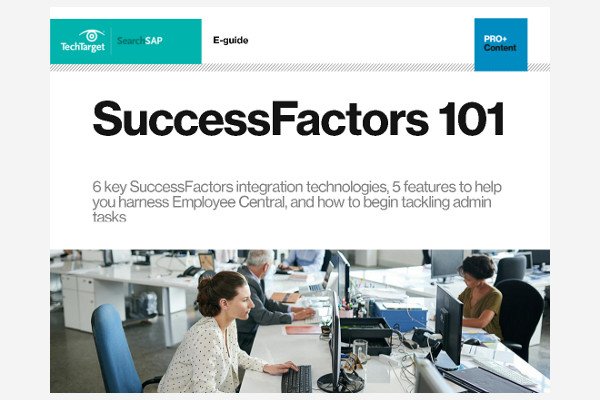 SuccessFactors 101- Guide is Ready to Download
Dive into 6 SuccessFactors integration technologies you need to know, 5 features to help you take charge of Employee Central, and where to begin with admin tasks.
3

Videos

-
Videos from SAP Sapphire Now 2016
SearchSAP.com's videographer is on-site to capture interviews with SAP users highlighted at the conference, along with expert analysts and consultants.
Video
Integration updates to HANA Cloud Platform and SaaS offerings for small businesses and Microsoft Office 365 users among new enticements to migrate from on-premises legacy ERP.
4

Live updates

-
SAP Sapphire Now on Twitter