everythingpossible - Fotolia
What useful features does SAP Audit Management offer?
Previously available only in the PLM/CRM modules, Audit Management is now part of SAP ERP as well, providing a one-stop tool that can help companies meet a variety of audit requirements.
Companies going through the rigors of internal and external audits often struggle to find tools that help them...
Continue Reading This Article
Enjoy this article as well as all of our content, including E-Guides, news, tips and more.
maintain audit compliance, visibility and traceability. SAP Audit Management is a relatively new component in the SAP ERP system that may meet such business needs.
An audit can be a compliance check that a company undertakes to ensure it is following local or national environmental regulations, or it could be a physical audit of a vendor's premises to ensure they adhere to the company's standards of hygiene and safe working conditions. Other audit types include fire and process audits that companies routinely undertake.
To begin the auditing process in SAP Audit Management in the ERP system, it's best to create an audit questions list and assign a valuation to each question. A valuation is the minimum score that the answer to the audit question must have for the system to decide that it meets the preset audit criteria. If an answer doesn't meet the criteria, the system offers to incorporate into the process corrective and preventive actions that the auditors can monitor for compliance.
The next step is to assign participants who will have a role in an audit. As the audit progresses, the participants or the auditor can continue updating the status of various questions on the questions list. When the audit is complete, the lead auditor can digitally sign the audit to signal audit completion.
If auditors are not able to access to SAP ERP system, they have the option to download audit questions in Excel format. Then the auditor can enter audit results and upload the Excel file back into SAP ERP. If there are multiple or back-to-back audits, then the person managing the audits can use the Microsoft Project interface to ensure effective planning and overall audits visibility. Upon completion of an audit, it is also possible to create an audit report that consists of audit results, audit observations and the outcome of corrective/preventive steps taken.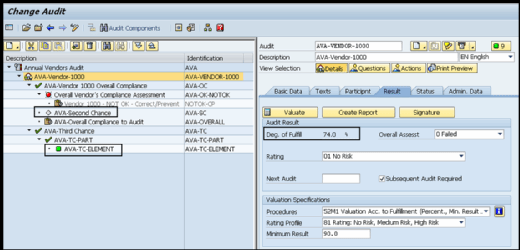 Figure 1 shows a sample audit in the SAP ERP system. The left-hand side of the figure shows green and red icons to denote the valuation of the audit questions that failed (red icon) and those that passed (green icon). The gray icon denotes that the question is not relevant for valuation. The minimum result (see the lower right-hand side) of the audit should be 90.0. However, on valuating the audit, the degree of audit compliance or degree of fulfillment was assessed to be 74%, so in the overall assessment, the audit fails.
Dig Deeper on Compliance management for SAP
Replenishment strategies, lot sizes, safety stock, reorder point planning and replenishment lead time are five factors in ERP that can ensure ... Continue Reading
S/4HANA public cloud provides a less disruptive route to digital transformation than some options -- including the on-premises S/4 -- and smoother ... Continue Reading
These nine key components of SAP MDG help ensure regulatory, legal, environmental and financial compliance of your master data and improve ... Continue Reading