Ivelin Radkov - Fotolia
What should companies know about the refurbishment process in SAP PM?
SAP Plant Maintenance enables a great degree of visibility and financial control over the refurbishment process. Here's a detailed look at the steps you'll need to take.
Compared with preventive or corrective maintenance business processes, refurbishment offers greater maintenance...
Continue Reading This Article
Enjoy this article as well as all of our content, including E-Guides, news, tips and more.
visibility and associated financial controls. So it's not surprising that maintenance planners and financial controllers using the SAP ERP system prefer handling critical, high-value, and moveable equipment and repairable spare parts with the refurbishment process in SAP PM -- the Plant Maintenance component of SAP ERP Central Component (ECC).
Refurbishment is a business process in which a piece of equipment or a spare part is managed as a stock item, an option unavailable in preventive or corrective maintenance. It also allows for the part's issuance, repair and return. Most importantly, using the refurbishment process in SAP PM enables refurbished equipment to be revaluated.
Setting up the refurbishment process in SAP PM requires specific configuration settings, master data settings and business transactions. Here's how to set those up.
Configuration settings
Install the add-on Discrete Industries and Mill Products 6.0. Then, activate the business functions: LOG_EAM_ROTSUB, LOG_EAM_ROTSUB_2 and LOG_MM_SERNO. Doing so will enable SAP ECC to offer configuration options that are specific to the refurbishment process.
Activate and set up a condition-based, split material valuation, so that the same material can be valuated based on its operational condition, such as new, refurbished or unrepairable. Also be sure to configure and activate the external and internal purchase orders options, so that, in case you need to procure maintenance services, the option to use an external purchase order is available. If refurbishment is taking place in-house, creating maintenance orders is also possible.
Set up a settlement profile to enable the refurbishment cost to settle on a material.
Activate four Document goods movement checkboxes so that the system can keep track of all the material issuances and receipts specific to the refurbishment process.
Configure a unique order type to handle the refurbishment process. Doing so will enable a faulty, but repairable, piece of equipment or spare part to be issued out for refurbishment, and to eventually be received with a different valuation (see Figure 1).
In the case of equipment, configure a serial number profile, so as to ensure each piece of equipment has a unique serial number. Creating this profile is not necessary for repairable spare parts.
It's recommended to configure a separate notification type, and to link this up with the order type (see point 5, above), so as to maintain a complete trail of all the refurbishment activities.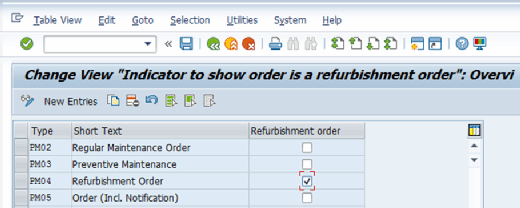 Master data settings
Assign a spare part class code to the part in Basic Data-2 of the material master screen. Also, based on the business need, choose either the repairable spare part with CMM (component maintenance manual) option or the repairable spare part without CMM option on the same screen.
Activate split valuation by choosing the condition-based valuation category in the Accounting-1 view of the material master. Extend the material master view to activate already configured valuation types such as new, refurbished or unrepairable.
Since now it is possible to undertake material planning of repairable spare parts, set up the necessary planning parameters, such as reorder point planning, and then define the reorder point in the material requirements planning screens of the material master. For example, with reorder point planning, any time a spare part stock falls below the reorder point -- say, 20 pieces -- the system triggers its replenishment.
If a piece of equipment is managed as a material, and there's a business need to maintain its unique identification via a serial number, assign the previously configured serial number profile in the Plant data storage view of the material master.
Business transactions
Create a request for refurbishment by using a previously configured notification type.
The maintenance planner should convert a notification into a refurbishment order, and list out all the components, machining, manpower, and time or external maintenance services required to complete refurbishment.
It is also possible to maintain the details of the original material valuation, such as new, as well as the expected new valuation, such as refurbished, in the refurbishment order.
The goods issue transaction issues out the faulty equipment or faulty spare part, as well as the components required to refurbish it. The actual machine and man hours used in the refurbishment process are recorded in the confirmation transaction. The refurbished spare part or piece of equipment is received in the warehouse via the goods receipt transaction.
As soon as the refurbishment work is complete, it's highly recommended to settle the refurbishment order's cost. This will ensure that the actual refurbishment cost is loaded on the material. If this is not done in time, and if the refurbished spare part or piece of equipment is issued out before its cost is settled, then the settlement process will settle the cost to the cost center, thereby negating the entire purpose of implementing the refurbishment process in the first place.
If a piece of equipment or a spare part can't be refurbished, then it is possible to scrap it and charge its cost to a cost center. Since the refurbishment process in SAP PM manages equipment and spare parts as stock items, it is also possible to plan and manage these as inventory, as well as to differentiate the original from the refurbished equipment or spare parts through inventory reports.
Dig Deeper on SAP manufacturing
Replenishment strategies, lot sizes, safety stock, reorder point planning and replenishment lead time are five factors in ERP that can ensure ... Continue Reading
S/4HANA public cloud provides a less disruptive route to digital transformation than some options -- including the on-premises S/4 -- and smoother ... Continue Reading
These nine key components of SAP MDG help ensure regulatory, legal, environmental and financial compliance of your master data and improve ... Continue Reading