archerix - Fotolia
Tap into SAP Shift Notes, Reports for better production visibility
SAP Shift Notes can help with any disconnect that occurs between shift supervisors, while lending visibility into production processes, writes Jawad Akhtar.
One of the biggest challenges that production and maintenance supervisors often face is the getting the proper information about the preceding shift's production data, and likewise, being able to share production data from their own shift with the supervisors assigned to the following shift. The biggest reason for this disconnect is that in the past, there's traditionally been no real reporting tool within the SAP ERP that facilitated that transfer of critical shift-related information, which could then be validated by shift supervisors. SAP Shift Report is a reporting tool that, in facilitating data transfer between shift supervisors during a shift handover, solves that problem.
Production and maintenance supervisors using Production Planning (PP) and Plant Maintenance (PM) components of SAP ERP can use SAP ERP Shift Notes and Shift Reports to note important information that happens during a shift, such as failing to make production goals for whatever reason, a worker's injury and its reasons, or mechanical issues with the production equipment and actions taken to correct it. While Shift Note helps a production or maintenance supervisor to record shift-specific information, a Shift Report is a reporting tool for the output of information previously entered in one or more Shift Notes. Shift Reports also facilitates in-shift handovers between shift supervisors by detailing activities that happened during the previous shift, which the supervisor of the next shift needs to know about to take any preventive or corrective action needed to ensure smooth production continuity.
SAP Shift Notes and Shift Reports are relatively newer features and both are available from SAP ERP ECC 6.0 Enhancement Package 3 and above. This feature meets a longtime requirement that discrete manufacturers had for their production supervisors to record important shift-related information. Companies using Production Planning for Process Industries (PP-PI) manufacturing type have an alternate option to using Shift Report, as Process Management functionality in PP-PI serves those same information entry and reporting purposes. Companies using PP-PI that are not using Process Management functionality can implement Shift Notes and Shift Reports to improve their business processes by implementing these two features.
The frequency with which a production or maintenance supervisor creates a Shift Note completely depends on the company's business needs. For example, a company may decide it needs a new Shift Note at the end of every eight hour shift, with comprehensive information such as production slowdown, equipment breakup or leakage, or also in case personnel for production supervisor notes production did something outside of standard operating procedures, such as not completely adhering to all the steps listed in a cooling plant's shutdown checklist. A significant advantage that the Shift Note offers is that once the production supervisor enters and saves any information in a Shift Note, the system does not allow any changes to be made to the already entered and saved information. This acts as a strong check to ensure that the originality or authenticity of the entered information is in place. However, Shift Note does provide the option to add new information to an already-created Shift Note.
Figure 1 is a Shift Note for morning shift (6:00 – 14:00) and in the comment section, there is the option to enter activities that happened during the shift.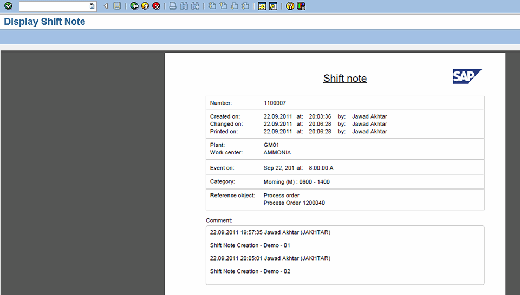 Figure 2 shows the Shift Report containing the details that were previously entered in two individual Shift Notes.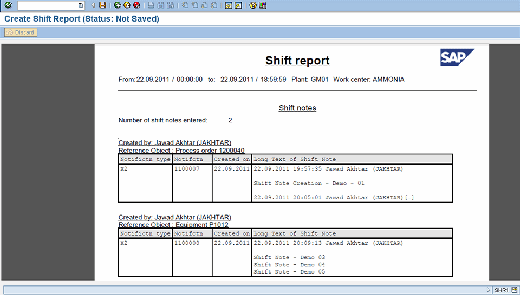 ABOUT THE AUTHOR
Jawad Akhtar is the head of SAP delivery in AbacusConsulting, and a frequent writer and trainer on SAP logistics and supply chain management issues and components. He is also the author of the SAP PRESS book Production Planning and Control with SAP ERP.
Dig Deeper on SAP manufacturing
Replenishment strategies, lot sizes, safety stock, reorder point planning and replenishment lead time are five factors in ERP that can ensure ... Continue Reading
S/4HANA public cloud provides a less disruptive route to digital transformation than some options -- including the on-premises S/4 -- and smoother ... Continue Reading
These nine key components of SAP MDG help ensure regulatory, legal, environmental and financial compliance of your master data and improve ... Continue Reading