Q
Get started
Bring yourself up to speed with our introductory content.
SAP SuccessFactors admin tasks -- where should you start?
Several administrative and maintenance activities will help prevent problems with a SuccessFactors implementation -- here's how to perform the most common tasks.
Once the SuccessFactors system is live, you'll need to perform several ongoing administrative and maintenance activities...
Continue Reading This Article
Enjoy this article as well as all of our content, including E-Guides, news, tips and more.
to keep it running smoothly. Common tasks -- all performed in OneAdmin --include:
User management
Managing workflows and email notifications
Updating Picklists
Purging old or unwanted data
Changing fields in Employee Central portlets
User management involves activities such as administering user accounts, managing user information, and resetting passwords. These actions are performed in the Manage Employees portlet (see Figure 1).

Employee Central workflow requests can often stall, so keep a periodic check on them. To manage workflow requests, select Manage Workflow Requests in the Employee Files menu of the Company Processes & Cycles portlet (see Figure 2). There is also an additional option to view and manage workflow requests that have invalid approvers, such as a manager who has left the company. You may also wish to update Workflow Groups from time to time in the Manage Workflow Groups option found in the same menu.

Updating Picklists is a common activity as business requirements change. This is performed through Picklists Management in the Company Settings menu of the Company Processes & Cycles portlet. Here the Picklists file can be downloaded, modified and uploaded again. The Instance Synchronization Tool can be used to transfer Picklist data from the test system to the production system.
When data needs to be removed from the system, you can use the Data Retention Tool (DART) to create a Purge Rule (see Figure 3). This feature -- accessed by selecting Data Management in the Company Settings menu of the Company Processes & Cycles portlet -- enables the permanent deletion of data such as inactive users, inactive job applications and candidates, performance management data, or learning activity.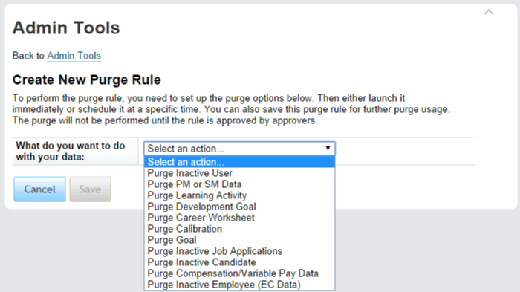 Finally, another common activity is making changes to the fields in Employee Central portlets, Employee Profile background elements, or Employee Profile user information elements. This can easily be done with the option Manage Business Configuration in the Company Settings menu of the Company Processes & Cycles portlet (see Figure 4). Various field attributes can be changed, such as label, Picklist, required, or masking -- and new fields can be added.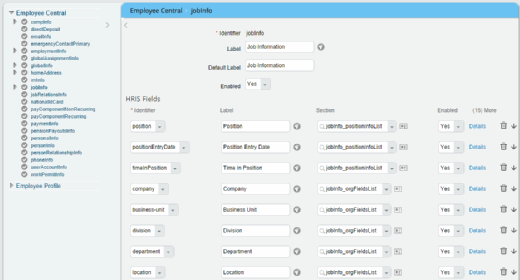 Dig Deeper on SAP SuccessFactors
Onboarding a new hire is one thing, but what about when an employee simply moves from their role into a different one at the same company? Continue Reading
A well-run onboarding process can also be a savvy retention tool. Here's how the SAP SuccessFactors Onboarding module can help provide a positive ... Continue Reading
The SAP Learning Hub has a wealth of resources for training, certification and knowledge sharing for users and administrators of the SuccessFactors ... Continue Reading
Have a question for an expert?
Please add a title for your question
Get answers from a TechTarget expert on whatever's puzzling you.