Q
Problem solve
Get help with specific problems with your technologies, process and projects.
Logging on to EP through non-SAP portals
An illustration is provided in this expert response depicting the UME architecture in EP and its relationship with non-SAP data sources.
Hi,
Is it possible to log on to EP through a non-SAP portal, assuming identical user IDs are maintained for EP and non-SAP portals? How?
UME can be configured to read and write user-related data from and to multiple data sources, such as Lightweight Directory Access Protocol (LDAP) directories, the system database of the J2EE Engine, and the ABAP user management of the SAP Web Application Server.
The following figure illustrates the architecture of UME.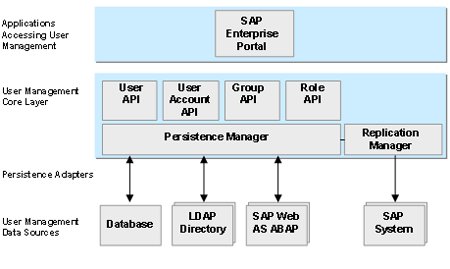 Dig Deeper on SAP NetWeaver
How can I get certification in SAP SRM? Continue Reading
In order to do spend analysis by vendor, is full-blown MDM required or only the "MDM Catalog," which it seems is included with the SRM license? My ... Continue Reading
What configuration/programming needs to be done in BW and non-SAP systems to implement extraction through BAPI? Continue Reading