Q
Problem solve
Get help with specific problems with your technologies, process and projects.
How to hide a button in an SAP Business Workplace toolbar
A SearchSAP.com reader wants to know how to hide the forward button in an SAP Business Workplace toolbar.
On the task definition, you can specify whether work items of that task can be forwarded. Simply select "Forwarding Not Allowed" and it should give the functionality that you require. Please note that the user will still see the "forward" option, but when clicked on, it will prevent the user from actually forwarding the work item.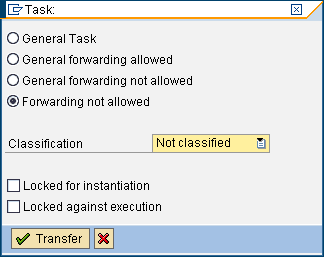 Find out how to configure clients so that the same version of an SAP workflow item is used when the workflow is triggered in separate clients. Continue Reading
An SAP user has created a user decision step in an SAP workflow item and wants to know how an end user can send an attachment to other users. Continue Reading
Find out how to automatically replace an SAP workflow item when a user hits "cancel" so that the workflow item re-appears to all possible agents. Continue Reading
Have a question for an expert?
Please add a title for your question
Get answers from a TechTarget expert on whatever's puzzling you.