Fotolia
How should I get started with SAP Screen Personas 3.0?
SAP Screen Personas obviates the need to remember transaction codes or navigate complex SAP menu paths. Here's how Personas enables business users to create a better UI experience.
While SAP products offer a depth and breadth of features, the user interface of its software has been a weak link. This is due to the standard large number of fields, icons, tabs and information that display even to users who have little or no use for them. SAP Screen Personas 3.0, or Personas for short, is one answer to the UI problem.
Indeed, through SAP Screen Personas 3.0, SAP has enabled users who have little or no technical knowledge or skill to customize their SAP screens to display only the fields, icons, tabs and information required for their data entry and reporting needs. Figure 1 shows a much-simplified screen of an SAP notification developed using SAP Screen Personas. (See Figure 2 for a screen that has not been streamlined with Personas.)
Personas is an add-on to SAP ERP Central Component (SAP ECC), Business Suite on HANA and S/4HANA. It works well for business users working on laptops or desktops (for mobile users, SAP Fiori is a better option).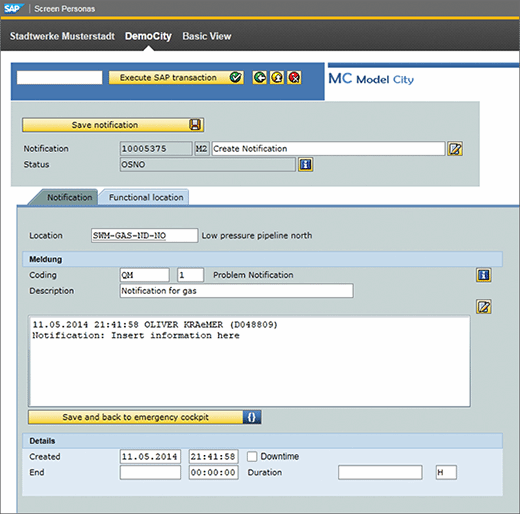 Before discussing how to use Personas, business users should understand Personas terminology first:
A flavor is a personalized view of a screen for a particular transaction. A user can create more than one flavor for a given SAP transaction.
A tile is a square box that serves as the navigational element to a particular transaction.
A theme enables the user to change the visual appearance of transactions for a specific role. It defines the fonts, the colors, how a tile looks on the user's screen and the layout of SAP screens that a user would like to personalize for his or her use.
A script is an SAP-generated code to automate or improve a user's tasks in SAP and is stored with flavors.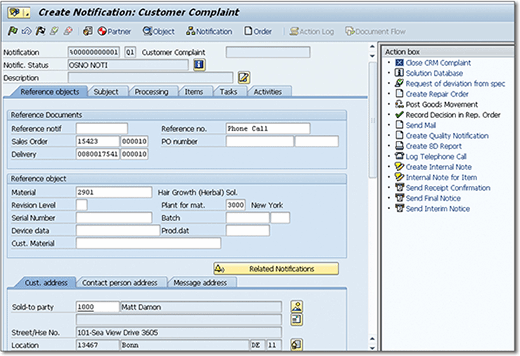 To set up a customized SAP screen, or flavor, using SAP Screen Personas 3.0, follow these simple steps:
Log on to SAP WebGUI.
Create a new flavor, which includes giving it a name and a short description.
Begin screen designing by selecting the background image of the SAP screen.
Begin creating a tile and format the tile for color, font and layout. Add the desired SAP transaction code with a short description to the tile.
Save the flavor.
The user now no longer needs to remember SAP transaction codes or navigate the complex SAP menu path to reach for the required the transaction or report. The tiles created using Personas work as dashboards.
Each flavor then needs to be either added to a role or assigned to specific user so that the system activates the flavor as soon as the user logs into the SAP ECC system.
Here are five helpful tips for working with SAP Screen Personas 3.0:
To copy one flavor to another, a user can use the "clone" function, and then change the description and the transaction of the cloned flavor.
To select a screen area containing the desired fields to be displayed, simply select them using the mouse and drag them to the far right corner of the same screen.
To add the above screen area (Step 2) to another tab, simply drag and drop the screen area to its new location. At the new location, a user can also hide fields that that are no longer needed.
A user can select multiple fields within a single tab of an SAP screen by using the mouse and placing it from one end of the screen and dragging it to the other to select all the required fields. Once fields are selected, a user can then choose the "hide" option to hide the unwanted fields.
If the user wants to hide fields from different tabs, then the user has to save the settings made to one tab and then repeat the process for the next tab. In other words, a user cannot hide fields from multiple tabs in a single flavor-designing session.
SAP, like many vendors, is working toward better UI and user experience. Personas is one step in that direction.
Images courtesy of Rheinwerk Publishing ©2014, from Configuring SAP Plant Maintenance, an SAP Press book. All rights reserved.
Dig Deeper on SAP ERP software and modules
Replenishment strategies, lot sizes, safety stock, reorder point planning and replenishment lead time are five factors in ERP that can ensure ... Continue Reading
S/4HANA public cloud provides a less disruptive route to digital transformation than some options -- including the on-premises S/4 -- and smoother ... Continue Reading
These nine key components of SAP MDG help ensure regulatory, legal, environmental and financial compliance of your master data and improve ... Continue Reading