Fotolia
How does SAP Warehouse Management help manage hazardous materials?
In comparison to the SAP Materials Management component in ECC, the Warehouse Management module can help you better manage hazardous materials. Here's a look.
Companies that produce and sell hazardous materials or that handle hazardous materials as raw materials will find...
Continue Reading This Article
Enjoy this article as well as all of our content, including E-Guides, news, tips and more.
that they will be far better equipped to manage them if they implement the SAP Warehouse Management (WM) component of SAP ERP Central Component (ECC). The Materials Management component of SAP ECC does not offer the extensive materials handling functionality that WM does.
A material is classified as hazardous if it is injurious to health; produces harmful effects, such as fire or an explosion; or if it poses threats to the environment. Apart from a company's own health, safety and environmental procedures defining how to handle and store hazardous materials, warehouse managers also have to ensure that the handling, transportation and storage of hazardous materials meets local, national and global laws and regulations. The handling, transportation and storage of hazardous materials are often subject to periodic and random spot inspections for compliance.
As with most SAP implementation projects, there are four main areas businesses should focus on when implementing the SAP Warehouse Management component in SAP ECC. These four areas are configuration, master data, transactions and, finally, reports.
Configuration: The first area consists of the one-time, "back-end" activity undertaken by SAP consultants in cooperation with business users to define configurable objects. Some examples of configurable objects in SAP Warehouse Management include fire containment sections, which each warehouse should have; physical locations where hazardous materials will eventually be stored; hazardous material warnings that the system must issue, such as inhalation warnings or warnings about skin irritation; hazardous material storage warnings; and information about storage classes, such as compressed gas or inflammable liquid.
In this step, it's also important to clearly identify which warehouses are marked to safely handle hazardous materials, so as to prevent warehouse personnel from placing hazardous materials in an incorrect location.
Master data: Master data is data that does not frequently change, remains in the SAP system for a long period of time and is eventually used in business transactions. Master data uses the configuration created in the previous step.
In SAP Warehouse Management, the master data controller creates a hazardous material record and maintains specific handling and storage details. The next step is to maintain a link between this hazardous master record and the material master record in the Warehouse Management 1 tab of the material master record. Doing so will ensure that, as soon as there are any business transactions in WM, such as goods issuance, stock transfer or goods receipt, the system will trigger alerts and controls associated with the hazardous material.
Transactions: Warehouse personnel will record routine transactions regarding hazardous materials in ECC, such as goods issuance for customer orders, goods receipt from vendors or stock transfer from one warehouse to another. The system will issue a warning or an alert when there's a deviation from the controls defined in the hazardous master record.
Reports: Like in all of the components of ECC, there are several reports and features available to cater to the reporting, monitoring and control needs of various stakeholders, such as warehouse managers and internal or external inspection teams.
Figure 1 contains the report of hazardous materials that have been stored incorrectly in a company's warehouses.
Figure 1: Incorrectly stored hazardous materials traceability report.
alt: "SAP Warehouse Management incorrectly stored hazardous materials traceability report"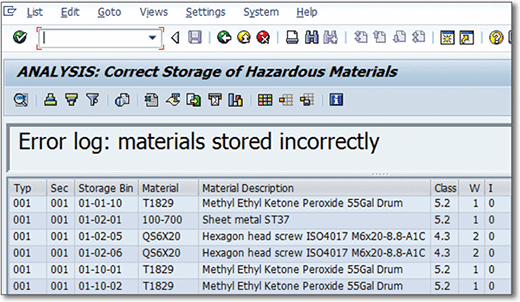 Image Credit: © Rheinwerk Publishing [2016], from the SAP Press book Warehouse Management with SAP ERP: Functionality and Technical Configuration. All rights reserved.
Implementing SAP Warehouse Management requires close coordination with the SAP Materials Management team, as the configuration, master data and business processes (transactions) are highly integrated with each other.
Dig Deeper on SAP manufacturing
Replenishment strategies, lot sizes, safety stock, reorder point planning and replenishment lead time are five factors in ERP that can ensure ... Continue Reading
S/4HANA public cloud provides a less disruptive route to digital transformation than some options -- including the on-premises S/4 -- and smoother ... Continue Reading
These nine key components of SAP MDG help ensure regulatory, legal, environmental and financial compliance of your master data and improve ... Continue Reading