Q
Problem solve
Get help with specific problems with your technologies, process and projects.
Does SAP Sample Management offer a leg up on product quality inspections?
Sample Management in SAP Quality Management goes beyond regular quality inspection options by providing better visibility into sample testing data.
SAP Sample Management can offer extra support for testing and tracking product samples during quality inspection....
Continue Reading This Article
Enjoy this article as well as all of our content, including E-Guides, news, tips and more.
Companies that need to track product samples created during the procurement or production processes, as well as competitors' product samples, may find Sample Management in the SAP Quality Management application a practical alternative to regular quality inspection. Using Sample Management provides a step up from regular quality inspection processes because it offers far more detailed data recording options. SAP Sample Management also complies with the regulatory and legal requirements of good manufacturing practices.
Sample management is most useful during new product development, especially when the company is conducting several rounds of sample testing and a stability study to gauge a product's suitability under various physical and chemical conditions. Maintaining extensive details about each sample can help the quality inspector decide if the sample must undergo further inspection or if the current round of testing is enough.
First, the SAP Sample Management system automatically creates a physical sample record. Alternatively, the quality inspector can manually create a physical sample record to conduct initial or additional tests on a product. The next step is to create an inspection lot of the physical sample so that users can record inspection results and make usage decisions.
The follow-up steps in Sample Management include releasing physical samples and printing labels for identification, followed by withdrawing the physical sample for actual chemical or physical testing. Companies can also integrate a digital signature at the sample withdrawal stage so that authorized users need to digitally sign confirmations before the system allows them to withdraw samples.
Figure 1 shows an example in which the system created six primary samples for an herbal hair growth product that the company will test for various physical or chemical properties. Notice that it is also possible to create various physical sample types, such as initial sample, pooled sample or reserve sample. The quality inspector can use these types to test the product's suitability for various storage conditions.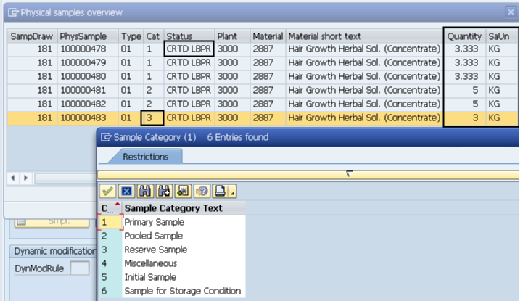 Dig Deeper on SAP ERP software
SAP Sales and Distribution, a component of SAP ECC, has a number of available functions to help create a better order-to-cash cycle. Here's a look at... Continue Reading
Slotting in SAP Extended Warehouse Management ensures that products are placed using the correct physical and storage conditions, and picked ... Continue Reading
Your company's current SAP ERP landscape is critical in choosing how to integrate Ariba and ERP Central Component. Here's a look at what you need and... Continue Reading
Have a question for an expert?
Please add a title for your question
Get answers from a TechTarget expert on whatever's puzzling you.