buchachon - Fotolia
How does SAP EHS enable compliance with worker and product safety rules?
SAP EHS software can help keep employees safe and make sure companies comply with local, national and global safety and quality standards. Here's a look.
One of the key performance indicators (KPIs) of maintenance managers is ensuring that their maintenance team works in a safe, secure and accident-free environment so as to prevent or eliminate near-miss or actual accidents. But this may be a challenge when there's a plant breakdown and the urgent need to bring it back up and running as soon as possible.
Maintenance workers performing such rush jobs may overlook or ignore established safety rules and procedures and the use of mandatory safety gadgets. SAP Environment, Health and Safety (EHS) Management, an add-on to SAP ERP Central Component (SAP ECC), is software that can help ensure product and worker safety and health. EHS also monitors air and water quality, as well as industrial waste and recycling management. The subcomponent within SAP EHS Management that manages maintenance workers' safety is known as Operational Risk Management, and it requires that SAP ECC be using EHP 6.0 or higher.
Here are five maintenance steps necessary to ensure workers' safety and how SAP EHS Management addresses them:
Maintenance order. While creating an order to signal the start of maintenance tasks, the system performs a comprehensive risk assessment of the equipment, machinery or physical location that needs the maintenance to automatically propose risks associated with the employees and work locations and to decide how best to control them.
Work planning. With the SAP EHS Management component already activated, the system brings up a dedicated 'Safety Plan' tab that lists the proposed safety measures for the maintenance team that the maintenance planner can use to add or eliminate specific safety tasks on a case-by-case basis.
Work execution. The actual maintenance work begins with the maintenance team accessing complete safety instructions, guidelines and checklists to ensure the safety measures are adhered to. Here, safeguards like work permits play a key role. Maintenance work must include a work permit before actual maintenance work can begin. A work permit contains a checklist to ensure that a maintenance worker is in compliance.
Manage controls. Upon the completion of maintenance work, maintenance planning should check if there were any deviations from the maintenance guidelines or any new lessons learned from the maintenance job that can improve maintenance workers' and assets' safety. This new information can be used to update safety procedures and to improve the safety plan.
KPI visibility. While not a maintenance task, the maintenance reports, features and dashboards provide much-needed visibility to maintenance planners who can then decide which areas need most attention.
Figure 1 shows the risk dashboard with information and trends on various risks, such as risks to the environment, health or safety.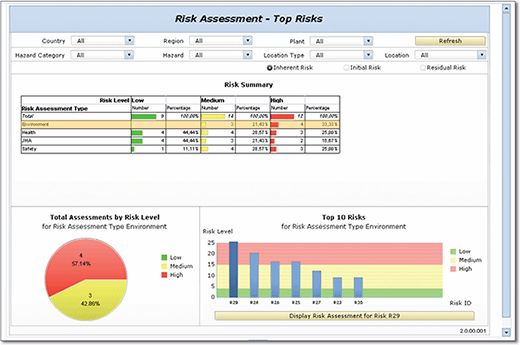 With the advent and rapid adoption of SAP S/4HANA, SAP has just released several new features specific to SAP EHS Management.
Next Steps
Traceability improvements for process manufacturers
The industrial internet of things can help improve supply chain safety
How manufacturers can improve supply chain traceability
Dig Deeper on SAP ERP software and modules
Replenishment strategies, lot sizes, safety stock, reorder point planning and replenishment lead time are five factors in ERP that can ensure ... Continue Reading
S/4HANA public cloud provides a less disruptive route to digital transformation than some options -- including the on-premises S/4 -- and smoother ... Continue Reading
These nine key components of SAP MDG help ensure regulatory, legal, environmental and financial compliance of your master data and improve ... Continue Reading