Pei Ling Hoo - Fotolia
How can manufacturers enable better production planning?
Using SAP availability check can help production planners enable uninterrupted manufacturing. Here's a look at how it works and why you might want to use it.
One oft-overlooked way that manufacturers can improve their production planning process is through the SAP availability...
Continue Reading This Article
Enjoy this article as well as all of our content, including E-Guides, news, tips and more.
check function. It enables better insight into whether production can deliver the required quantity of a product at the delivery date by checking for missing components, capacity shortages or unavailable production resource and tools.
When a production planner runs the material requirements planning, the system creates planned orders or order proposals that stipulate what and how much to produce. While converting a planned order into a production order, the system offers the availability check option for all three resources -- components, capacity and PRT. However, if a company's business processes produce a significant lead time between creating a production order and its release, then production planners can trigger the availability check at the time of the production order release. This option prevents unnecessary or untimely alerts of resources' shortages.
Planners can use an availability check to check for materials, and if there is a shortage of the required components, then the system automatically creates entries in Missing Parts Information System.
Figure 1 shows that, with the availability check functionality, the system checked for four components and found that three had missing parts.

Depending on the manufacturer's production planning process, the appropriate user can decide to implement the necessary controls, and the availability check used on the production order creation or its release can ensure one of the following:
On creation:
The system does not allow production order creation if there is a resources shortage.
The system allows production order creation, but does not allow its release until all resources are available.
The system lets the business user decide if the production order should still be created despite the resources shortage.
On release:
The system does not allow the production order release if there are missing resources.
The system does allow the production order release.
The system lets the business user decide if the production order should still be released despite the resources shortage.
Figure 2 shows that there is missing capacity, and the system is letting the business user decide if the production order should or should not be released.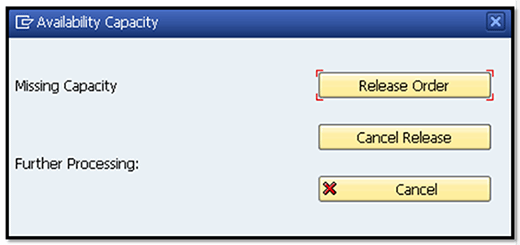 For product planners, worrying about shortages that threaten to disrupt manufacturing is certainly in the category of "what keeps you up at night." Because of this, SAP availability check just might facilitate a better night's sleep.
Dig Deeper on SAP manufacturing
Replenishment strategies, lot sizes, safety stock, reorder point planning and replenishment lead time are five factors in ERP that can ensure ... Continue Reading
S/4HANA public cloud provides a less disruptive route to digital transformation than some options -- including the on-premises S/4 -- and smoother ... Continue Reading
These nine key components of SAP MDG help ensure regulatory, legal, environmental and financial compliance of your master data and improve ... Continue Reading