Pei Ling Hoo - Fotolia
How can companies keep track of SuccessFactors software upgrades?
SuccessFactors releases enhancements on a quarterly and ongoing basis -- here's how to stay on top of important updates and select the features your company needs.
SuccessFactors releases product enhancements on a quarterly basis that offer numerous features across the suite....
Continue Reading This Article
Enjoy this article as well as all of our content, including E-Guides, news, tips and more.
The features are often opt-in, meaning users must actively enable them. A small number of features are pushed to all customers, while some features require additional effort from SuccessFactors Support or an implementation partner.
Typically, you will not notice any changes when a quarterly release goes into effect. When planning to make a larger change that users will notice, SuccessFactors usually provides a lead time of several months to give companies adequate time to invest in change management. SuccessFactors also recently announced at their annual SuccessConnect conference that they will be introducing quarterly releases to customer test instances a month prior to release into production to provide a period of readiness assessment and change management preparation.
To support the management of new features, SuccessFactors provides the Upgrade Center (see Figure 1). This feature enables users to review and apply new features and enhancements from the quarterly releases. It also covers important legal changes that companies may need to apply to stay compliant.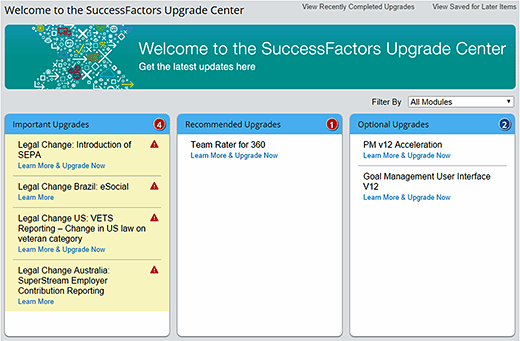 The Upgrade Center provides a description of each feature, notes about the impact on users, the implementation time and which permissions you need to apply the feature.
Although SuccessFactors makes quarterly releases, they will also provide more regular minor releases to fix product bugs, at the discretion of SuccessFactors' engineering teams, to ensure that customers can continue to use SuccessFactors uninterrupted.
SAP's SuccessFactors Dynamic Teams could help support dynamic teams in the workplace and solve associated challenges. Learn more about the new ... Continue Reading
Part of SAP SuccessFactors HXM, Work Zone for HR is a digital workspace meant to boost employee experience. Learn more about its features and ... Continue Reading
Qualtrics has certain technical integration challenges, and IT needs to address questions to uncover what they are and how they will affect the ... Continue Reading