Fotolia
How can SuccessFactors Presentations make talent reviews more dynamic?
SuccessFactors Presentations can merge static PowerPoint slides with dynamic, real-time information from the SuccessFactors talent management system. Here's how to use the Presentations application.
SuccessFactors Presentations offers an easy way to create interactive talent presentations that display data from...
Continue Reading This Article
Enjoy this article as well as all of our content, including E-Guides, news, tips and more.
the system in real time. The application uses Microsoft PowerPoint as a foundation for these presentations.
Once it is enabled, access the SuccessFactors Presentations application from the module navigation menu. When you're in the application, use the + button to create a new presentation. After naming the presentation in a pop-up box, you will be taken into the Talent Review Meeting screen. The Microsoft PowerPoint presentation can be uploaded by selecting the Menu button in the top-left corner and selecting Upload PowerPoint Slides. This presentation will then display in the Slide Holding Area at the bottom of the screen. You can drag each of the slides up into the main presentation area at the top of the screen to form the presentation (see Figure 1).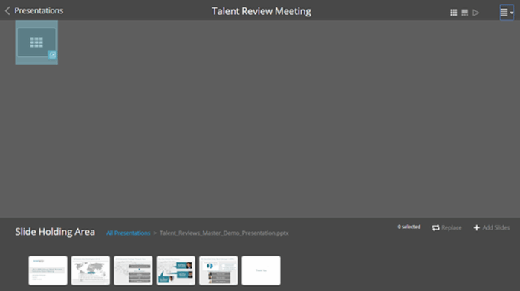 Now you can add one or more live slides -- the interactive content slides within the presentation that pull real-time data from the SuccessFactors system -- by selecting the Menu button and selecting Add Live Slide. There are various types of live slides. These include:
Performance-Potential Matrix
How vs. What Matrix
Succession Org Chart
Team View
Talent Pool
People Grid
Compensation Review
Each of these slide types has different selection criteria that allow each slide to show different live data from the system based on those criteria. You can insert each slide into the existing presentation and also preview them to see how they will look when the presentation is conducted.
An additional feature is the ability to add Hot Spots to the static slides, which is any slide that is not live. This enables dynamic content -- such as a link to a Talent Card, which will display up-to-date information about an employee -- to be added to static slides so that you access it during a presentation.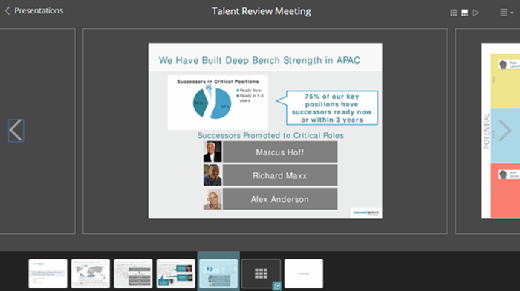 Once the setup is done then the presentation is ready to go. Select Start Presentation on the presentation, in the Presentations homepage.
Next Steps
Tips for selecting talent management software
How talent management systems are transforming HR
HR experiments with talent management technologies
The right talent management tools can provide a solid HR foundation
Dig Deeper on SAP SuccessFactors
Part of SAP SuccessFactors HXM, Work Zone for HR is a digital workspace meant to boost employee experience. Learn more about its features and ... Continue Reading
Qualtrics has certain technical integration challenges, and IT needs to address questions to uncover what they are and how they will affect the ... Continue Reading
Learn how SAP data migration tool Infoporter assists in moving from SAP ERP HCM to SuccessFactors Employee Central and why IT teams might find it ... Continue Reading