carloscastilla - Fotolia
How can SAP cross-docking optimize my supply chain?
Cross-docking can help your company lessen the need for materials storage, speed deliveries and generally improve your supply chain management. Here's how it works.
When evaluating options to cut logistics costs, improve product delivery times or save warehouse space, warehouse...
Continue Reading This Article
Enjoy this article as well as all of our content, including E-Guides, news, tips and more.
managers often consider implementing SAP cross-docking in their logistics processes. Cross-docking is a functionality available in the Warehouse Management component of SAP ERP Central Component (SAP ECC).
SAP cross-docking automatically sends high-quality manufactured goods that require no quality inspection for delivery directly to the customer. This obviates the need to place such goods in the warehouse. Cross-docking also finds extensive use when the objective is to deliver perishable goods, such as flowers, fruits and vegetables, to retailers as quickly as possible so they can be sold to end customers. Imagine the warehousing and labor costs that could be saved using cross-docking to eliminate multiple steps, such as a need for quality inspection of produced goods on their receipt to the warehouse, goods receipt staging, putaway, storage, order picking and, finally, goods issue staging.
Two types of cross-docking are possible in SAP ECC, namely, planned and opportunistic. While planned cross-docking creates an automatic link between inbound or incoming materials and outbound or outgoing deliveries before the materials arrive, opportunistic cross-docking offers the option to manually create the link after the materials arrive.
Planned SAP cross-docking
In planned cross-docking, the system automatically links the arrival of incoming goods with outgoing deliveries to customers. Some examples are:
Distributor cross-docking: Incoming materials from different vendors are combined together in a mixed material pallet, which is then delivered to the customer.
Transportation cross-docking: Economy of scale is achieved by combining shipments from different shippers that have resorted to less than truckload (LTL) shipping. The major beneficiary is shippers of smaller packages.
Retailer cross-docking: Retailers receiving materials from multiple vendors sort them according to their delivery to retail stores.
Opportunistic SAP cross-docking
The system provides the warehouse manager with the option to manually create a link between inbound and outbound deliveries to best utilize the logistics, warehousing and transportation resources.
One-step versus two-step SAP cross-docking
In a one-step cross-docking procedure, the inbound material is immediately and automatically readied for outbound delivery. In a two-step cross-docking procedure, the incoming material is placed in an interim cross-docking storage location before it is issued for an outbound delivery.
Cross-docking monitor and alert monitor
Like all SAP ECC components, which include numerous reports, features and analytics, Figure 1 is the initial screen to enter the parameters into the cross-docking monitor. Once the warehouse manager has maintained the parameters on this screen and executed the report, the monitor will show all of the planned cross-docking links.
The cross-docking monitor also acts as an alert monitor to highlight all of the missed deadlines that can negatively impact logistics and supply chain processes.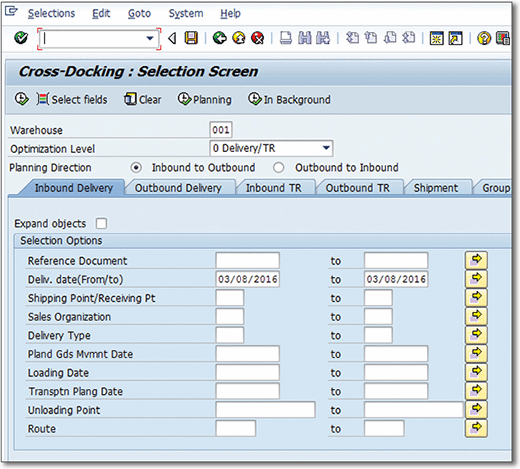 Image Credit: © Rheinwerk Publishing [2016], from the SAP Press book Warehouse Management with SAP ERP: Functionality and Technical Configuration. All rights reserved.
Replenishment strategies, lot sizes, safety stock, reorder point planning and replenishment lead time are five factors in ERP that can ensure ... Continue Reading
S/4HANA public cloud provides a less disruptive route to digital transformation than some options -- including the on-premises S/4 -- and smoother ... Continue Reading
These nine key components of SAP MDG help ensure regulatory, legal, environmental and financial compliance of your master data and improve ... Continue Reading