reborn55 - Fotolia
How can Plant Maintenance in SAP ERP support lean principles?
The SAP PM component offers three types of financial and business controls that can help ensure your organization runs more efficiently to ensure success. Here's what to know.
Organizations striving to get or stay lean understand that this requires involvement from all levels of the company. In other words, everyone from leadership to the maintenance team needs to be involved and contribute to these initiatives.
Leadership will have an interest in setting up strategic controls, such as budgeting, to ensure financial prudence. The tactical team will want to set up better business and process controls, such as implementing a reporting tool like Shift Notes and Shift Reports, to ensure operational excellence. The maintenance groups or team members who handle daily operational work should find their productivity improve when they have access to reporting tools and analytics to help them make timely and informed decisions, such as which equipment to refurbish or scrap or which work center is expected to face material or capacity shortage.
Plant Maintenance -- or PM -- in SAP ERP Central Component (ECC) and PM's integration with other SAP components offer strategic, tactical and operational controls to these diverse stakeholders.
Here's a look at some of the important controls offered by Plant Maintenance in SAP ERP.
Strategic controls (for leadership)
Leadership interested in strategic controls aimed at maintaining and strengthening financial and budgetary controls should find the following tools helpful.
Maintenance Cost Budgeting: MCB is a tool specifically developed by SAP for Plant Maintenance and its budgeting requirements.

However, using MCB requires using the Business Warehouse-Business Planning and Simulation (BW-BPS) platform, installing BW and configuring BW-BPS. MCB provides two types of budget planning.

History-based budgeting processes: In this type of planning, maintenance's historical data forms the basis of budgeting, with the option to add additional calculation logic to the budgetary figures.
Planning data-based budgeting processes: In this type of planning, the system refers to maintenance planning task lists or maintenance plans to propose budgetary figures. Maintenance task lists are the maintenance activities to perform on equipment or a functional location. The maintenance plan is the scheduled and periodic maintenance of equipment or a functional location.

Budgeting using SAP Investment Management: IM is able to effectively manage and monitor investments, such as the purchase of new machinery or assets. It is also possible to integrate IM with a PM order, a work breakdown structure (WBS) element in the SAP Project System (PS) component, which directly helps with controlling the budget.

But using this option comes with a caveat -- you can only passively monitor a budget exceeding the defined threshold via reports, as the system does not have the built-in controls to prevent overspending.

Order budgeting: This refers to assigning a budget to a single maintenance order, or to a total budget assigned to the entire order and distributed over several years.

During confirmation of actual maintenance activities undertaken or goods issued for order, in which the actual financials are affected, this system checks to see if the maintenance order's budget is sufficient or not. Then, depending on the settings made in the budget profile, the system will either issue a warning or an error message.

Budgeting using WBS elements in the SAP Project System component: For pure budget planning and control using WBS elements, you need to create a project for plant maintenance in SAP PS, create relevant WBS elements and, finally, assign a budget. These WBS elements can then be assigned to equipment or a functional location.

Two types of budget controls are available: Active and passive. An active control will check to see if the confirmation of the maintenance activities performed or goods issued posting is allowed or not, and it is based on the available budget (and the system issued warning/error in the case of exceeding the budget). Passive control allows for budget reporting wherein the necessary budget visibility is available for decision-making.
Tactical controls (for the operational team)
Reporting: There are a large number of standard PM reports in SAP ECC that provide the most up-to-date information for informed decision-making. Since these reports are updated live with actual data, they continue to get updated as and when the users perform transactions in the system.

Ad hoc queries: Often, it is easier and quicker to create a user-defined query when the information available in the standard SAP ECC reports isn't sufficient, or if it is not in the same InfoCube (information cube that holds the data).

Query tools like List Viewer, Quick Viewer and Query are there to help, and are also simple enough for users to learn.

Standard analyses: Often a hidden and unexplored treasure of information, including historical data, standard analyses are available in all the logistics components of SAP ECC, and are an attractive alternate for gaining valuable insights that help build better business and tactical controls (see Figure 1).
Flexible analyses: If the standard analyses are unable to meet reporting needs, the alternate is flexible analyses. Here, the business user can create PM-specific analyses, such as mean time between failure, average maintenance time per order or mean time to repair.
SAP Business Warehouse: BW provides more choices of extraction, transformation and loading functionality, which ensures the loading and analysis of data from multiple sources and disparate systems.
Operational controls (for the maintenance management team)
SAP Early Warning Alerts: Early Warning Alerts are user-defined alerts in PM that ensure effective operational controls are in place whenever there's a significant deviation to a process that requires a decision or action on the maintenance team's part.

Capacity requirements planning (CRP): Maintenance planners can put better controls in place when they have the necessary visibility of available versus required capacities for maintenance work.

Integrating CRP into the maintenance process ensures available capacities' details are visible, and that you have the option to level or smooth out bottleneck capacities.

Availability check: With this control in place, maintenance planners are able to decide if spare parts or the capacity required (both are resources) to perform a maintenance job are available or not, and whether the system should release the maintenance order

if one of the two resources is missing (or if they both are).
Figure 1 shows the monthly cost analysis for the year 2016, and is one of the several analyses available in SAP ECC, not just for the PM component, but also for all logistics components. To access these analyses in SAP ECC from a central location, follow the menu path Information Systems > Logistics.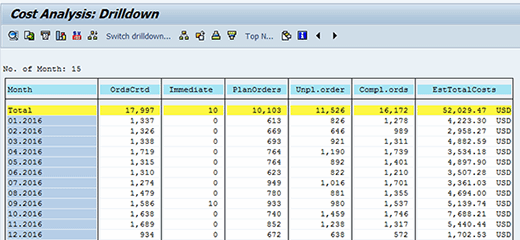 Companies can become increasingly lean by periodically reviewing controls to make sure they are truly effective, and Plant Maintenance in SAP ERP is meant to help in that quest.
, and Plant Maintenance in SAP ERP is meant to help in that quest.
Dig Deeper on SAP manufacturing
Replenishment strategies, lot sizes, safety stock, reorder point planning and replenishment lead time are five factors in ERP that can ensure ... Continue Reading
S/4HANA public cloud provides a less disruptive route to digital transformation than some options -- including the on-premises S/4 -- and smoother ... Continue Reading
These nine key components of SAP MDG help ensure regulatory, legal, environmental and financial compliance of your master data and improve ... Continue Reading