The benefits of SAP supplier relationship management (SRM)
Find out how SAP supplier relationship management (SRM) is used with with other SAP enterprise applications, learn about the evolution of SAP SRM, and discover the benefits of SAP SRM from a business perspective.
Enhancing supplier relationship management using SAP SRM
Chapter 2: SAP SRM -- An Introduction
Continue Reading This Article
Enjoy this article as well as all of our content, including E-Guides, news, tips and more.
SAP supplier relationship management (SRM) is used with enterprise resource planning (ERP), product lifecycle management (PLM) and supply chain management (SCM) applications to ensure an effective implementation of cross-application business processes. This chapter discusses how SAP SRM evolved from a B2B solution, defines the SAP components involved in SAP SRM, and explains how SAP SRM can help procurement professionals build strategic supplier relationships and streamline the procure-to-pay process.
In this section, find out how SAP SRM is integrated with other SAP enterprise applications. SAP SRM provides real-time integration with ERP as the backbone, ensuring real-time data validation across SAP modules like Financial Accounting and HR.

Enhancing supplier relationship management using SAP SRM, Ch. 2
Table of contents:


The benefits of SAP supplier relationship management (SRM)


Understanding supply processes and concepts in SAP SRM


Implementing SAP Enterprise Buyer and other SAP supply components
Chapter 2: SAP SRM -- An Introduction
2.1 Evolution of SAP SRM
"With the SAP Supplier Relationship Management (SAP SRM) solution, we want to enable our customers to unleash the value potential of a holistic and strategic approach to purchasing and supply management by offering a purchasing platform for continuous savings and value generation"
— Peter Kirschbauer, General Manager, SAP AG, SAP Applications
SAP introduced its e-procurement solution in 1999. Since then, the solution offering and its acceptance have seen tremendous growth. The SAP SRM solution has been the fastest-growing SAP application in two of the last three years, up to 2006. Customers that were early adopters of this solution remember the solution branding as Business to Business Procurement (BBP) or Enterprise Buyer Professional (EBP). Over the years, the solution has grown from a web-based catalog requisitioning solution aimed at operational excellence to the solution today that offers complete supply management. Figure 2.1 provides a chart that shows the progression of this solution from B2B to SAP SRM.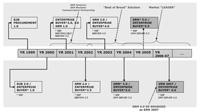 In 1999, SAP introduced the B2B Procurement 1.0 solution and has since rebranded the offering from BBP to EBP to the solution available today as Supplier Relationship Management (SRM). The solution release generally available to customers today is SAP SRM 5.0. Recently SAP has announced plans to rebrand the SAP SRM 6.0 release as SRM 2007. Based on current information SRM 2007 (or 6.0) will be generally available towards the third quarter of 2007, until which time it will remain in ramp-up mode with selected customers.
2.2 SRM and SAP Enterprise Applications
The SAP SRM solution integrates seamlessly with enterprise resource planning (ERP), product life-cycle management (PLM), and supply chain management (SCM) applications to ensure an effective implementation of crossapplication business processes (see Figure 2.2).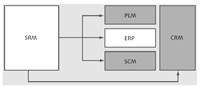 Note:
SRM is a separate solution, independent of the R/3 or ERP solution offered by SAP. It is common for people to forget that SAP SRM is installed and implemented within its own three-tiered architectural landscape, independent from the SAP R/3 or ERP landscape. However, it is still an SAP system; the GUI for SRM is the same as for native SAP R/3, with an IMG for core-configuration. The difference lies in the actual end user interface for SRM. End users only require a Web browser to access all the transactions. Figure 2.3 provides an example.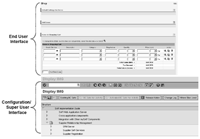 Note:
Until SAP SRM 5.0 the user interface was based on ITS or BSP technology. From SRM 2007 (or SRM 6.0) onwards SAP will phase out ITS and BSP by introducing a portal user interface for SRM based on Web Dynpro.
2.3 Benefits of SAP SRM
Often it's not easy to clearly understand the business benefits within a solution offering or a new business process unless at some level we're able to understand the underlying business challenges within the organization. Once we as users realize and understand the challenges faced, we then can be open to hearing about the solutions. We frequently question why we need to change our current system or business processes. It is advisable for organizations to review the challenges faced by their internal business systems and processes and then review the business benefits offered by SAP SRM.
Figure 2.4 illustrates the business impact of strategic sourcing within organizations. According to a study done by A.T. Kearney, procurement organizations spend as much as 85 % of their time on activities such as answering basic supplier inquiries, or processing purchase orders and change orders that do not create added value. With SAP SRM, their purchasing professionals (buyers, contract administrators, etc.) can focus their efforts on building strategic supplier relationships and streamlining the procure-to-pay process.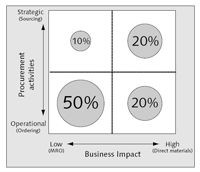 Example:
Organizations using SAP SRM empower end users to keep track of their orders using real-time status checking. Requisitioners do not have to call the purchasing department to find out the status of their shopping cart request; they can use the Check Status application in SRM to monitor the status of their order. Using the Biller Direct application, your organization can enable suppliers to view the status of their invoices and view in real time what payments have been disbursed. This reduces drastically the time spent by the purchasing and accounts payable departments in handling end user and supplier calls.
2.3.1 Opportunities and Business Benefits Within SAP SRM
Solutions driven solely by technological enhancements only provide a siloed response to the competitive and strategic needs of organizations today. World-class business solutions need to use advancements in technology as a strategic advantage to provide solutions that cater to the unique business processes that exist in organizations.
Organizations that are leaders in their markets and industries are better at using IT to enable business strategy. The SAP SRM solution provides benefits that exist in three realms, which are listed as follows and illustrated in Figure 2.5:
Process benefits
Technology benefits
People benefits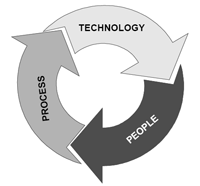 2.3.2 Process Benefits
SAP SRM is based on SAP best practices that stem from proven business and industry expertise. In addition, with the SAP SRM solution, SAP provides a wide range of pre-configured business scenarios that organizations can quickly deploy and benefit from with improved efficiency in their business processes. Let's examine some process benefits now:
Overall reduction in requisitioning, order processing, and supply-management cycle time are a direct result of the streamlined procure-to-pay processes within SAP SRM.
Efficiencies in business process eliminate costly process-related errors and increase productivity by implementing adequate internal controls.
SAP SRM replaces manual procurement processes with a streamlined requisitioning and approval process. Delays caused by lengthy manual approvals are replaced by faster electronic workflows and online status displays.
Web-based catalogs provide a quick and easy mechanism for finding negotiated goods and services, comparative prices, and required attributes. Additionally, catalog-based selection ensures compliance with approved vendors.
An Internet-based request for proposal (RFQ) and bidding process reduces the source evaluation cycle time.
Greater visibility of the historical spending data reduces the source determination time. Purchasing professionals can optimize sourcing decisions based on such criteria as past supplier performance data to determine the best source for goods and services. This helps to continuously enhance the sourcing knowledge within the organization.
Synchronization of back-office functions by integrating with corporate finance and ERP systems. SAP SRM offers the capability to integrate with one or many SAP and non-SAP back-end systems.
Improved contract compliance and governance are achieved by driving spending towards selected suppliers with negotiated products and prices. Spending analysis within SAP BW matches contracts with purchase transactions to monitor off-contract spending.
2.3.3 Technology Benefits
SAP SRM provides real-time integration with ERP as the backbone, ensuring real-time data validation across SAP modules like Financial Accounting and HR. Let's take a look at some technology benefits:
Web-based requisitioning, bidding, and supplier interaction provide ease of use and increased collaboration across the supply chain.
Out-of-box, ready-to-use workflow templates promote reduce implementation efforts.
SAP SRM replaces paper approvals with online approvals, reducing the processing time drastically. It also provides greater visibility and awareness with an electronic audit trail.
Email integration with standard mail clients such as Microsoft Outlook or Lotus Notes provides greater productivity and user acceptance.
Pre-delivered Business packages within SAP Enterprise Portal provide end users with a single interface for all purchasing needs.
Better on-demand reporting and improved compliance.
Flexible and scalable architecture and implementation scenarios provide organizations the opportunity to configure for their specific business requirements.
Integration technologies such as XML and Supplier Networks promote opportunities to standardize supplier adoption.
Users only require a Web browser to access the functionality in SAP SRM. This in turn reduces end user maintenance costs with a lower total cost of ownership (TCO).
2.3.4 People Benefits
Benefits for the organization's users are listed here:
Streamlined Wizard and Extended Form requisition navigation in SAP SRM provide a solution for both casual and power users.
Online check status provides users with real-time visibility on the status of their requisition and reduces time-consuming follow-up.
Professionals within the purchasing organization can focus on strategic supplier relationships and contract negotiations instead of requisition processing.
Online supplier catalogs in SAP SRM ensure that users can quickly search for goods and services. This greatly reduces the need for intervention by purchasing professionals for negotiated goods and services ordered from these catalogs.
An intuitive Web-based interface provides the similarity of online applications like Office Depot and Grainger, easing change management and training.
A single interface to all the procurement functions allows users to focus on their tasks and activities improving productivity. Additionally, Business Packages for SAP SRM provide the ability to direct information to different user group on an individual basis, which increases productivity and enhances user acceptance.
In SAP's recently published SAP SRM Statement of Direction 2005, SAP outlines the business benefits of SAP SRM and describes how SAP SRM addresses the business challenges faced by organizations today. Table 2.1 is an excerpt from the document.
Table 2.1: Some business benefits of SRM

| | | |
| --- | --- | --- |
| Capability | Business Need | Business Benefit |
| Sourcing | Gain visibility into and actively control more spending categories and manage demand; ensure compliance across business units and supply base | Better sourcing decisions that optimize overall value contribution |
| Procurement | Simplify, standardize, automate, and integrate the procure-to-pay process | Streamlined procure-to-pay process with less administration and more efficiency, resulting in elimination of errors, increased productivity, reduced cycle times, and lower processing costs. |
| Supplier Enablement | Enable the supply base to collaborate and work more efficiently | Increased adoption of e-procurement practices through scalable supplier-connectivity capability |
Organizations interested in reading the statement of direction can download a copy from SAP's website at www.sap.com/solutions/business-suite/ srm/brochures
.
Now that you are familiar with the key benefits of SAP SRM, let's use the next section to further dissect the SAP SRM solution. In Section 2.4 I will introduce three key concepts, which are:
Core supply processes
Business scenarios
Technology components
Let's proceed with this now.
You can download a pdf of this chapter. You can also visit SAP Press to purchase a copy of Enhancing Supplier Relationship Management using SAP SRM.
You'll find more downloadable excerpts from books by SAP experts in our SAP chapter download library.