Part 9: Output
Learn how to control and maintain effective data distribution for a timely business with the SAP BW Open hub service. This crash course will teach the data warehouse professional how to create and execute InfoSpokes within the open hub to be the central object for data exporting.
This Article Covers
RELATED TOPICS
Looking for something else?
Output
The process creates two files: The one that starts with S_ is the structure file and the other is the data fil
e.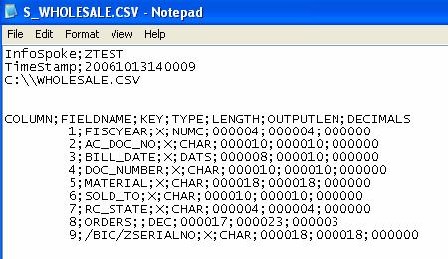 SAP BW Guide: Open Hub Service

Home: Introduction
Part 1: How to get Open Hub Service
Part 2: Open hub component: Creating an InfoSpoke
Part 3: Creating an InfoSpoke: General Tab
Part 4: Creating an InfoSpoke: Destination Tab
Part 5: Creating an InfoSpoke: InfoObject Tab
Part 6: Creating an InfoSpoke: Selection Tab
Part 7: Activation
Part 8: Extraction
Part 9: Output
Review: Conclusion and other resources

Dig deeper on SAP workflow development